Hedsor House
Maidenhead
Useful information
What do prices start from?
£5,950 + VAT
Services
Venue
About the company
Hedsor House is an award-winning country house weddings and events venue, set within 100 acres of historic parkland and Grade II listed gardens in Buckinghamshire, 45 minutes from London. Our Georgian mansion is available on an exclusive use basis, inclusive of all six of our formal rooms including the famous Italianate domed Centre Hall, chandelier lined Ballroom, Willingdon Bar, Drawing Room, Boudoir and Library. With a luxurious Bridal Suite, and a further 12 luxury bedrooms you and your closest friends and family can relax and enjoy a simply stunning and unforgettable day. We can't wait to see how you make Hedsor exclusively yours.
Style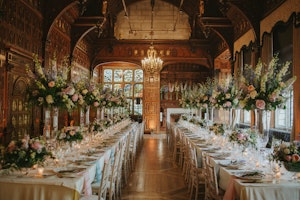 Formal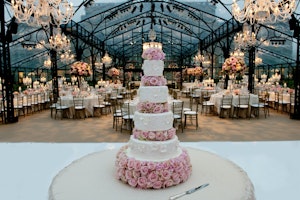 Traditional
Additional Information
Are there bridal changing facilities?
Do you charge corkage?
Do you have accomodation?
Do you have an alcohol license?
Do you have a wedding license?
Do you have disabled access?
Do you have parking?
Do you offer exclusive use?
Is there a nearby church?
Do you have public liability insurance?
When was the company started?
2008
Are you VAT registered?
Sustainability
On the 6th November 2019 Hedsor House officially became a 'Low Carbon Workplace' and were awarded a certificate confirming that, by installing LED lighting, we will save 1.4 tonnes of co2 a year - the same weight as a walrus!
Here are just some of the things we do on the Hedsor estate to make sure that we do our bit for the environment...
All our waste is managed so that all recyclable items are separated and all other waste is processed in such a way that nothing goes to landfill.

We have in-house glass water bottles that are washed and re-used every week and all paper, cardboard and plastic is recycled.

We have just installed a most efficient gas fired heating system.

We have increased the ceiling thermo-insulation of the top floor bedrooms during our refurbishment in 2016.

We use low energy LED lighting wherever possible.

We recycle all of our office ink cartridges.

We have planted 4000 trees over the last 25 years with 100's more planned.

We make our own hay for our Highland Cattle and horses to eat.

We leave dead trees standing for beetles and wildlife.

We have honey bees onsite and promote a healthy environment for them to work and thrive.

We have a compost centre.

We use logs for heating a number of estate properties.

We use well pumped water for estate watering in the summer months.
Testimonials
"As we entered the building, we were both blown away how beautiful and magical it was… Everything was falling into place and we knew that Hedsor was the number one choice for us!"
Candy and Edilaine
"The first tears I cried that day was seeing the ceremony room for the first time, walking down the aisle, and just thinking WOW this is everything I dreamed of and more!!"
Dan and Fionnuala
"A fantastic venue … and the ideal setting to host an unforgettable party. I hope to be back again soon."
Mark Ronson
"One of the most beautiful houses I have ever seen"
Ricky Gervais
"For us, Hedsor House ticked all these points especially being an exclusive use venue on the Buckinghamshire/Berkshire border. Hedsor is so striking and classically beautiful but we also felt that we could all be in our PJ's or laughing in the ballroom etc."
Charlotte and George
Suppliers you may be interested in...
Useful
Services
About
Style
Additional
Sustainability
Testimonials
Contact