Useful information
Works Abroad
We have experience doing events outside the UK.
Services
Catering
Specific Details
British
Caterer
Chef
Corporate
Fine Dining
Cocktails
Wine
Bartenders
Soft Drinks
Spirits
About the company
William Norris & Company was born from a vision of event catering with creativity, integrity, and exceptional service. We have a love of food sourced and prepared with authenticity and without pretence or fad. We not only produce beautiful food, whether it be for an intimate dinner or canape reception for hundreds of people, but we will get to know you and ensure that what we offer is completely bespoke.
Over time we have become a diverse family of dynamic, creative and loyal people who have the privilege to work with exceptional clients. Our team work together to make sure every event, from concept to completion, is treated with the upmost care and attention, and are experienced in delivering all aspects of an event or party from initial creative concepts to full delivery including organisation of venues, structures, production and entertainment and exceptional food and beverage service.
We will create innovative, bespoke menus to compliment your occasion. We work closely with trusted, valued and local suppliers to ensure that our menus are current, seasonal and most importantly, delicious.
Style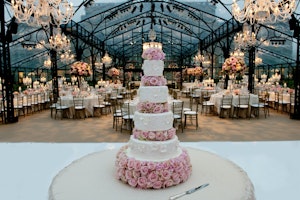 Traditional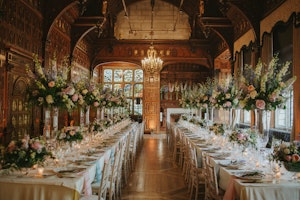 Formal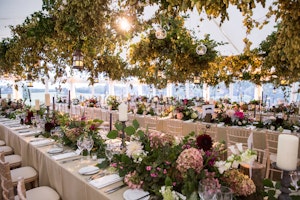 Natural
Additional Information
Can you cater in a marquee?
Can you provide a wedding cake?
Can you source alcohol?
Do you have in-house furniture for hire?
Do you have in-house tableware for hire?
Do you offer a tasting?
Do you offer bespoke menu options?
Do you provide bartending?
Do you provide waiting staff?
Do you provide delivery, set up & breakdown?
Do you provide glassware?
Do you have public liability insurance?
When was the company started?
1998
Are you VAT registered?
Sustainability
We are extremely conscious of the environmental impact of events and we work hard on reducing our environmental footprint where possible:
We eliminated all single use plastics in our business and contracted client's locations in 2018, including plastic straws, cups, lids and cutlery. Any disposable food service items we use are compostable.
All our contracted clients' locations now only serve filtered water, no bottle water is served.
We have also undertaken various other ecological initiatives such as: setting targets to reduce the company's energy and water usage; using a fleet of vehicles compliant with the new ULEZ for London and not making unnecessary journeys through careful planning of deliveries; buying seasonally, direct trade with awareness of provenance and recycling our cooking oil to bio oil used for fuel.
We use small, mostly local, artisan companies when sourcing and buying ingredients.
Testimonials
"I wanted to send you a huge thank you from myself and the whole team. The food was incredible and the whole operation was slick and done beautifully. Please do send our thanks as well onto your whole team who did a spectacular job. It was an absolute delight to work with you again and I look forward to the next opportunity. "
KT, Corporate Client
"Aside from thank you all I can really say is WOW. I thought everything about the evening was absolutely beautiful, from the setting to the service to the food. Again thank you so very much for a night I will be talking about for a very very long time. "
CM, Corporate Client
"A huge thank you for last night's event. I thought it looked beautiful and was so pleased to be able to achieve a thoroughly modern evening with a nod to the Victorians. We have had many compliments on the food and the service. Thank you for your boundless patience!! "
BK, Venue