48 London
London
Useful information
Works Abroad
We have experience doing events outside the UK.
Services
Party Planner
Specific Details
Concierge
About the company
48 London is a leading lifestyle management and concierge service company offering a personalised approach tailored to the individual. From household management and event planning, to style and interiors expertise, holiday planning, personal well-being and beyond, 48 London can help take care of every aspect of your lifestyle.
With our 'always on' approach, never being more than a phone call away and our view that 'No' is never the answer, we can help you create an event that is truly unique; using our trusted list of suppliers to support you at every step.
Specific areas that we cover:
Membership
Events & Occasions
Health & Wellbeing
Style & Shopping
Family & Education
Travel & Experiences
Home & Property
Style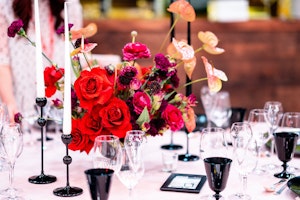 Modern
FAQ's
No, we can travel anywhere within the UK and internationally. We work with clients all over the world and have an extensive list of contacts and suppliers who are able to work internationally.
We do offer 48 London services to non-members, we can create a tailor-made package for your specific needs, whether this be an hourly rate or a fixed fee. We would be happy to sit down with you and discuss all options, to ensure we find the best choice for you. Our non-membership package often works well for those who are looking for support and guidance with an event, travel or sourcing items that are often difficult to procure.
We first met in Harrods when we were both working in the personal-shopping team and instantly clicked. In 2015, we recognised the growing need for a lifestyle management service who's ethos focused just as heavily on our clients wellbeing as well as the standard concierge offerings and so 48 London was created. A company in which clients feel so comfortable and confident in our advice and recommendations that they feel as though they can ask us anything.
We have been asked this a number of times and love that people find our name so interesting. It is a combination of our favourite numbers and London is our home town, so we both wanted to make sure that was included in the name.
We really offer a full 360 degree service, completely bespoke and tailored to each individual member to best suit their needs and preferences. We endeavour for our clients to see us as an extension of their every day lives and to feel so confident in our recommendations and assistance that they truly can ask us anything. Whilst we do not specialise in one area in particular, we do place a focus on wellbeing as we are firm believers in the philosophy that happiness develops from within. With the ever increasing pace of life, the wellbeing of our members is our priority.
We consider ourselves extremely lucky that our job gives us the opportunity to be part of some incredibly special moments for our members. Whilst we pride ourselves on discretion at all times, we have certainly helped bring together some extraordinary moments, whether this be a romantic date night at the top of a snowy mountain, organising a one-on-one beer and darts game with a world class darts player or transforming a home into Santa's magical grotto for the ultimate Christmas gift. No matter how big or small the request, we love being able to create memories of a lifetime for our members.
Testimonials
"Impeccable, discreet VIP service, always a phone-call away. From personal appointments, to intimate parties, large-scale events, or even luxury holidays abroad, you're guaranteed to have the itinerary planned to perfection with 48 London. "
PA to Private Client
"Very rarely do you find a company like 48 London. They are the most honest, professional and engaging company we work with. Over the last four years and counting, 48 have made our life so easy. It is such a pleasure to work with a company that maintains a consistent level of excellence and professionalism."
Bespoke Events London
"It is a pleasure dealing with 48 London. Sophie and Hope are delightful and genuinely care about their clients' health and welfare (Which makes them a rare gem within their industry). Plus excellent communication and super-efficient."
Charlie Hagan, Hagan & Pappin.
Suppliers you may be interested in...
Useful
Services
Specifics
About
Style
FAQs
Testimonials
Articles
Contact