Services
Catering
Specific Details
British
Caterer
Corporate
Staff
Fine Dining
On-the-day coordinater
Wedding
Planner - caterer combo
Staff
Chef
Bar Hire
Bartenders
About the company
We are huge foodies here at Caper & Berry, and the desire to produce great dishes drives our enthusiasm everyday. With a reputation for creativity and flair, we pride ourselves in making food that not only tastes delicious but is visually stunning and sustainable.
Our menus are curated with our clients in mind. From simple nostalgic moments to evocative memories, Caper & Berry's culinary team will create a menu that resonates with the vision for your day.
Caper & Berry's dedicated specialists will work with you to create a bespoke proposal and host you for your menu tasting at their Tasting Cottage. They work tirelessly throughout your planning process, and are on hand through the day until the last guest has left. Our personable process, the distinctive character of our food, charming staff and attention to detail helps us exceed expectations and create the reputation of which we are so proud.
Style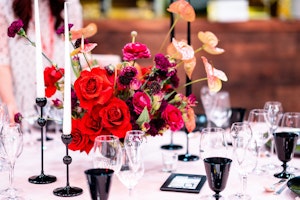 Modern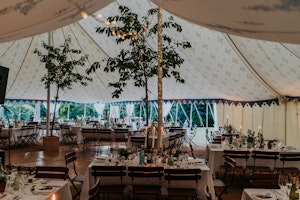 Rustic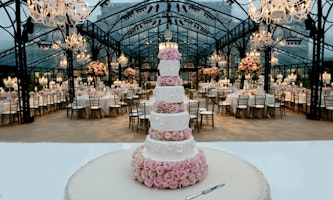 Traditional
Additional Information
Can you cater in a marquee?
Can you source alcohol?
Do you have in-house tableware for hire?
Do you offer a tasting?
Do you offer bespoke menu options?
Do you provide bartending?
Do you provide waiting staff?
Do you have public liability insurance?
When was the company started?
2004
Are you VAT registered?
Sustainability
Putting on events can be a hugely wasteful and damaging to the environment. We pledge to deliver the most environmentally conscious events we can; using the very best local ingredients, sourcing hire and equipment from local yet trusted suppliers to the venue and limiting the amount of deliveries where possible.
C&B are committed to not using single serve plastics, we have ditched the straw, and all single serve packaging that we do use is 100% recyclable and compostable. We're working with an innovative Wheat Straw Company who introduced the natural straw as an alternative - a by product from the wheat harvest.
Testimonials
"We wanted to write and thank you and the incredible Caper & Berry for the most amazing wedding day that you were an instrumental part of. We honestly could not have done it without you, and for that we will always be so grateful. Every single aspect that you helped planned and deliver was done to perfection and smashed all of our expectations. You were so patient with our back and forth at the planning stages, but you put together a brilliant menu and plan for us and we are so grateful for your continual help throughout that process. The team were just incredible on the day. Words really can't describe how amazing you all were and absolutely nothing fazed you - not even the weather! We were so grateful for little details like you arranging for the ice pops to be distributed later on in the evening, and the staff bringing in pizza for the guests to save them having to go out in the rain - it was all noticed and really shows how you went above & beyond for everything. We honestly couldn't have done it without you. The food was some of the best I have ever tasted and guests have not stopped talking about how delicious it was! The empty plates on the day said it all. There is a photo attached of my brother in law Ben who absolutely adores his food (and knows a thing or two about cooking!) - but the photo brilliantly captures his face after he had taken his first mouthful of dessert. He was absolutely stunned and said it is the best thing he has ever had!! I couldn't not include that one! Thank you again from the bottom of our hearts - we can't recommend you enough. And please also pass on our whole hearted thanks to the whole team that were there on the day - including all of the very talented chefs!"
Stephanie & Ossie - Wedding, Surrey
"Well done! A great job as usual and great feedback - well deserved! You guys always manage to keep everything running like clockwork and every client, without exception have been delighted by C&B. I know there is a ton to do behind the scenes so great thanks from Sally-Anne, Chris and I for making it all run so well. Please pass on our thanks to all the team and we look forward to seeing you again very soon."
Tom at High Billinghurst Farm - Venue, Surrey
"Thank you doesn't seem enough! You guys made our day and we couldn't have asked for anything more. Thank you especially for absolutely everything you did. You were amazing!!! You listened to everything we said and made all our dreams come true. Thank you from me also for all your reassuring words - they really helped and meant a lot. Lots of love and thank you again!!"
Lisa & Andy - Wedding, Surrey
"I just wanted to drop you all a note to say a massive thank you for another amazing night at Palooza. As always, you guys were an absolute pleasure to work with from start to finish and the food, cocktails and service were flawless! You really do go above and beyond and we all massively appreciate all of your hard work and effort into making sure the night runs so smoothly and is such a success. Hope to see you all soon for a catch up and some festive drinks perhaps! Thanks so much again"
Ally - ITV Palooza, Corporate Event
"We just wanted to send a HUGE thank you for Thursday night – we know you all put so much work into making it a great event for the RA, so please do forward our thanks onto the entire team. The food was really out of this world and presented beautifully which I know can be challenging with such large numbers - Caper and Berry rose to the challenge and everything was just perfect. We have had so much positive feedback from our corporate sponsors."
Sorcha, Royal Academy of Arts - Summer Gala
"Very many thanks for the efforts of your team on 24th October, the visit went very well and His Royal Highness, and The Chancellor had a very interesting and enjoyable time. The food produced was excellent and the service very professional so please pass on our thanks to all concerned.""
Fiona, University of Surrey - Visit of HRH Duke of Kent
"I just wanted to say a huge thank you for the amazing job that you and your team did at the weekend. The food was delicious and the client commented how impressed he was that the beef was perfectly cooked for that many people. Your staff were totally charming and professional. The service was impeccable, people always had a canape during the reception, people always had a full glass, the bar ran very smoothly and serving and clearing tables was quick and efficient. You ran the whole thing like a dream and I don't have one single negative comment. The client was incredibly impressed and he has seen it all after working with Al Fayed and Princess Caroline of Monaco. I cannot wait to work with you all again in the future. "
Katie Crighton-Stuart, Albion Parties - Private Event, Kent