Hampton Court Palace
East Molesey
Useful information
What do prices start from?
£3,000+VAT
What is your day rate?
£3,000-£15,000
Services
Venue
Specific Details
Historic
Iconic
Outdoor Space
Stately Home
Country House
About the company
Hampton Court Palace is one of the incredible Palace that make up the amazing group of venues at Historic Royal Palaces. We are an independent charity that through being a visitor attraction as well as events and wedding venue we preserve these beautiful buildings and their collections for future generations.
The large Palace of Hampton Court dates back to hundreds of years most famously being the home of Henry VIII and succeeding monarchs. It consists of stunning rooms that make up the Tudor and Baroque palace which can host between 10-220 guests seated. We also have our 1920s Garden Room available for exclusive daytime and evening hire for up to 180 dinner and dancing. Not to mention our stunning gardens available for hire as part of your event or for pop ups and marquees.
Style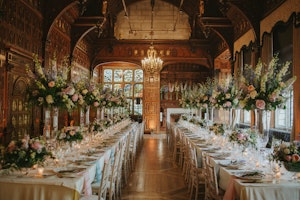 Formal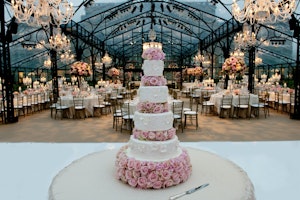 Traditional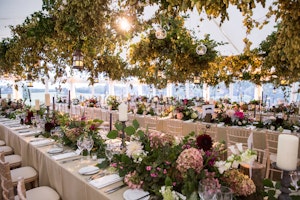 Natural
Additional Information
Do you have an alcohol license?
Do you have an in-house event manager?
Do you have a wedding license?
Do you have parking?
Is a marquee build permitted?
Is there a nearby church?
Do you have in-house sound & lighting?
Do you have public liability insurance?
When was the company started?
1989
Are you VAT registered?
Sustainability
Sustainability Strategy
Our sustainability strategy sets out our commitment to make a positive impact through our environmental sustainability performance. It covers several key themes where we can make the biggest difference to the environment and our customers. HRP are also committed to achieving Net Zero Carbon by 2050 (with some offsetting).
It includes: • reducing our overall energy consumption • considering the use of energy-efficient resources including renewable energy systems • maximising reuse and recycling in all of our waste streams • reducing carbon dioxide (CO2) and other harmful emissions • reducing our water consumption • maintaining the HRP grounds and buildings in an environmentally sensitive way • embedding good sustainable procurement practice
Please o let us know if you have any queries about our sustainability policy as we would be delighted to provide further information.
Charitable Status
Historic Royal Palaces is a self-funding charity, proud to be the guardian of six wonderful palaces. Our sites have been the scenes of the most remarkable moments in our history, from the Norman Conquest to the negotiation of the Good Friday agreement.
We create space for spirits to stir and be stirred. We want everyone to feel welcome and accepted. We tell stories about the monarchs you know, and the lives you don't. We let people explore and we set minds racing.
We are a charity, and your support gives the palaces a future, for everyone.
FAQ's
We have had the privilege to work at a number of weddings and celebrations. One of my favourites has to be a wedding with a couple who married in the little banqueting house, had a reception outside, dinner in the Great Hall followed by dancing in the Undercroft. Firstly, the venue was a surprise so the guests were so shocked and amazed and by using multiple spaces they really got to experience the history of the palace. Also, the couple really personalised their day from their flowers, decor as well as their wedding cake. It was such a lovely day with an amazing vibe!
The Palace is huge, so don't be afraid to ask questions about which rooms/ spaces will work the best for your numbers and time of year. Also, feel free to give your guests a little extra time walking to dinner, people enjoy chatting seeing the Palace and taking pictures.
We are obviously very historic, but what we love about our style is that it is traditional with a twist Perhaps do a pop of colour or go for a modern table setting. Bringing the two together looks beautiful.
There is no other venue like us! We have so many nice quirks! Perhaps you would like to arrive at the venue by boat? We have both beautiful spots inside and outside for photography and if you are really interested in the palace we can always incorporate a tour as part of your event.
Testimonials
"Out wedding at Hampton Court was perfect. Everything went without a hitch. Jen, who looked after us from start to finish was an absolute star and we can't thank her enough. The Garden Room was completely transformed and so beautiful. Everything went like clockwork. We are so grateful, lucky and happy. The day was simply perfect. Thank you.
Sophie & Ben
Suppliers you may be interested in...
Useful
Services
Specifics
About
Style
Additional
Sustainability
FAQs
Testimonials
Contact