Useful information
What do prices start from?
£3000 + VAT
Works Abroad
We have experience doing events outside the UK.
Services
Florist
Specific Details
Foam Free
Ceiling Installation
Bridal
Chuppah
Flower Walls
Full Service Planning
Large Scale Event Production
Wedding
One-on-one Planner
Partial Planning
Bespoke
Set Design
Trees & Greenery
Props
About the company
Since 2010 the team behind Studio Sorores Ltd have been creating luxurious, authentic and memorable events across the UK and Europe. For us the word "luxury" should be associated with quality, craftsmanship, subtlety, detail, originality, and timelessness. It is also as much about incredible service and the highest of standards, with over a decade of combined experience in the event and design industries. ​ Offering full service event planning, design, styling, and custom florals all under one roof from our beautifully light and airy studio in the heart of The Cotswolds, we travel across the UK and Europe for bespoke commissions; working closely with private individuals, creative brands and luxury venues. We offer our clients not only a truly cohesive experience but also the ultimate level of convenience and communication with a dedicated team of logistical assistants and designers.
Style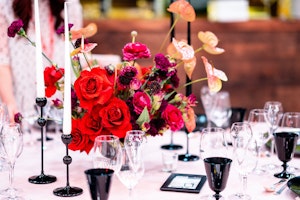 Modern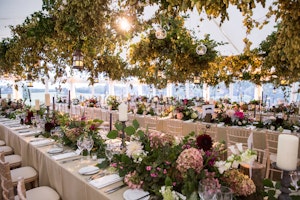 Natural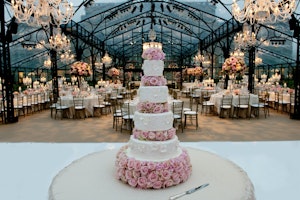 Traditional
Additional Information
Do you do a party/wedding consultation?
Do you do a site visit?
Do you have in-house candles & vases?
Do you provide confetti?
Do you provide delivery, set up & breakdown?
Do you provide floral aisles?
Do you provide pre party/wedding design sketches?
Do you provide table centrepieces?
Do you provide wedding arches?
Do you have public liability insurance?
When was the company started?
2010
Are you VAT registered?
Sustainability
Here at STUDIO SORORES we are fully committed to growing a modern, luxury and responsible business.
We regularly develop and refine our signature water mechanics as we challenge ourselves and continue to push boundaries to create new, bespoke and luxurious designs and installations that are both impactful, beautiful and sustainable.
We compost, reuse and recycle our packaging and materials for every event, we try to use locally grown and seasonal produce wherever possible, and in 2018 we announced that we are now fully committed to not using floral foam in ANY of our designs.
Floral foam, more commonly known as Oasis (the brand name), is widely used in the industry as a foundation to floral arrangements. It's easy and flexible to use, but the truth is that the material itself is alarmingly bad for our environment and one of the largest contributors to plastic waste in the floristry industry. It is a material that's not bio-degradable and is essentially plastic. It is a petroleum-derived product, which means that it comes from a non-renewable resource, and is also made using chemicals such as carbon black, formaldehyde and barium sulphates. The foam is also a single-use plastic, meaning that its life as a useful tool in floristry is minimal compared to its infinite lifespan in landfill.
Working with artists and skilled staff across the UK as we continue to work towards more social sustainability. We encourage flexi-working, we continue to research and gather our little black book of suppliers working across the UK and Europe with a similar mind-set and approach to sustainable luxury service or products.
Our head office is located in our beautiful biomass heated studio based in the private estate of Miserden in The Cotswolds. They are truly leading the way in their own field, and are completely committed to sustainability and a reduction in carbon footprint. We are proud to be part of their community with shared values.
FAQ's
We created a two day festival wedding in the middle of a field with no facilities on site, which formed part of a hippy commune in Herefordshire. There was a maze of fire that guests danced around at the end of the night!
Don't leave design until last. It's such an important part of our planning and floristry process, and focusing on the storytelling early really ensures a cohesive and successful event.
Timeless, modern and luxury.
We have really worked hard to collaborate with other artists and vendors who share our values on this. We use our own signature water mechanics in our floral installations, which means no floral foam is ever used - even in our large scale installations. We work with caterers who have committed to working with local food suppliers, and often create unique concepts with zero waste canapés and home grown ingredients. We can advise on so many ways to increase sustainability in line with your event, without compromise on quality, style and design.
Testimonials
"Best for a fashion-forward approach and guest-centric focus, Jessie reminds couples to keep the meaning behind their big day at the forefront of their minds"
Country Living Magazine
"We cannot express the amount of gratitude we feel towards you. Every single bit you have done for us for our wedding, you have no idea how much it has meant to us and we will be forever thankful. And what an amazing and beautiful person you are. You radiate such kindness, professionalism, passion and talent, it leaves us in awe and inspiration. Please don't stop doing what you do and being who you are. We are so lucky to have met you and gotten to know you. The wedding industry needs more people like you! Please don't be a stranger. We'll always be following your updates, wishing we can get married all over again, because you made it all so special"
Jaclyn & Ben
"It was all so, so beautiful – people kept remarking to us that the tables and the flowers were the most amazing they've ever seen. And my bouquet....! It looked and smelled divine. I couldn't believe how gorgeous everything was. Everything felt seamless and perfect on the day, which was no doubt a testament to you keeping everything running smoothly behind the scenes, Jessie, so thank you for that."
Kathryn & Joel
"Georgia and Jessie (and team), Wow, I just can't thank you enough for all your WONDERFUL work. You guys are something special! Your amazing energy and enthusiasm for what you do and what you did for our wedding was felt by both Jose, myself and my parents and also every guest! I wish you could have heard all the amazing comments being thrown around all day which I got to revel in but it was all down to you! I knew from the moment I saw your instagram that I wanted you to work on our wedding. Everything you do is so classy, visually and sensually harmonious and carried out with thoughtful detail. Your artistry is certainly like nothing else that I had seen in my searches throughout the wedding planning process. I also wanted to say a particular thanks to you for the way you worked with me in the short time frame and didn't once make me feel like I had left things too late (which I certainly had!!) or that my vision wasn't possible because of certain time frames! The stationary was so exquisite and fitted in perfectly with all of your design work. I have so many favourite bits but one was definitely the table plan, with the flowers, pampas and candles surrounding it! The simple dried grasses etc for the Friday night dinner, the last minute velium! And the ceremony main ceremony wall without doubt needs a mention!!! .. tbc "
Sophie & Jose
"...I'm currently sitting in the house surrounded by all your flowers that are still alive, the stunning proteas, the grasses and pampas, some of the roses still going strong, hydrangeas which I have given to my parents friends, clinging on to any last bits of the wedding! Thank you for making my pampas dreams come true (I found it really difficult to say goodbye to those hanging installations!) and taking everything I've mentioned and made it all cohesive and ten times better! To have you guys just get on with things and to have the comfort that I don't need to worry the week leading up and on the day was invaluable. And most of all you two as people are just a dream. You are passionate and you care and that is clearly at the heart of everything you do. Wishing you all the best with every event and wedding in the future. I will just have to find a reason to have a fabulous 40th or party in the future to use your wonderful services again!! In the mean time I will just have to follow you avidly on instagram!"
Sophie & Jose