How to Choose the Perfect Wedding Caterer
By HOPP Team
Feature Image: Alison Price and Company
The vows have been made, the confetti has been cast, and hearts have been filled. Now, stomachs are empty.
Creating a wedding menu that reflects your personal tastes, fits within your budget, and appeals to each one of your guests is one of the most important aspects of wedding planning. While some venues will recommend — or require — that you choose from their own wedding catering packages, others will leave the task up to you.
If you are looking to secure your own wedding caterers, don't let yourself get overwhelmed. Follow these steps to ensure that you are harnessing the full potential of your venue, budget, and appetite.
Begin with the Budget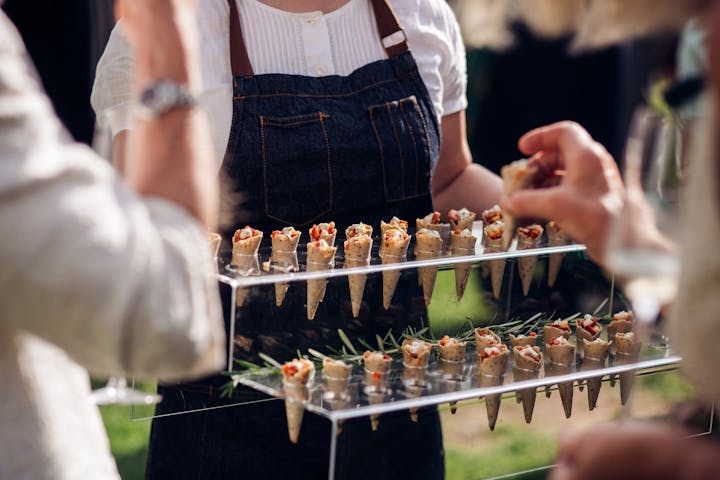 Delicious and expertly crafted food comes at a price, and you will need to approach your prospective caterer with an accurate idea of your budget per head. It is all too easy to dream up the ideal, five course wedding menu — especially when you are used to feeding only a handful of people at a time — but it is a little tougher to balance expectations with the cost of feeding, say, one hundred and fifty celebrants.
Start by calculating the overall budget for your wedding catering, then divide that number by the number of guests you expect to welcome at the reception. Each and every guest you invite to dine at the reception will contribute to your wedding catering cost, so it's important to consider the numbers before sending out your invitations. For instance, you can allot £60 per head on one hundred and fifty guests, or £90 — and a higher quality meal — on one hundred guests.
The cost of wedding catering is also impacted by the venue. If you are using a space that comes with its own cooking facilities, your caterer will not need to procure their own equipment, which will ultimately cost you far less.
Make sure you discuss these numbers with any potential wedding caterers; they will have a great deal more experience with devising the right wedding menu for the right budget, and be well-placed to offer insight into exceeding expectations — not your budget.
Consider Your Options with Service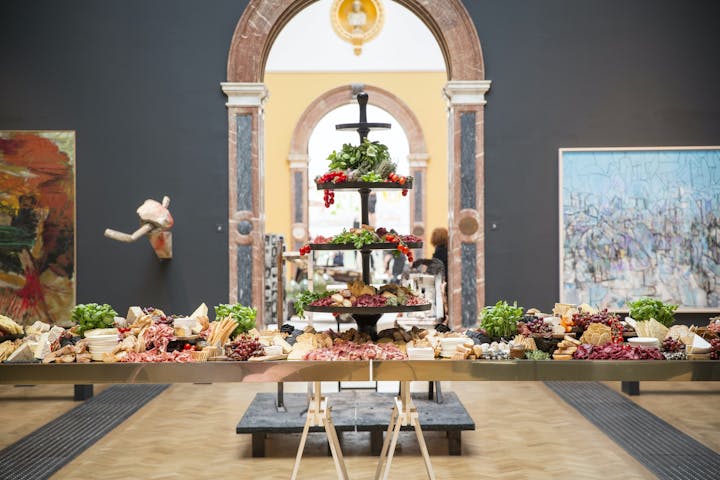 A buffet is a little less formal; your guests will have the freedom to mingle as they serve themselves, which can make for a wonderful, lively atmosphere. Without a fixed menu, you also have the opportunity to create a more diverse range of options, which can be invaluable if you are catering to a variety of appetites.
If a buffet is your preferred option, just remember that your wedding caterer may well recommend that they serve more food than they would for a fixed menu, as your guests may wish to refill their plate one or two times. Furthermore, have a chat with your venue, and consider whether or not there is enough space to accommodate all your diners at once — you don't want to start a conga line...yet.
The other option, of course, is to devise a sit-down wedding menu, and pay a little extra for waiting staff. Your guests will socialise with their own tables, which can give brides and grooms a far better opportunity to share a calm moment together, and enjoy the wedding food without too many interruptions.
Again, talk through your options with your wedding catering company. Your budget, venue, and the atmosphere you wish to establish will all have a significant impact on your final decision, and the experts will be able to do some creative problem solving to help you get the most out of your reception.
The Wedding Menu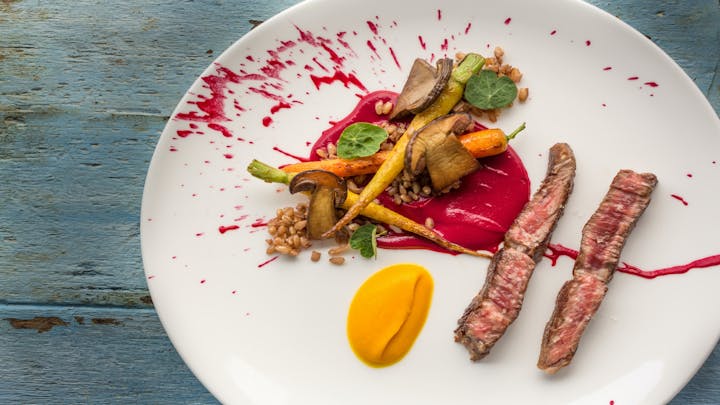 As with any aspect of wedding planning, devising a menu to satisfy you and your guests can bring on mixed feelings: excitement, anticipation — and a little apprehension, too. With so many mouths to feed, and so many different palettes, allergies, and dietary preferences to cater to, decisions over the wedding menu can involve a great deal of hesitation and debate.
Thank goodness, then, that when it comes to the wedding menu, your options are endless. It's your day, so put your personal style into it, and start by thinking up some of your own wedding menu ideas. Whether you envisage an elegant vegan table d'hôte, a spicy Mexican buffet, or a hearty and traditional roast, there will be a wedding catering company with the right skills to perfect your wedding menu.
Discuss any and all wedding food ideas you have with your catering company; talented chefs have the passion and proficiency to take the spark of an idea, and transform it into a sumptuous, complexly flavoured feast. Take advantage of the season, and ask your caterer about the current harvest, and don't forget to mention your theme, too.
Most importantly, sample it for yourself, and don't sign on the dotted line until your mouth is watering with anticipation.
Wedding Bar Hire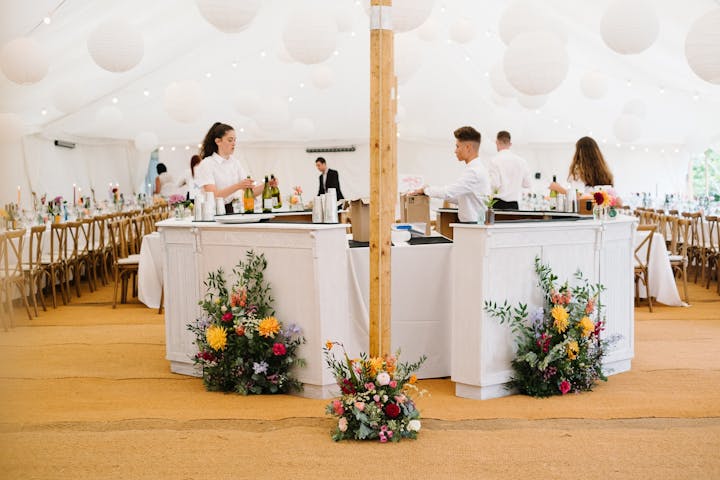 Wonderful food should marry a good drink, and if you have chosen a venue that does not come with its own well-stocked bar, you may wish to consider booking a wedding bar for the reception — your guests will certainly appreciate it.
If you are hosting a marquis wedding, there are a host of unique mobile options for the great outdoors, from converted caravans to ice cream trucks. If you are looking for something a little more elegant, then you can opt for a traditional wedding bar to be placed within your space.
Once again, one of the most important considerations is budget. Are you paying for the wedding bar hire, along with everyone's drinks? Or, alternatively, are your guests going to receive a welcome bubbly, and then pay their own way?
Also, consider the drinks you wish to have available. Champagne is a popular choice, but wedding cocktails will add an exciting flare to the celebrations. If you hire a cocktail maker, make sure you discuss the best options for your guests. Don't add any Daedalian drinks to the wedding menu if it risks long queues — and high costs. Keep it simple but fun.
Find the perfect food & drink options for the big event with one of our amazing wedding caterers.
Written by our Team of HOPP Experts.