Elmore Court
Gloucester
Useful information
What do prices start from?
£6500
What is your day rate?
£14000
Services
Venue
Specific Details
Stately Home
About the company
Situated in Gloucestershire, Elmore Court is soaked in grandeur of the past with its 750-year-old imposing structure. With breath-taking views and modern amenities, no other venue for weddings can equal this.
The jewel in Elmore's swan-topped crown is The Gillyflower. It truly represents everything that this generation of the Guise family is trying to accomplish. These festival-minded souls take the greatest pleasure in seeing you and your guests have the wedding ceremony and party of your dreams. Within the house they celebrate tradition, while in the Gillyflower they embrace innovation and evolution!
When celebrations come to a close there are 16 beautiful bedrooms all with their own unique character.
The culinary experience here, with its incredibly skilled team of chefs and produce from the grounds, will sweep you off your feet. The highly experienced team will ensure you can your special day to the fullest.
Style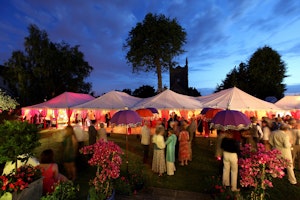 Bohemian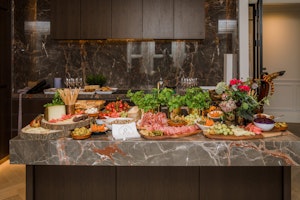 Informal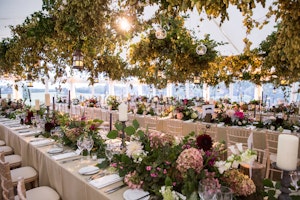 Natural
Additional Information
Are there bridal changing facilities?
Do you charge corkage?
Do you have accomodation?
Do you have an alcohol license?
Do you have an in-house event manager?
Do you have a wedding license?
Do you have disabled access?
Do you have in-house catering?
Do you have in-house sound & lighting?
Do you have parking?
Do you offer exclusive use?
Is an external caterer permitted?
Is there a nearby church?
Do you have public liability insurance?
When was the company started?
2013
Are you VAT registered?
Sustainability
Using wood from our own woodland to supply year round fuel, Elmore is heated entirely using a carbon neutral Biomass boiler for heating and hot water.
The Gillyflower is our Eco ballroom! Built using natural materials sourced from our own estate; walls made from rammed Elmore earth and timber sourced from our woodland. It has a meadow out the front (and one on the roof!) that is planted with a blend of flowers to encourage pollinating insects and bees, which in turn help to pollinate the fruit orchards that surround us.
The Estate has also planted over 25 acres of new woodland, to supply fuel for the biomass which in return, provides wildlife habitats and helps us to lower our CO2 in the atmosphere.
Where possible we are cutting down on plastic products, switching items such as plastic straws for paper ones, and reusable glass water bottles with our filtered Belu water system. We use advanced paperless systems in our office to cut down on printing.
We aim to start growing our own seasonal fruit and vegetables to use in the kitchens and flowers to display in the house as well as using more produce from the 3 farms on Elmore estate - local milk/yogurt/cheese/beef and game birds. Introductions of bees will produce honey and chickens for eggs.
Each of these big and small changes to our business mean we can become more sustainable, and also contribute to the bigger picture of helping protect the environment we live in.
Testimonials
"The most fabulous venue and an incredible team! We can't recommend Elmore and Team E enough, it ticks all the boxes. A beautiful place and we couldn't be happier that we got to say I Do with you. Your grounds are beautiful, your rooms are so unique and your food is yummy! Adele you are THE BEST and Elmore are very lucky to have you on their team, you made everything so easy and as my dad said 'Adele said' (haha) - I trusted you implicitly and you delivered and more. Thank you lovely people for giving us an incredibly special day. Much Love Em & Tim xxx"
Emily and Tim
"Everything about Elmore Court is fabulous and we couldn't recommend having a wedding there enough! Our wedding coordinator was fantastic and helped make us feel relaxed every step of the way from our initial viewing to planning the details in the lead up to on the day coordination. Every member of Team E that we came into contact with were brilliant - well polished and professional whilst being friendly and relaxed at the same time. The venue itself is stunning and incredibly versatile with spaces suitable for any style of wedding in any season. We had our ceremony and drinks reception in the main house then moved to the Gillyflower for the meal and party.... And does that space work for a party!!! ... and the food... Wow! Everyone commented on how delicious everything was - it was even better than we remembered from the tasting! The only downside is that we only plan on getting married once so now we need to find another excuse to go back!"
Jen
Suppliers you may be interested in...
Useful
Services
Specifics
About
Style
Additional
Sustainability
Testimonials
Contact