Encore Entertainment
London
Useful information
What do prices start from?
£1000
Works Abroad
We have experience doing events outside the UK.
Services
Music
Entertainment
Specific Details
Acoustic
Classical
Band
Agency
Rock / Pop
Roaming Performers
About the company
Encore Entertainment offers sensational quality singing acts to thrill your guests:-
"Encore Singing Waiters" - As seen singing live on itv's "Alan Titchmarsh Show" and on Channel 4's "Celebrity Come Dine With Me" with Jodie Marsh. Widely accepted as the UK's finest surprise Singing Waiters, Chefs, Toastmaster and/or Planted Guests, performed by west end leading soloists.
"West End Encore" - Some of the finest soloists in the country, which can include a mix of your favourites or specific shows such as We Will Rock You, Mama Mia, Jersey Boys, Les Miserables, Phantom of the Opera, The Greatest Showman and many more. Classic musicals through the ages or more current shows. Alternatively, 1920's Great Gatsby theme, Tenors Encore ('Il Divo style'), or Sirens Encore ('the leading ladies')
"Jewish Encore" - Our specialist act for Bar & Bat Mitzvahs, as well as Jewish weddings.
HRH Prince William "Super performance. Congratulations!" following a standing ovation from Their Royal Highnesses, Prince William, Prince Harry & guests.
Style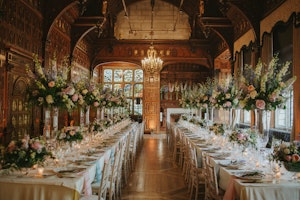 Formal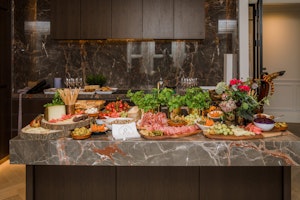 Informal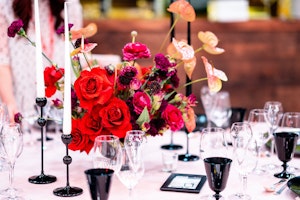 Modern
Additional Information
Do you do bespoke song requests?
Do you have an in-house PA system?
Do you provide an onsite sound technician?
Do you have public liability insurance?
When was the company started?
2006
Are you VAT registered?
FAQ's
The performers arrive, smartly dressed, and meet the agreed contact at the venue, well before any guests appear. They will set up the appropriate sound equipment and carry out a sound check with the sound engineer arranged for the day, and once this is complete, the performers get into character, as Maitre D', Waiter/Waitress and Chef. The Maitre D' can act as MC or carry out 'toastmaster' duties if necessary, making announcements, calling the guests into dinner, and for weddings, announcing the bride and groom. They carry out as much guest interaction as possible at this stage, pouring drinks if appropriate, and serving canapes, which assists in sustaining the pretence of being 'staff' as long as possible during the show.
Once the moment is right, during the meal, the performers will have been liaising with the event's real banqueting manager, and will get the go-ahead to start the act. The 'Chef' is welcomed to the mic by our posing 'Maitre D', to take applause for the wonderful meal. After some slick and fun dialogue, tailored to the occasion, the 'Chef' then bursts into song as a treat, and due to the vocal qualities and superb acting of every one of our performers, the guests erupt in cheers and applause. The impact and audience reaction created by Encore Entertainment, is genuinely second to none, and at this point, the clients will know that they have chosen the right entertainment for the event. At this point they both can be joined and upstaged by the optional '3rd' singer ('Waiter' or 'Guest'). The singers stay in character and the show includes well known classical greats initially, then leading to more contemporary show stoppers and hits. They include songs which have been tried and tested over a long period, to achieve the maximum impact.
Testimonials
""Super performance. Congratulations!" following a standing ovation from Their Royal Highnesses, Prince William, Prince Harry and all the guests at a friend's wedding. "
HRH Prince William
""Amazing Guys, thanks so much""
Jamie Vardy, Professional Footballer - Wedding.
"That was wonderful singing guys!"
Neil Sedaka - The Alan Titchmarsh Show
"I've seen these guys in action and they really are 1st Class"
Nick Ferrari, LBC Radio - Live Interview
"Thank you so much, everybody really loved it, a brilliant job, thanks to all three"
Chris Tarrant
Useful
Services
Specifics
About
Style
Additional
FAQs
Testimonials
Contact