Paula Rooney Ltd
Upton Grey
Useful information
What do prices start from?
Due to the bespoke nature of our designs we find that our weddings start from 5K.
Works Abroad
We have experience doing events outside the UK.
Services
Florist
Specific Details
Bridal
Flower Walls
Christmas
Chuppah
Ceiling Installation
About the company
Paula Rooney is an award-winning floral designer for a range of discernible clients around the world. The in-house florist for Four Seasons Ten Trinity and one of Tatler's top 5 wedding florists our clients are at the very heart of what we do and are the reason that we do it.
We listen to your ideas and dreams and help you breathe life into them. We draw upon all of the senses and we like to ensure that each element has a sensory identity, cascading from visually stunning florals to the most heavenly scented perfumes that escape from each flower.
Whether it's an intimate celebration or an extravagant event stretching out across many days, we have the knowledge and expertise to cater for both and everything in between. Whatever your event, your flowers will have the Paula Rooney hallmark of refined luxury.
Style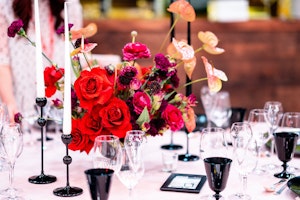 Modern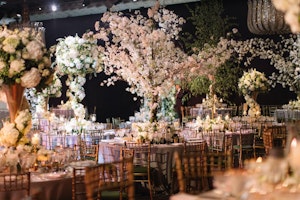 Whimsical
Additional Information
Do you do a party/wedding consultation?
Do you do a site visit?
Do you have in-house candles & vases?
Do you have in-house props for hire?
Do you provide delivery, set up & breakdown?
Do you provide floral aisles?
Do you provide table centrepieces?
Do you provide wedding arches?
Do you provide pre party/wedding design sketches?
Do you provide confetti?
Do you have public liability insurance?
When was the company started?
2011
Are you VAT registered?
Sustainability
We are passionate about the beautiful environment in which we live and breathe and aim to always be as mindful and conscientious about waste.
FAQ's
Yes we have done a few including weddings, baby showers and events. We've even worked with Royals from around the world. Our team are used to working at high level events and providing a sleek service.
We can work anywhere in the UK and the world!
Yes we can provide full table styling services.
Yes we love chatting with clients about their vision and requirements for their event so we can ensure that we are creating something spectacular and bespoke for you.
Testimonials
"Having explained what we wanted, Paula delivered. She absolutely nailed the brief. From the colour to style, size to variety she just hit the spot. The flowers were amazing, everyone commented on how appropriate they were for the venue and for us. If we had our day over there would be nothing that we would have changed. Despite the 30C+ weather everything remained fresh, the whole day. Paula is both personal and professional, I would not hesitate to recommend her services. Simply exemplary!"
NAILED THE BRIEF
"Paula was amazing to work with. She understood the look and feel we wanted for our special day, and executed that vision even beyond our expectations. We are still hearing compliments on the flowers months after our wedding!"
BEYOND OUR EXPECTATIONS
Suppliers you may be interested in...
Useful
Services
Specifics
About
Style
Additional
Sustainability
FAQs
Testimonials
Articles
Contact