Top Tips When Planning a Small or Micro Wedding
By HOPP Team
Feature Image by Full Monty Events
A small or 'micro' wedding is becoming increasingly popular (*ahem also the only legal way to get married in the majority of 2020 and until earliest June 21st 2021). One plus point is that with a more intimate guest list, you can focus on creating a personal and unforgettable experience for you and your guests.
If you are tempted or getting to grips with the idea of having a small wedding, there's plenty of benefits such as a greater budget per head meaning you can spend more on your biggest priorities, be it flowers or the entertainment & a more relaxed intimate feel with only your nearest and dearest. Read first hand about the gorgeous Emilie Haszlakiewicz's micro wedding; she postponed her original wedding and celebrated with the most stunning late summer wedding for 30 last year. It is also no secret that wedding guests lists are a nightmare, with more often than not someone getting offended or family tiffs; and fewer guests ultimately means less stress.
Top Tips
1. Exclusive Use
If you are hiring a venue or restaurant ensure you have exclusive-use whatever the size of your guest list - it is your special day and privacy will ensure the intimate feel (and means you can really let your hair down and have more fun!).
2. Bring in the pros
Whether it's a wedding planner or on-the-day coordinator service, we always recommend that you bring in the pros to avoid spending your day stressing. A planner will take the reins on logistics, styling and any on the day hiccups & we have summarised for you a handy article with the different types of planners and who is most suited to you.
3. Professional photos only
Privacy is the new luxury. If you have an amazing photographer to capture all the candid moments then why not think about asking guests to refrain from getting their photos out or implement a social media ban. We have pulled together some ideas of how to implement this.
4. Rewearable wedding dresses
You might have dreamed about your wedding dress your whole life and are prepared to only to wear it once, however, for the rest of you, who might feel that is now excessive when only in front of your closest family & pals you should consider rewearable wedding attire such as a dresses from brands: Galvin, Temperley, Seren & Harmur & gorgeous suits from the first female tailor to have a store on Savile Row, The Deck. Moda Operandi did a wonderful article about the Top Micro Wedding Trends and have a gorgeous collection of off the shelf wedding dresses. This trend towards luxurious yet understated looks is growing. Brides-to-be are also flocking online: convenience and speed is important for ceremonies organised at such a short notice.
5. Size doesn't matter
While words 'small' or 'micro' might suggest ideas of informality or casualness, a micro-wedding is just as special and important as a large celebration! Having a smaller guestlist gives you the opportunity to spend more time & budget on bespoke, details – a hand-painted tablecloth or hand-illustrated plates that can double as wedding favours for guests.
6. Weekdays are fair game
With your nearest and dearest it is likely they will be able to take a day off work to celebrate your wedding. This is a great one for cutting costs & also with all of 2020's weddings being postponed means that your dream wedding suppliers are more likely to be available.
7. Add a tech element
To mitigate the awkwardness of uninvited guests or guests unable to attend due to travel restrictions you can live stream the ceremony. Why not elevate the experience for guests that cannot attend IRL by sending the bespoke cake to enjoy whilst watching from Black Box Cake. If a live stream is not your style, you can still get the wedding photographer and video of your dreams to send the edits to guests afterwards.
8. Forget plus ones
Plus ones are always a stickler for arguments at the risk of friends being offended. However, if your guest list is under 50 everyone will understand. Remember it is your wedding, not your parents. You have every right to say "No thank you" to someone you hardly know arriving on the arm of Cousin Caroline or Uncle Arnie.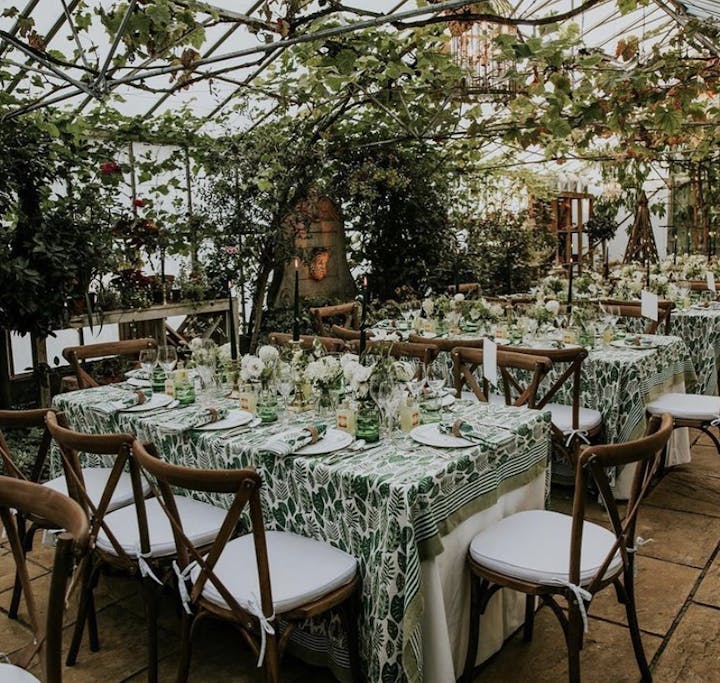 Social Pantry
Written by our Team of HOPP Experts.