Tattie Rose Flowers
London
Useful information
What do prices start from?
Wedding commissions start at £10k (excluding VAT) please enquire for parties
Works Abroad
We have experience doing events outside the UK.
Services
Florist
Specific Details
Trees
Ceiling Installation
Bridal
Foam Free
About the company
I travel throughout the country and internationally with my hand picked team of highly skilled makers providing thoughtful, beautiful and exciting flowers and botanical sets for parties, events and select weddings and interesting commissions.
We transform spaces using flowers, greenery, trees, structure and light; creating impact using scale like no one else as well as focussing on the small details which make a design unique. We strive to push boundaries with our designs whilst always remembering to be kind to the land which so inspires us.
We are continuously commended for our discretion, warmth, originality and personal service and our flowers move people with their scale and tapestry like detail.
Style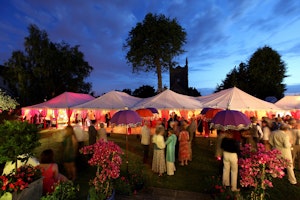 Bohemian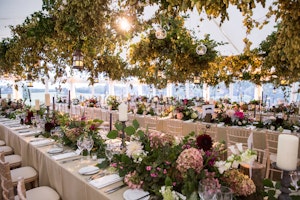 Natural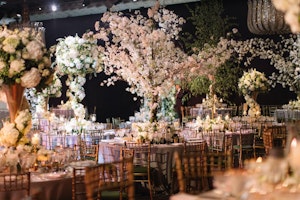 Whimsical
Additional Information
Do you do a party/wedding consultation?
Do you do a site visit?
Do you have in-house candles & vases?
Do you have in-house props for hire?
Do you provide confetti?
Do you provide delivery, set up & breakdown?
Do you provide floral aisles?
Do you provide pre party/wedding design sketches?
Do you provide table centrepieces?
Do you provide wedding arches?
Do you have public liability insurance?
When was the company started?
2010
Are you VAT registered?
Sustainability
Whenever possible we use locally grown and sourced flowers and foliage. All our designs are made using no floral foam whatsoever.
Testimonials
"Tattie was an absolute delight to work with for our wedding. Her attention to detail with the flowers was impeccable and she completely understood the request for elegance but wildness too. The scent of the Margaret Merril roses is something that Caspar and I will never forget!"
Ellie Goulding
"Tattie Rose transformed our venue into a candle-lit, luscious, magical, wild garden and went above and beyond any expectations we had. There isn't another florist in the world I would recommend more for a special occasion!"
Princess Ekaterina of Hannover
Suppliers you may be interested in...
Useful
Services
Specifics
About
Style
Additional
Sustainability
Testimonials
Articles
Contact