Queenie & Belles Events
Henley-on-Thames
Services
Party Planner
Specific Details
Event Planning
Corporate
Weddings
One-on-one Planner
Full Service Planning
About the company
Queenie & Belles events offer bespoke event management and production to suit your budget. From family birthdays and special occasions, right the way through to weddings and corporate events of any size.
Our unique vision and personal touch delivers happiness and satisfaction to our many clients.
Since we started out, we've developed a reliable and professional network of contacts in all of the areas that matter most; from marquee suppliers, bar staff and catering to amazing entertainment and beyond. We ensure that our clients are rewarded with the very best productions.
Defined by our personal and creative approach, we are able to deliver a diverse and bespoke range of events.
We believe that how you feel afterwards defines the care and devotion that we put in to every event and this has since become our 'trade mark'. You bring the people, we'll bring the party.
Style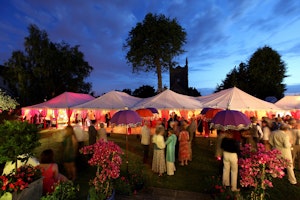 Bohemian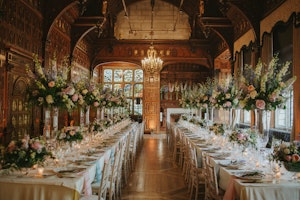 Formal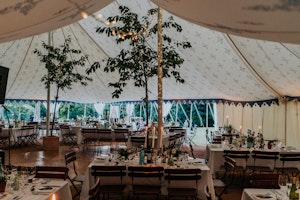 Rustic
Sustainability
Sustainability and sourcing locally is a priority.
Testimonials
"I just wanted to write and say how absolutely thrilled we were with our party which you organised for us! Having never organised a party like this before the whole thing was quite daunting for me but you both made it so easy and such a pleasure in every way. You make a brilliant team together and compliment each other perfectly! You took care of everything and anything I wanted and it happened without any fuss or stress! I also really looked forward to our meetings which were always positive and fun too! The house looked beautiful, marquee was absolutely superb, the catering was fantastic, the band was amazing and we all had the most brilliant time thanks to you both. Having you there on the night was such a comfort and I knew you were seeing to everyones needs so I could relax and everyone had the best time ever! I can honestly say it could not have been better and I can't thank you enough for the most amazing party!! I would not hesitate to recommend your services to anyone."
Annette - 60th Birthday
"A very heartfelt thank you for making our day so very special and effortlessly enjoyable! I never understood when people said it was the "best day of their lives", but it truly was and much of that was down to how brilliantly and subtly you looked after everything so we could just relax and enjoy the day."
Elizabeth - Wedding
"How would we have coped without you? Thank you so much for all your hard work and good humour over the past however many months. It has been so much fun planning this wedding with you plus it went off perfectly which is all credit to you both. We had the best time and, as Mum has said, our vision really did come true. Thank you for helping us make it a reality (and for arranging the weather). People have said repeatedly that it was the BEST wedding EVER - so much joy and happiness, a great atmosphere and seamless execution. I think we really did manage to cover every base. But truly a huge thank you from me in particularly for making hosting 270 people such an easy and fun experience."
Georgia - Wedding
" our guests were universally transfixed by the whole event, they loved the series of reveals...in the most elegant surroundings" A taste sensation in every sense of the word and you two were delightful to work with and your creative industry was a delight to witness…." "
Justin - 50th Birthday
"We literally can't believe what you and Jane achieved and how much we love you both, you made the day what it was, amazing. You went way beyond the call of duty and everyone loved you!! Thank you so much from all of us...."
Annie - Wedding
"It was a truly wonderful day – from start to finish Also, it was a lot of fun planning it and I really appreciated your flexibility and ideation . . . to come up with a plan that was going to be really special and within a budget 'I honestly couldn't have asked for a better day' It was utterly fabulous, thank you both so so much"
Larissa
"Our wedding was absolutely magnificent and I want to say thank you from the bottom of my heart for helping make it so. You were so supportive in the run up and really made the whole thing come to life on the day. All the little extras made such a difference and everyone has been commenting on the great run- ning and overall experience. I felt very cradled by you, thank you."
Amy - Wedding
"Queenie & Belles organised my daughter's 18th birthday party for me recently. They were imaginative, extremely well organised and showed real dedication to the task and the event couldn't have gone better. I would not hesitate to recommend them on to friends (in fact I have already) - they are a pleasure to deal with"
Philip - Daughters 18th Birthday
"We had just the most wonderful day - you and Jane did such a great job taking what we had in our heads and making it reality. Everyone is still saying to us how much they enjoyed the day, especially the swiss who had never seen anything like it!"
Rosie - Wedding
" "Great pleasure working with you too - super organised, nothing too much trouble, friendly faces... what more could a florist want in a wedding planner?" "You girls did a wonderful job! It looked fabulous... Always a pleasure!" "Great to meet you too; good job all round. Def hope to work with you again...." "Congratulations on putting together a magnificent wedding." "It was great to be a part of it, and I hope to work with you again one day" "Well done for organising such a great event as we know how much hard work goes into organising events!!""
Suppliers
"Thank you both for arranging the amazing party last weekend - everyone had a brilliant time! The stage created was perfect, food and drink delicious and Dom absolutely nailed it – the dancefloor banged the whole night! PINK OR PUNK was everything we hoped for and more!!!"
David - Daughters 18th Birthday
Suppliers you may be interested in...
Services
Specifics
About
Style
Sustainability
Testimonials
Articles
Contact