The Proper Booth
Bruton
Services
Photo Booth
About
The Proper Booth was created to change the way people viewed the photo booth experience. Our booths can create so many cool things, that imagination is really your only limitation. I spend time experimenting with graphic design concepts, prop creation and photo capture. Combining these designs with our photobooths, which in my opinion are the best photo booths of their kind, makes for some memorable experiences; whether at weddings and parties, or telling a story like no one else has at brand events.
WEDDING PHOTOBOOTH Having a photo booth at your wedding is as much about the experience as it is the memories that'll be captured. Our friendly booth attendants make sure your guests get the most from the time in front of the camera and can really let their hair down. With unlimited customised prints, you can be sure no-one will forget the experience any time soon.
PARTY PHOTOBOOTH Our open-air photo booth is the ultimate addition to any party. Whatever the occasion, we're here to make it a memorable one and bring the fun factor too. We specialise in creating custom props and backdrops and can theme everything, even the prints. Balloon garlands, confetti pools, neon signs, balloon props, you name it we've done it.
BRAND & CORPORATE PHOTOBOOTH Put your brand front and centre with a Proper Photo Booth experience. Connecting your brand with consumers through trendsetting and immersive photo experiences. These days "photobooth" is really just an umbrella term for a photo experience. They can be designed to suit any type of event with as much or as little branding as you'd like. We can do anything; from wrapping our booths with your logo; and branding our interfaces and prints; to developing a fully bespoke, one-of-a-kind, never seen before brand installation.
VIRTUAL PHOTOBOOTH Our virtual booths can be completely branded and customised to fit your event needs, and can be integrated into websites and leading virtual event platforms. This is brand engagement made simple.
Style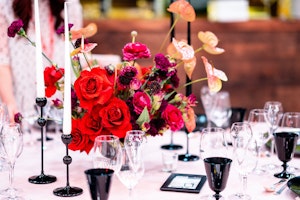 Modern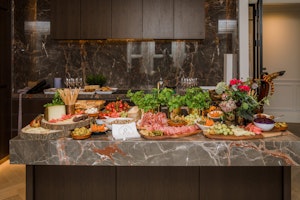 Informal
FAQ's
The average spend for most of our clients is around £500. Most of the time we build a package to suit each of our clients, and no two packages are the same, just as no two events are the same. That's why it's always worth contacting us to find out the best option for you and your event!
Yes absolutely. We want to make sure that you and your guests have a fantastic Photo Booth experience. We'll be there the whole time to ensure things run smoothly the entire event.
The beauty of an open air Photo Booth is that you can fit a large number of people in the photos. If you don't mind getting close to your fellow party people you can fit a lot. Our record is 33!
Yes we can! And we love it. We create all our customised props in house. If you want something personalised for your wedding, corporate logos for a gala or fundraiser or props to match a themed event, we can create pretty much anything.
We run live galleries alongside all our events, which are updated in real time. It means your guests are able to access all the photos and videos instantly.
Testimonials
"The Proper Booth was outstanding from the moment I contacted them. Charlotte understood the vision we had for our wedding immediately. Simon was incredible on the night, the guests loved him, he was fun and professional from the beginning to the end."
Hannah, married at Hyde House
"The Aviators Ball is a charity fundraiser for over 400 people every year, supporting Aerobility. The Proper Booth have provided our Photo Booths for the last two years and we cannot recommend them more highly – the latest technology, so easy to use, and such good fun – giving our guests something to enjoy both of the night, and to take away as a printed photo or through social media, or even to download after the event. Charlotte and her team give great customer service as well. Book with confidence for your event."
Mike Miller-Smith, CEO of Aerobility
"The Proper Booth offer a really unique proposition - Everything is personalised, even down to the props, which went down particularly well with our guests! They also loved the animated GIFs and had never seen this option on a photo booth before. I would definitely use again!"
Alex Butler, London Bridal Week
"We hired The Proper Booth for my husbands 60th birthday party. Brilliant service but most importantly it captured the mood of the evening so well. Everyone having fun and adding their photos to an album with comments meant we have those moments to reflect on forever. Thanks so much."
Steve Morley-Ham
Suppliers you may be interested in...
Services
About
Style
FAQs
Testimonials
Contact