'Hello, Sweet Pea,' Pinstripes & Peonies
By HOPP Team
Well known for their flexibility, creativity and the way in which they work with clients to create something truly bespoke. Their Studio is based in New Covent Garden Flower Market, meaning they have the best, freshest flowers in the UK at their fingertips; and the inspirational environment helps to keep their ideas blooming too. 'We believe in delivering beautiful flowers for lovely people,' Ruari McCulloch.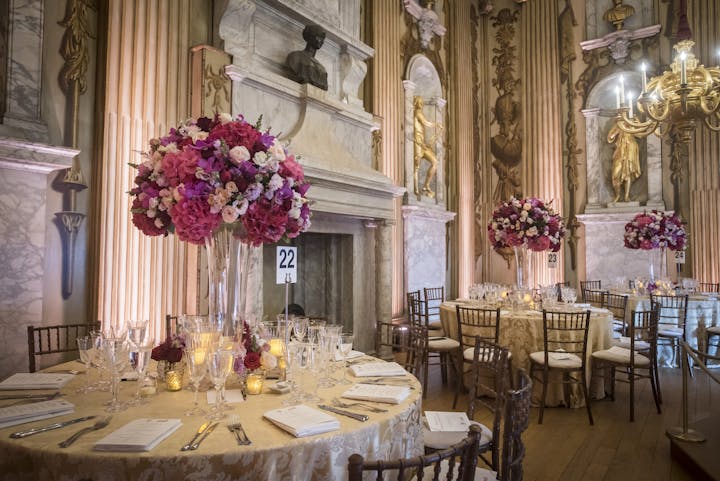 What or who inspires you?
As florists we are constantly in awe of nature – the colours, textures and aesthetics are what inspires us the most. We particularly love how seasonal changes bring us new things to be inspired by. At the moment we're right on the cusp of spring florals giving way to summer varieties meaning lots of bright colours, candy-coloured pastels and lots of luscious foliage.
The Chelsea Flower Show is usually a great opportunity to see lots of this in one place and discover lots of new things to be inspired by. We always come back brimming with ideas for designs that we want to try out.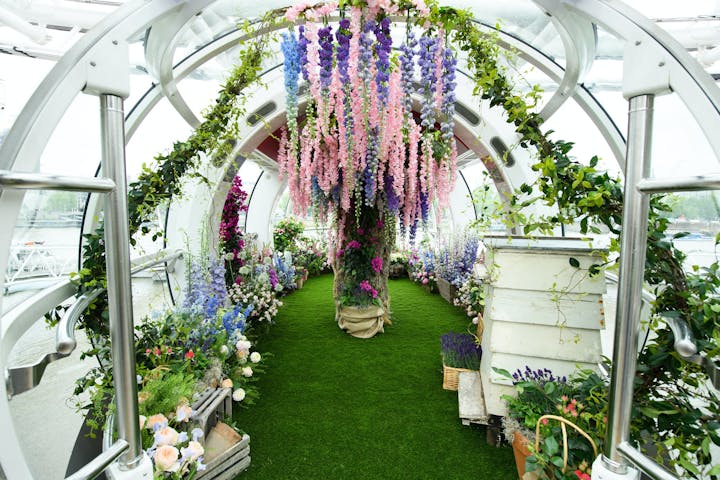 What do you love most about being a florist?
We love being given unusual or tricky briefs, it creates a real buzz in the studio with everyone brainstorming about how we're going to create it. We've been given some fantastic challenges by clients over the years including ones that have to defy gravity! Last year for Chelsea in Bloom we created the body of a mermaid sitting on 'mossy rocks' that the public could stand behind and take photos, putting their head on the mermaid's body. We've also created floral Dior dresses, campervans, freestanding canopies, chandeliers and a whole host of other bespoke designs. If you want it, we'll create it!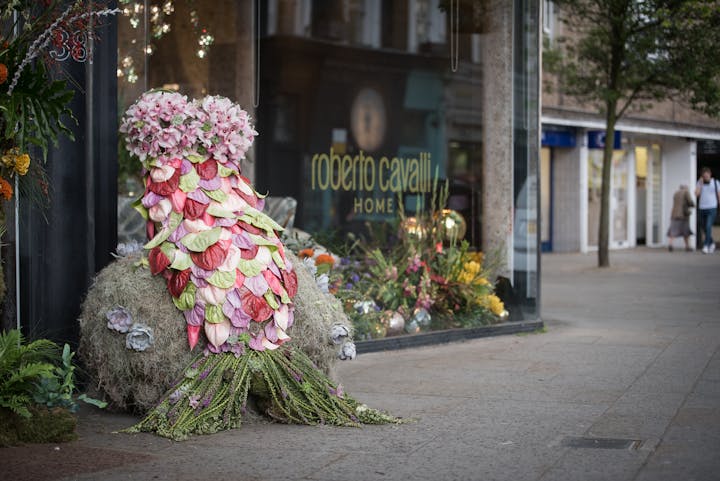 What flowers would you have at a dream party?
I love a loose and whimsical style so at my dream party I would definitely have everything with a natural, wild-grown look with lots of luscious green foliage. I like a lot of colour, particularly mixed hot and blush pinks, plums, burnt orange and varieties of purple – this kind of combination is so warming and cosy. If I could really have my dream party I'd probably include flowers from all different seasons such as coral charm peonies, sweet peas, anemones, dahlias, tulips and of course, classic, English grown roses.
Fun fact we don't know about you?
A fun fact about Pinstripes and Peonies is that the company very almost wasn't called this. The original idea was to name the company 'Sweet Pea' so that when we answered the phone to customers all staff would say "hello, Sweet Pea".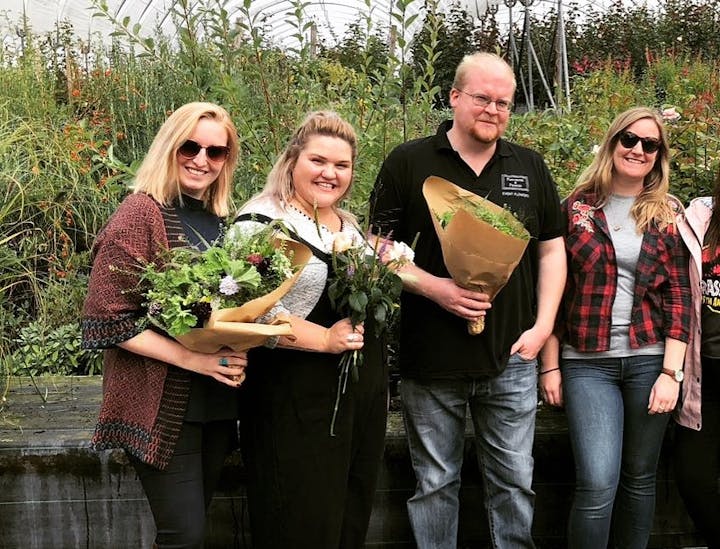 Founder & Creative Director, Ruari McCulloch & the suberb Pinstripes and Peonies team!
Written by our Team of HOPP Experts.