Pinstripes and Peonies
London
Useful information
What do prices start from?
We work to all budgets.
Services
Florist
Specific Details
Bridal
Foam Free
Ceiling Installation
Christmas
Flower Walls
Bespoke
Props
Trees & Greenery
Chandelier
About the company
We are a florist; a really, really good one. Our ethos is to create amazing flowers for lovely people. We're not known for a particular style but for our flexibility, creativity and how we work with our clients to create something bespoke and perfect for them.
Based at the New Covent Garden Flower Market means we have London's freshest and widest range of flowers at our finger tips.
We're a relatively small company in numbers but this doesn't stop us packing a mighty punch in what we are able to achieve. We have worked in some of the most famous venues in the world, with top-of-their-game suppliers and wonderful clients.
We do it all and love a challenge. Need a giant peacock or a life-size camper-van? We have got you! Tiered, round or square chandelier? No problem. Gravity defying? We've done it before! Sustainable options? We've got it covered!
Style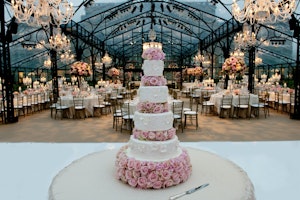 Traditional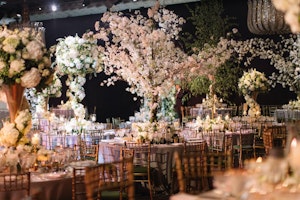 Whimsical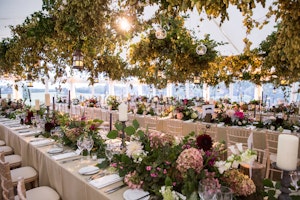 Natural
Additional Information
Do you do a party/wedding consultation?
Do you do a site visit?
Do you have in-house candles & vases?
Do you have in-house props for hire?
Do you provide confetti?
Do you provide delivery, set up & breakdown?
Do you provide floral aisles?
Do you provide table centrepieces?
Do you provide wedding arches?
Do you provide stage decor?
Do you have public liability insurance?
When was the company started?
2010
Are you VAT registered?
Sustainability
As our business is dependent on natural products, we see the impacts of Climate Change on a regular basis as the dependability of seasonal flowers is changing in unpredictable fashions. We at Pinstripes and Peonies want to ensure we are doing all we can to protect our environment and are constantly looking for ways to adapt the way that we work to allow for more sustainability. We are by no means perfect but we are conscious, self-critical and striving to make long-lasting improvements.
Our proactive changes include: • Only using floral foam when absolutely necessary and restricting this to the bio-degradable version. We are providing all staff with development and training in how to create stunning designs without using floral foam. • Striving to include 'sustainable' options into every quote. These options can include locally, English grown flowers and foliage as apposed to options with a higher carbon footprint such as Colombian grown hydrangea. • Continuing to utilise the New Covent Garden Flower Market's waste facilities whereby limited waste goes to landfill. • Using eco-friendly and sustainable products in the preparation and returning of vases for cleaning, packaging and storing. We have already banned single-use plastic or paper products in our studio.
For us, Sustainability is closely linked to Giving Back. We are proud to house the Floral Angels in our studio (whom we charge an extortionate rate of 1 packet of biscuits, whenever they remember) and our Creative Director, Ruari is on their Board of Trustees. All arrangements that come back from events are donated directly to them to be re-purposed and taken to a number of care homes, hospices, shelters and similar organisations in hope of bringing someone a smile and further eliminate needless waste. Pinstripes and Peonies are responsible for 68% of all donations the Floral Angels receive.
FAQ's
Pinstripes and Peonies was founded by our Creative Director, Ruari McCulloch, who began the company on his kitchen table is 2010. Since then he has picked up a few extra team members along the way... Cathryn, Sinead and Rosie make up the 'Design Team' who work with all of our clients, get to know our venues and design our stunning floral arrangements. They are the voices, people behind the emails and eventually the faces that our clients will meet first. Lucy and Elouise are the 'Florist Team' and are responsible for making and the hands-on creating all of our work. Their flower knowledge is second to none - as is their unearthly enthusiasm when they get to the studio before the crack of dawn! Pinstripes and Peonies then wouldn't be complete without our 'Warehouse Team', Veso and Fiennes, who build all our props, prepare all our equipment, handle our deliveries and perhaps most importantly, always offer to carry the heavy stuff!
At Pinstripes and Peonies we have been lucky to make some of the world's most famous venues our second homes. We have worked in palaces, historical venues, skyscrapers, marquees, private homes, restaurants and hotels, boats, haunted houses and pods on the London Eye (not one for team members who are scared of heights!) to name but a few.
We can never pick one! All weddings are incredibly special to us and we are always honoured to be a part of the happy couple's day. We take time to get to know the couple over the months of planning so that by the time it comes to the Big Day, it is like we are delivering flowers to a friend. We care about our clients and will always go the extra mile to ensure everything goes off without a hitch. We've sewn brides into broken dresses, made tea for emotional Dads, rounded up bridesmaids and charmed flower girls into wearing the flower crown! As for parties, ask each team member and they will tell you something different. We have all individually designed, created and delivered events that will last a lifetime in our memories. For some it is the life-size VW camper-van we brought to the Natural History Museum for a company's 1960s themed 60th anniversary party. For another it is the intimate long-table design at the National Gallery for 35 guests that was inspired by a painting overlooking the table and included flower styled to match as well as gold-leafed vegetables and oyster shells. Every event is unique which is why we always create bespoke designs for each and every client.
One of our top tips for choosing floristry is not to worry if you don't know much about flowers, that's our job and we're here to help you! Even if your starting point is "I like red flowers"; "I saw this picture and I liked it"; or "I just don't like roses" that's great! We can work on that, give you advice, share our knowledge and create something that's perfect for you. We are based at the Flower Market and love being able to show our clients around so that they can see so many different flower types, styles and colours all in one place. Another top tip is not to leave floristry as the last decision. It can change the whole look of an event and can impact choices on table layout, flow of guests, linen choices and overall theming. The more notice you can give us the better, it gives us time to really hone in on all of the fine details. That being said, we have turned full weddings around with less that 24 hours notice...what can we say, we're never ones to leave someone in distress!
We believe that we are unique because of our personal-touch customer service, honest advice, our ability to deliver more flowers per £ than our competitors and the fact that we always create bespoke proposals to fit the client's brief. We don't have a particular 'design style' but instead are industry-known to be flexible to both design and budget. Based in the largest studio at the New Covent Garden Flower market, with the city's freshest and widest range of flowers right at our fingertips and reducing the distance our flowers have to travel to get to us, we have become a company renowned for creativity, passion and, of course, flexibility.
Testimonials
"I just wanted to say a big thank you for the flowers last night. They were beautiful and really helped transform the venue into something truly spectacular for our guests. The colours really worked and those bar arrangements were particularly fantastic! The team who came to deliver were really helpful, friendly and professional too, so thank you again. "
Corporate Client (Finance) - drinks reception at Abbey Road Studios
"Just wanted to say thank you for the beautiful floral arrangements and place settings. They were on-point to all our comments and so much more! It was beyond what we imagined! The arrangements looked amazing in the room and beside our birthday cake. Thank you to you and your talented team for the effort and care to make our event perfect. "
Mrs C's birthday celebration - Private Dining Rooms, Aqua Shard
"Oh my! A massive thank you from us for helping us create a magical night last night! You have been a joy to work with and we appreciate all your hard work. We were all so delighted with the event. It was brilliant all round. We will certainly be in touch the next time we need any flowers! "
Jewellery Brand - dinner & drinks reception at V&A Museum
"A very big thank you to you and the team for doing such a great job with the flowers - they were truly beautiful! I think the terrace looked spectacular and the flowers really made the difference. Someone commented on the Scottish thistles and another guest said the displays were incredibly fragrant! Thanks to the whole team for all the hard work and for getting it all set up so quickly. It was like magic. "
Charity client - drinks reception & summer party at Somerset House
Useful
Services
Specifics
About
Style
Additional
Sustainability
FAQs
Testimonials
Articles
Contact