Seasons & Postponement: Questions To Ask Your Florist If You Are Postponing Your Wedding
By Pinstripes and Peonies
For many of our couples, as is the situation for many around the world, their dream day that they have spent months and years planning has had to be postponed. It's a lot to take in and it may seem like you are planning your day all over again when so many details have to be altered because of the change of date. A shift from Spring to Autumn can mean that elements planned to be outside need an inside alternative, menu choices may have to change, bridesmaids' outfits might need that extra layer and of course, flower types will vary.
As florists we embrace the change of season for the new flower varieties it brings but for those who perhaps don't have this floral knowledge it can be daunting knowing what will be available. So here to help those couples is our guide to seasonal flowers and some great Autumn alternatives to help excite you if you had your heart set on Spring flowers (as a side not it is also useful if you are looking at a Spring 2021 wedding!). This list is not exhaustive but it includes some of the most cherished and well known Spring florals – a Hall of Fame if you like.
Spring Option: Blossom (photo on right below)
The ever popular blossom branches are at their most perfect around April and are a popular choice for weddings because they bring a rustic flair whilst providing height and drama to arrangements. Their soft florals are also perfect for romance.
Autumn Alternative: Branches and Twigs (photo on left below)
Branches and twigs are perfect for an Autumn wedding as they reflect the changing landscape outside. Similarly to blossom, they add drama and height in a whimsical and natural fashion. Just
because they are branches doesn't mean they have to be bare, ask your florist to tie flowers amongst them such as roses, orchids or other florals to match your designs (they will be able to advise you on this).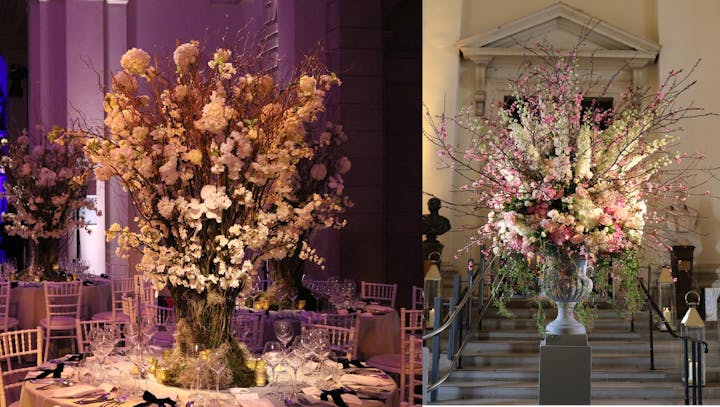 Spring Option: Peonies
Blousy and beautiful, peonies are one of the most requested flowers we get from brides. With our company named as it is, we get phone calls all year round asking if we can source them! Unfortunately their window is relatively short (from late April to mid-June reliably) and so alas, we can't grant everyone's wish list.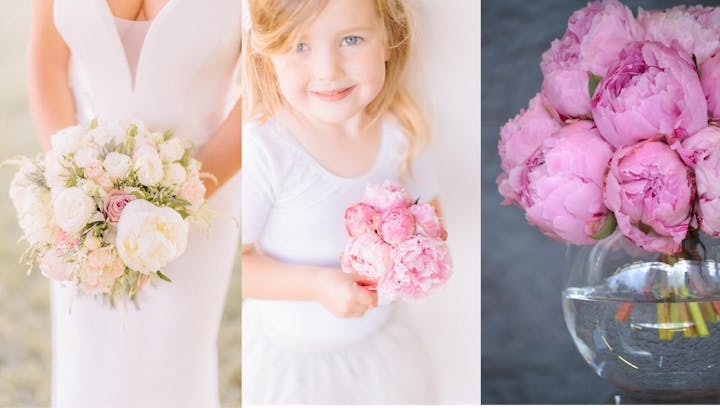 Autumn Alternative: Dahlia
Reliably around from September these beauties have an almost mythical end date of "when the first frost hits" – which we usually find to be mid-November. Conveniently, dahlias come in pretty much exactly the same colours as peonies including white, cream, blush, peach, pink and dark burgundy (as well as tones of orange, yellow and coffee).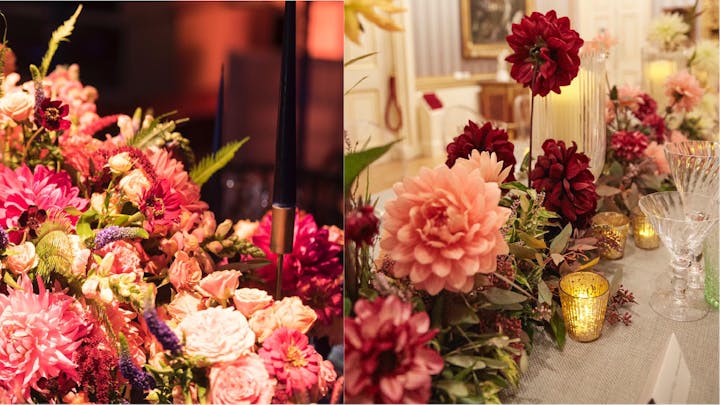 Spring Option: Sweet Pea
The fluttery and fragrant sweet pea can add a delicate touch to your wedding flowers. Often found in bouquets, flower girl posies and smaller table centre designs, sweet peas may be small but they pack an almighty punch.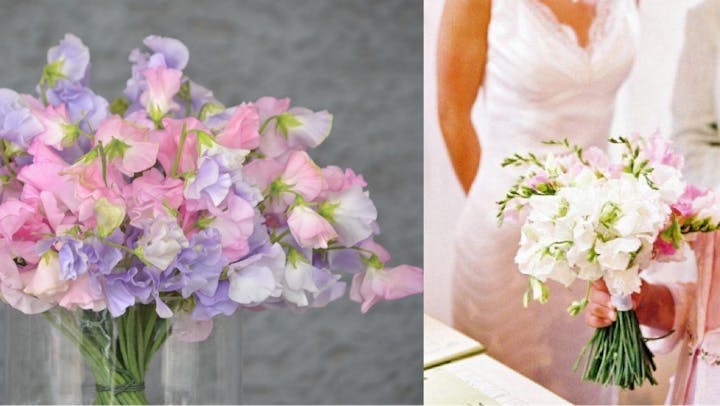 Autumn Alternative: Freesias
Available all year round, freesias are equally as delicate and beautifully fragrant as sweet peas. An added benefit is that they are much hardier than sweet peas which makes them great for buttonholes, hair flowers, no water venues and more.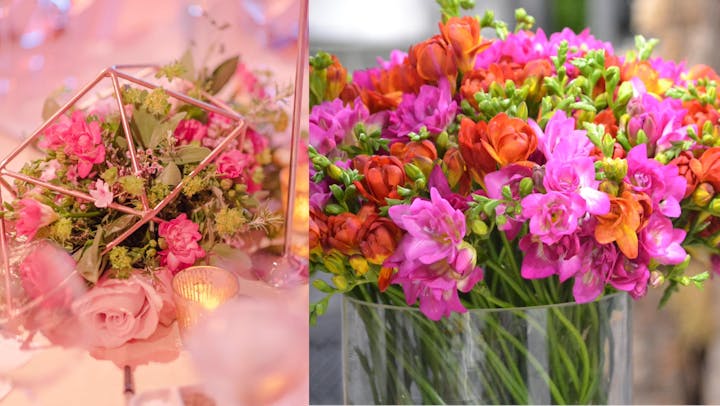 Spring & Summer Option: Delphinium
Although available from May right through the summer months, it stops looks its best around mid- October. (Variations of it can now be found year round due to demand but we wouldn't always recommend it). Available in a range of colours it is most popular for weddings with a blue colour palette because of its range tones from vivid azure to soft powder blue.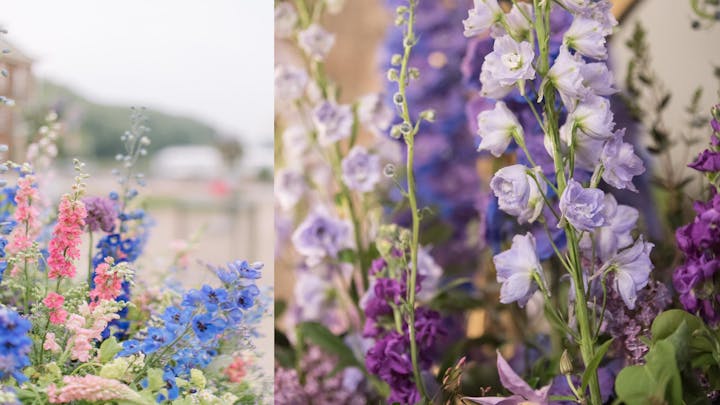 Autumn Alternative: Blue Thistles
Blue is a tricky colour for Autumn and Winter but fear not, there is always something available! As mentioned above, your florist should still be able to get hold of some delphinium however if you want to top it up with some more vivid blue try thistles. Just as whimsically meadow-esque it works well with dark purple florals, such as veronica or iris) to really make the blue pop.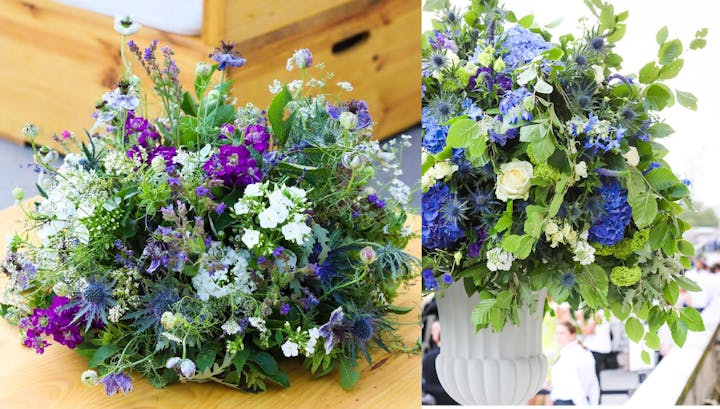 So there we have it, an introduction but by no means exhaustive list. Hopefully this will show you that there are options out there so fear not! If there is a particular flower type that we haven't covered and you want to know more on, do ask! We love talking flowers!
Author
Pinstripes and Peonies
Well known for their flexibility, creativity and the way in which they work with clients to create something truly bespoke. They are based at the New Covent Garden Flower Market with London's freshest and widest range of flowers at their finger tips.