How to Choose the Perfect Wedding Stationery
By HOPP Team
Much of your wedding planning journey will be completed in abstract; the venue, caterers, musicians, flowers and cake — these will all be booked long in advance, and require a strong imagination until the day itself.
Your wedding stationery however, will honour the milestones of your engagement; from your Save the Dates to your Thank Yous, the notes you send to your guests will carry the excitement, anticipation and joy you have been feeling since the ring was first slipped onto your finger.
Choosing the right aesthetic for your wedding stationery — and knowing when to send it to your guests — can seem perplexing at first. Before you start hunting for wedding stationery suppliers ead our guide to finding your style, and ensuring that your guests will secure the date well ahead of time.
Begin with Your Theme
Your wedding stationery precedes every other element of the day, and gives guests their first glimpse into the plans you are making for them. Whether you choose to make a bold statement with your artwork, or plant a few subtle clues in the wording, designing your wedding stationery is an exciting chance to express your creativity and personality.
Remember that elegance lies in execution, not design, so strongly consider using a professional wedding stationer who specialises in invitation printing. Many such specialists use traditional printing presses and time-honoured hand-finishing techniques to create truly timeless and elegant wedding stationery.
And in addition to producing cards and invitations that your guest will want to treasure for years to come, using a professional service will save you a great deal of time and stress, and give you the excitement of unboxing your immaculate, personalised wedding invitations hot off the presses.
If you have your heart set on handmade wedding invitations, then undertake some research into local artists who will be able to create bespoke work for you. This will add an extra, personal touch to your wedding cards — and allow you to explore for eco-friendly options — without distracting you from your long list of wedding tasks.
Your Save the Date Invitations
Ivory, monogram, gold leaf, calligraphy, pressed flowers, watercolour — settling on just one, cohesive design for your wedding stationery begins with your Save the Date cards, which should be sent out soon after you have secured a firm date with your venue.
With these, you will only be expected to include a few details. Of course, guests require sufficient warning to book time off work, secure child- or pet-care, and make arrangements for travel and accommodation. Design your Save the Date invitations with the following:
Your Names


Simple enough. Be as formal

— or informal — as you feel comfortable. If it suits the tone of your wedding, use titles; if you want to set a more relaxed atmosphere, use only your first names.

The Date


Need we say more? Make sure that you have signed on the dotted line with your venue first, or you may need to follow-up with costly amendments.

The Area


If any of your guests will be making a long trip, giving them a good idea of the area will enable them to book a hotel or Air B&B before all the best rooms are taken.

"Invitation to Follow"
Leave your guests a simple note at the bottom of the card to reassure them that the wedding invitations are forthcoming.
Your Wedding Invitations
A month or two has passed; plans have been actualised, signatures have been made and, most importantly, diaries have been marked. Your guests will be anticipating the arrival of your wedding invitations — and the day itself.
Your wedding invitations need to be thorough, informative, and emblematic of your theme and style. The more information you include, the lower your chances of being bombarded with questions about dress code, Plus One etiquette, gifts, timings, and dietary requests.
The Location


Provide the full address of the wedding venue and, if you have guests arriving from out of town, a simple map suggesting options for parking, accommodation, and, of course, the main entrance for the venue.
The Time of the Ceremony


Tradition dictates that the bride can arrive whenever she is ready, but guests should never be tardy. Ensure that they know the time the ceremony will begin, and let the groom take charge of impromptu entertainment if you are running behind schedule.
Details About the Reception


If you are hosting your reception in a separate venue, include details about the location, alongside a little note stating that food will be served.
Your Gift List


Yes, requesting gifts can make you wince, but this little note will be expected by your guests, and preferable to leaving them to their own devices. Let guests know that their presence is the greatest gift you could ask for, but don't stop there; work in the practicalities between all that sentimentality.
Are Children Allowed?


If you have decided to maintain a strict adults-only affair for your day, finding the right wording can be a challenge all on its own. Devote a single sentence to stating your regrets, but make sure that the message remains clear.
The RSVP


Here, include details about where guests should send their RSVP to. Also, ask your guests to include any information about their personal dietary requirements, so that you can pass these onto your caterer in good time.
Your Wedding Escort Cards, Place Cards & Menu
Gleaming cutlery, carefully folded napkins, fresh centrepieces, and sparkling champagne flutes. Trust us: those weeks you have devoted to agonising over the table plan will pay off when your guests walk into a beautifully styled room, and find their places individually marked at each table.
Your wedding place cards & meenus can follow the design of your invitations and Save the Date cards, and need only be printed with the names of your guests. A reserved seat will make each of your guests feel personally catered to, valued, and cherished and this can be simple or more creative (the more personal to you the better).
Your Order Of Service
Depending on your religion this is important to guide your guests trough the ceremony or blessing. Make sure important readers & members of family are hightlighted. Top Tip: make it pocket sized so ladies can keep it afterwards in their clutch and men in their pocket's - all the effotrt that goes into them you want guests to be able to keep them as a momento!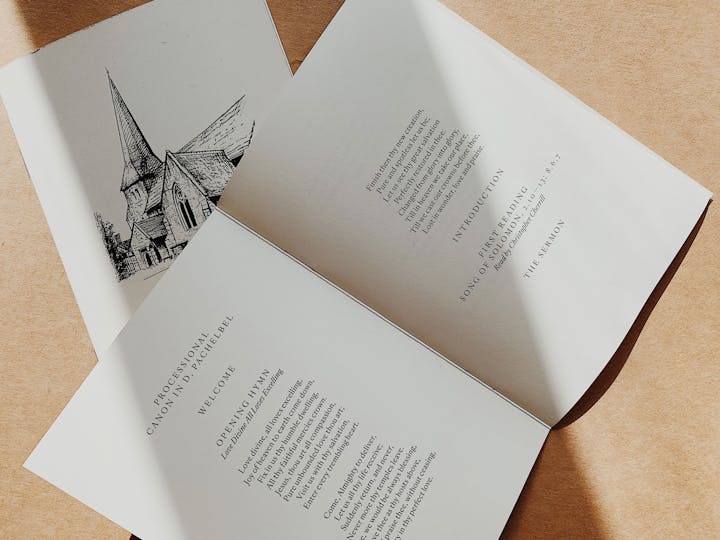 Keep a Copy for Yourself
Your wedding invitations and place cards are important mementos from your wedding, and deserve a place in your box of keepsakes. Have a few additional copies printed for last-minute spares, and remember to hold onto one or two, and refer back to them in the years to come; they can make a beautiful — and sentimental — addition to your photo album.

Ready to start inviting your guests? Take a look at our list of the best wedding stationery suppliers
Written by our Team of HOPP Experts.