Planning the Perfect Garden Party
By HOPP Team
Ice cold champagne, a warm breeze, clear skies and the gentle hum of conversation, music, and laughter. A garden party is the greatest excuse for coming together and wiling away the afternoon surrounded by the best summer has to offer.
Don't feel overwhelmed by the process of gathering ideas, decor, and party suppliers. Capture the laissez faire spirit of your event early by following our guide to party planning this summer.
What is the Right Garden Party Attire?
As with any event, your garden party dress code depends upon the theme and formality of the day — and, of course, the weather.
Whether you are opting for a more classic event with summery tea dresses and soft, breezy linen suits, or a late-evening affair with a touch of glamour, letting your guests know on their garden party invitations will ensure that everyone is able to dress for the part.
How Can I Decorate a Garden Party?
Not only do the great outdoors allow you to host more guests, they provide a fantastic, open space that can be decorated according to your style and theme.
Your garden party decorations can be used to complement the natural surroundings, and to provide comfortable seating for your guests. Alternatively, if you are working with a more dramatic theme, you can hire bespoke props and decor from your party suppliers to transform any garden into something more wondrous.
If you are hosting into the evening, then bring your guests a little closer to the stars with a réseau of silver pea lights strung between the trees. Burning candles in hurricane jars will add to the ethereal quality, and choosing a scent enriched with citronella oil or lemongrass will deter any mosquitoes that plan on emerging as dusk descends.
Consider drawing inspiration from your surroundings. Order your flowers to reflect the natural surroundings; rustic, floral garden party centrepieces, ferns, and petals will make your guests feel as though the tables have grown out of the earth.
Renting your tableware from your party suppliers will give you free reign over the design and quantity your event requires. Mismatched vintage teacups and cake stands will give any summertime tea party a whimsical air, while minimalist whites and metallics will stand out in stunning contrast to the organic environment.
Should I Hire a Temporary Structure?
Temporary structures will provide a comfortable, ambient space through which your guests can breeze in and out.
Typically, a structure will require a generator, plus a backup in case of any issues, as well as the proper power distribution for heating and cooling, and lighting and sound. You will also need to rent a mobile kitchen from your party suppliers, as well as a skip, WC facilities and trackway, which will protect the grass during the installation and removal of the structure.
Orangery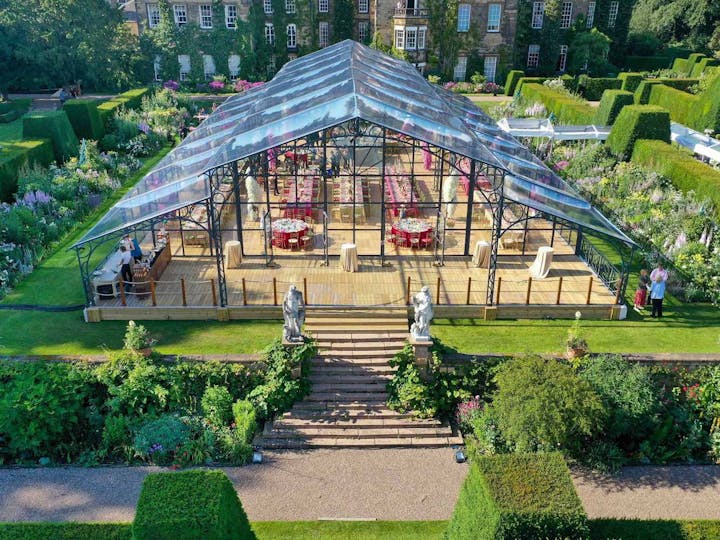 A stunning and unique option for the most luxurious affairs. Watch the sun trace across the sky, even if the temperatures are too low to be standing out in the open air. As the sun sets, switch on hundreds of pea lights and share a few cocktails in the vivid, watercolour hue of early dusk.
Teepee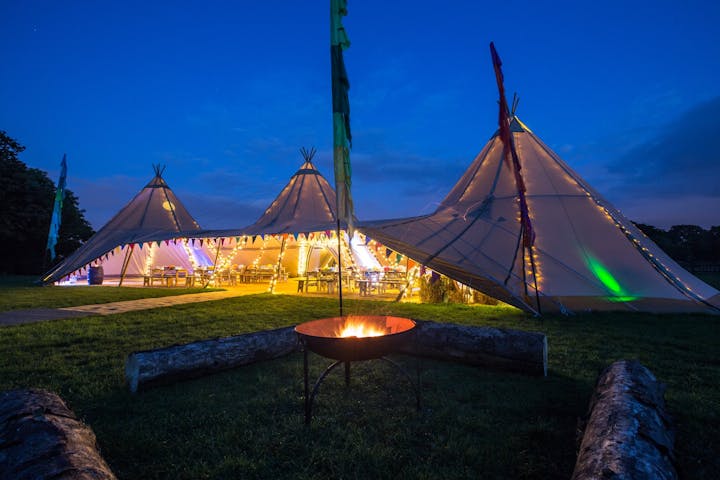 For a more rustic, natural ambience. If you are hosting in the winter, evoke a nordic, hygge vibe with a hearty, warming meal, a roaring open fire, and plenty of blankets and soft furnishings. Create your own festival atmosphere and spare no expense on quirky, colourful decor for a high summer garden party.
Sail Tent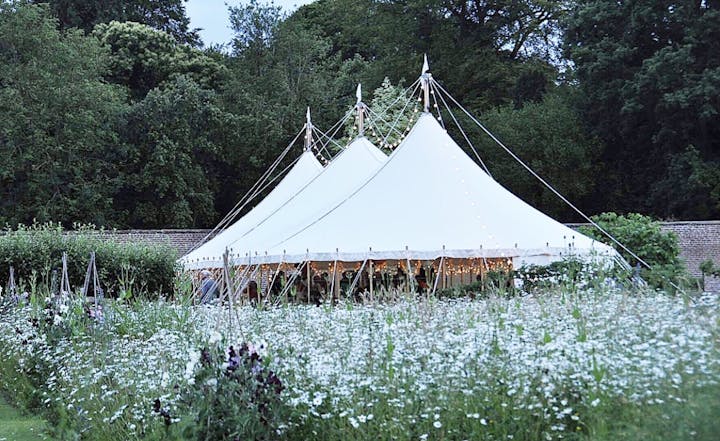 With its elegant and imposing form, a sail tent is a versatile option for any themed garden party. Treat the stunning white sail cloth and sleek silhouette as a blank canvas for your theme and transform it into a modern, stylish retreat in nature, or play up to the traditional silhouette with vintage garden party decorations and blossoming, pastel florals.
Stretch Tent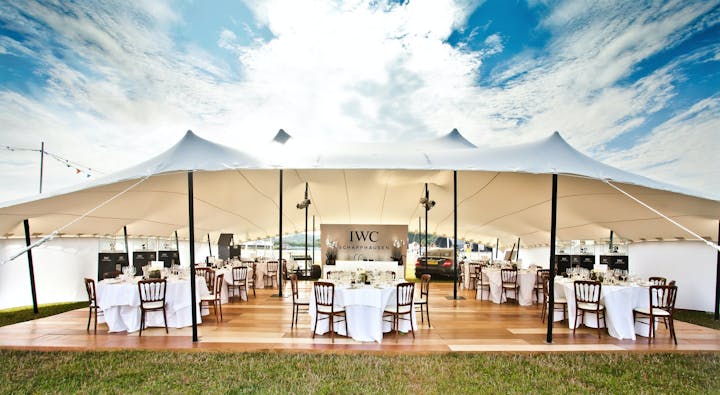 This is the perfect design for a garden party. It can be attached directly onto buildings, and create a long, sleek canopy for your dining table. The sides remain open, which allows the midsummer breeze to pass through, and the stunning views of your venue to surround your guests.
Bespoke Designs
If you are working with a more challenging space, or hoping to create something truly unique, then consider collaborating with your supplier on a bespoke design. From balconies to raised flooring and staircases, structural designs can be altered to fit with your vision.
Parking Facilities
Many venues, such as stately homes and castles, offer some parking areas, but these may be limited. Speak with the venue's management team early on in the party planning process to find out whether the car park can accommodate all of your guests.
If you are limited on space, then you will be able to rent additional trackway from your party suppliers. A protective layer can save the grass from churning under the wheels of your guests' cars, and keep everyone's footwear safe from the mud.
What Do You Serve at a Garden Party?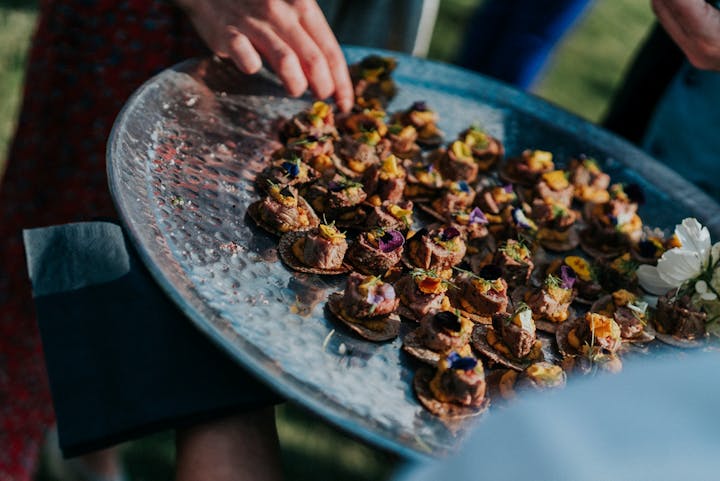 Talk to your professional caterer about reflecting the theme of your event within the menu. Serve light canapes along with your cocktails, then treat everyone to a luxurious fine dining experience inspired by the season. Morrocan inspired salads are a lighter way of capturing more exotic flavours; street food style catering will entice your guests with its irresistible and complex aromas; a luxury, fine-dining experience, inspired by organic produce and served in the heart of nature, will charm your guests with luxury.
Hire a bespoke pop-up bar to serve refreshing drinks that combat the summer heat. Make it round, so that your bartenders are able to serve your guests from multiple angles and keep queueing to a minimum, and talk to your bartender about devising a menu of ice-cold botanical cocktails, spirits and wines that will appeal to everyone's tastes.
Garden Party Entertainment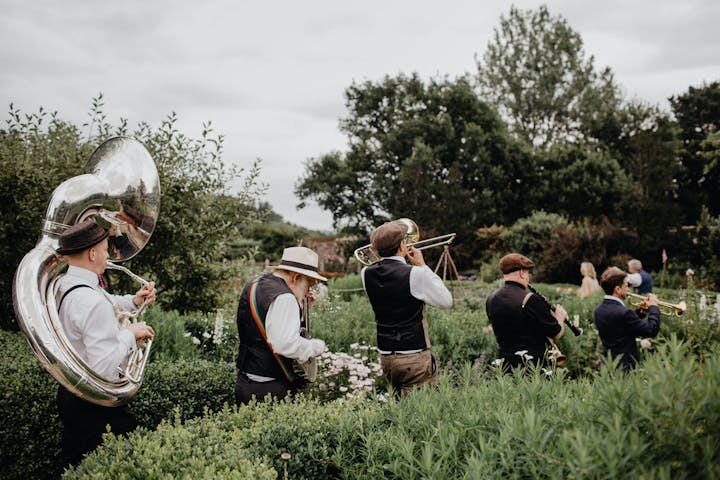 Live music is the perfect accompaniment to conversation; the right ambience will stimulate your guests to talk, eat, drink and remain merry throughout even the longest of summer days. Begin your plans by deciding what music will pair well with dining and conversation, such as a solo harpist, singer, or an acoustic band. When the plates have been cleared, your guests will feel more eager to dance; hire a jazz or swing band for a more traditional affair, or something a little more folky for a relaxed, bohemian atmosphere.
With your music decided upon, consider ways of adding a little extra excitement and intrigue into the day. From circus acts to professional dancers, acrobats, magicians and comedians, secure a talented performer or troupe for your event that complements your theme. For a carnival-style event, hire a fire eater or stilt walker to amaze your guests; for a more formal party, have a troupe of glamorous swing dancers there to put your guests in the mood for dancing.
Finally, a spectacular show of sound and light — particularly when choreographed to music — will end the night on a magical high note, and will be remembered by your guests for years to come. Digital mapping is a great option if you are worried about any restrictions on pyrotechnics and, if you are hosting in the grounds of a stately home, will transform the landscape without leaving a single mark.
Written by our Team of HOPP Experts.