Goose & Berry
Maidenhead
Services
Catering
About the company
Goose & Berry was founded from a love of food and entertaining, recognising that there was a gap in the market for high end London standard catering and events. Using the highest quality produce, the award-winning caterers deliver fabulous taste, seasonality and dedication in every bite to the Home Counties and beyond. Goose & Berry have worked on a large number of events for private and corporate clients and as a result of our hard working team, excellent talent and an 'anything is possible attitude'; we have quickly gained a fantastic reputation, which we strive to continue. Due to our professional yet friendly manner, we have very good relationships with local suppliers and event industry professionals and are accredited suppliers at many prestigious venues such as Hedsor House, Bodleian Libraries Oxford, Amber Lakes & The Guildhall, and have been awarded high profile contracts including the Exclusive Caterer for The Temple Island Meadows at Henley Royal Regatta.
Style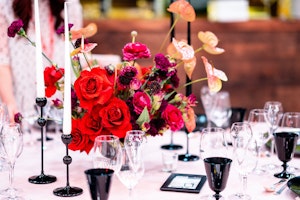 Modern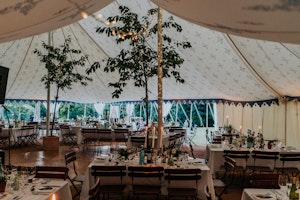 Rustic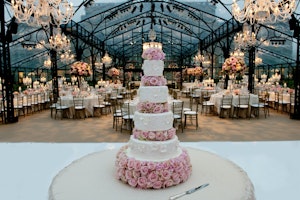 Traditional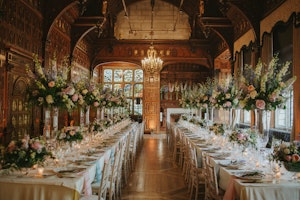 Formal
Additional Information
Can you cater in a marquee?
Can you source alcohol?
Do you have in-house furniture for hire?
Do you have in-house tableware for hire?
Do you offer a tasting?
Do you offer bespoke menu options?
Do you provide bartending?
Do you provide waiting staff?
Do you have public liability insurance?
When was the company started?
2012
Are you VAT registered?
Sustainability
We use locally sourced produce as well as using recycled disposables where possible and regularly recycle.
FAQ's
We just love being creative and we we had a lot of fun with the launch of the new MINI Cooper S at the MINI Plant. Our brief was to create a quintessentially British menu which payed homage to MINI's British roots. The delicious menu consisted of fish & chips, sweet 'dippy eggs & soldiers, MINI sausage & mash and buttermilk scones to name a few. We really went to town on the design with our MINI themed service-ware including chevron lined canapé trays, bespoke light perspex boxes to replicate headlights and tiny mini cars! Any excuse to get our creative hats on!
Invest in the best quality food, drink and service you can afford. It is a HUGE part of the day and whether your guests enjoy a relaxed sharing supper or a 6 course tasting menu, they will remember excellent hospitality for years to come.
Classic, modern, refined.
Obviously confidentially is key…..! but we can tell you that our client list does include celebrities, royalty and even Prime Ministers… we'll leave it there… what happens at our events stays at our events ;)
Without question G&B clients favourite are the mighty mac & cheese pots! It's perfect for a late night snack and made fun by adding your favourite toppings, our personal go to is truffle mac with pancetta… yuuum!
London standard catering at country prices.
Testimonials
""Hi Natalie... You were amazing ! We all thought how professional your team were and how discreetly they worked the tables during the wedding breakfast . I was hugely impressed when asking a waiter if we could have more gravy for our table and he instantly returned with a full jug ! Rare to come across such responsive servers. You will be hearing from us all in due course so until then many many thanks Natalie and before I forget yes , we will definitely work with you again in the future ! Best wishes.""
Wedding Client
""Hi Grace... Thank you for your kind words, it was great working with you and your team too, thank YOU for all your help and support in making it such a fabulous day. I saw Sarah & Nick when I went back to the hotel and there both really happy with everything. It would be lovely to work together again and I will definitely keep you in mind for future couples, it was on my recommendation that Sarah & Nick book G&B as I'd tasted your food at events before and knew it would be good. Hope to work with you again soon, too! Take care""
Wedding Client
""We were extremely happy with everything. Everyone had a wonderful evening... your staff were extremely attentive filling glasses at a great speed so everyone was content. Also they were great at dealing with issues during dinner. Many thanks to them. Please thank the chefs. Everyone praised the lamb and I believe the veggies were also very happy.... G and B will definitely be top of the list when I do another party. The boys would like it to be an annual event!!! Many thanks once again....""
Private Party for 200
"Thank you so much for emailing and so sorry you got there before I did...you've been on my list to contact! You were all AMAZING. Honestly, zero trouble. I wasn't sure how it was all going to work but it couldn't have been better. You came in with no fuss, did your thing and left without a peep. It really eliminated any stress for us when it came to looking after the crew, and I'm sure the clients were delighted. Fingers crossed they book you again next year. We will absolutely keep you in mind for any other events where we need additional catering support. Thanks again and please do pass by thanks to the whole team."
Business of Fashion @ Soho Farmhouse
""I am thrilled that we chose you too- the feedback was extremely complimentary and I wouldn't hesitate to recommend you. A great time was had by all! Thanks so much for all your help, efficiency and attention to detail ( we all appreciated the personal touch) which resulted in our best Christmas party yet- Please send my thanks to all of your team for their efforts and I wish you all Happy New Year and hopefully see you for future events at cool gardens landscaping.""
Corporate Christmas Party
"Hannah and her team at Goose & Berry are first class. Our couples have always been not just delighted, but totally wowed by them. First of course their fabulous food and presentation but also their charm. Always with a smile, willing, looking to see how they can help. All these things set them apart. We all feel they want to be here and they love their job and most of all they want this to be the best day for the couple and their guests. Their efficiency and timing is superb and when guests wander into the kitchen to chat they don't miss a beat. We all know how hard it is to sustain a high level of excellence, but this is something Hannah and her team invariably achieves. In her category - delivering plated meals with waitress service from our kitchen - Hannah's is the only company we recommend to our couples. 100% talented, reliable, efficient and always with a smile for guests. I confirm they will exceed your expectations!"
The Copse, Venue
""...the food was fantastic - not sure how one keeps a chicken breast that moist when serving 65 people! Grace and Natalie absolute class acts - really can't speak more highly of you. Thank you so much for your calm but firm direction on the night! I am sure you will pick up some clients from the attendees and we will certainly use you in the future. Thank you again to you and your team - all the very best with your many events this summer.""
Private Client
""Dear Natalie, Hannah and all the G&B team, Thank you so much for all of your amazing help on our big day and during all the planning. So many of our guests told us how wonderful the food was and how professional the team were serving food and drinks. Everyone had big smiles throughout the day and were always on hand if we needed help (or a glass being refilled). People warned us that no wedding day is ever perfect and things often don't go to plan. They were wrong. It was the best day of our lives and Goose and Berry far exceeded our expectations. We cannot fit all of our gratitude into these words, but please know that we couldn't have done it without you and we think you are all incredible.""
Wedding Client
Suppliers you may be interested in...
Services
About
Style
Additional
Sustainability
FAQs
Testimonials
Contact