Nyetimber
London
Services
Drink Brands
Specific Details
English Sparkling Wine
About the company
Nyetimber, creators of world-renowned English sparkling wine
Opening a bottle of Nyetimber should accompany the most memorable moments in life, none more so than your wedding.
Situated in the rural heart of the South of England, Nyetimber use only the finest estate-grown fruit to craft our award-winning world-renowned wines. Created using the traditional method of sparkling wine production, our meticulously crafted wines combine science and artistry – all in the pursuit of perfection.
Nyetimber's range of award-winning English sparkling wines are the perfect accompaniments to distinctive, sophisticated events; from a Classic Cuvee reception before the wedding breakfast, to the elegant complexity of Blanc de Blancs with white fish or poultry dishes, or Rosé with weightier dishes such as lamb or veal, and finishing with the balanced sweetness of Cuvee Chérie as the ultimate partner to wedding cake, there is a Nyetimber wine to make every element of your celebration truly sparkling.
Style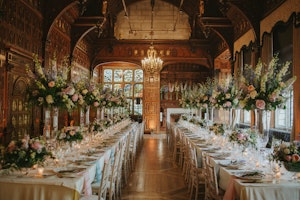 Formal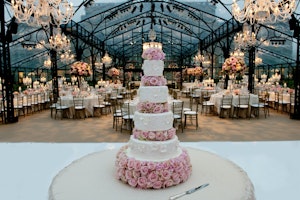 Traditional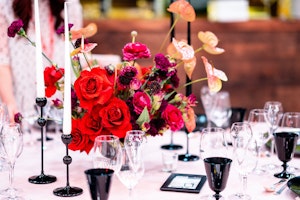 Modern
Sustainability
We're determined that enjoying a glass of Nyetimber should never come at the expense of the land that we cultivate, which is why we're committed to a sustainable and holistic approach to our land, resources and the carbon footprint involved in producing our outstanding English sparkling wines.
Our vineyards in Sussex, Hampshire and Kent are surrounded by natural habitats – from native broadleaved woodlands which are managed and replanted, as well as wildflower meadows in various locations at both the Tillington and Manor vineyards that provide food and nesting places for birds and insects.
Around 30% of the total Nyetimber estate is natural 'non-productive' hedgerows, windbreaks, woods, gardens, ponds and meadows. We create wildlife corridors for larger fauna, and where possible, the vineyard team uses sonar, kites and bird bangers as a gentle way of preventing damage to the fruit.
Since 2011, sheep from a local farm have been used in some vineyard locations to graze the grass as an alternative to mowers in winter; their droppings make a small but worthwhile contribution to the soil's nutrients and the reduction in tractor use helps to minimise soil compaction and carbon emissions.
Pruning waste and pressed grape skins from winemaking are composted and returned to the vineyards as natural fertiliser. Our vineyards are managed on a principle of minimal intervention; vines are treated with fertilisers, pesticides or herbicides only in areas requiring them, and only once other natural methods have been tried. Weather stations and analysis software also help to model disease risk and limit the number of spray applications needed. Insect traps specific to vineyard pests enable the team to monitor populations, helping to keep the use of pesticides to a minimum. Plant tissues and soil samples are analysed each year to ensure fertiliser is only used where the health of the vine requires it.
Innovative technology is used to support our low-input approach to vineyard management. Drones are used to map, view and analyse the health of the vines on a block-by-block, row-by-row level so that any intervention can be precisely targeted to the areas that need it. Viewing vines from above can help to pick up diseases or viruses and stop them spreading, thus limiting the need for spraying to specific areas.
As cultivation of world-class Chardonnay, Pinot Noir and Pinot Meunier in England is a continual learning process, we've formed a consortium with six other major English wine producers to share the results of trials and experiences for the good of the UK wine industry. This consortium works with the East Malling Research body to find ways to increase productivity and product quality, while reducing dependence on chemicals. One such trial has seen the creation of an herbicide-free area of the Nyetimber Manor Vineyard, with promising results.
Nyetimber Pressing Centre at West Chillington
We're working towards accreditation with LEAF (Linking Environment and Farming) to demonstrate our use of sustainable practices with an integrated farm management policy across all our properties.
The new Pressing Centre at West Chiltington can be reached via the estate's own tracks, keeping road mileage down and minimising the impact of vineyard vehicles in the village of West Chiltington. The building generates some of its own power through PV (photovoltaic) cells and rainwater is harvested and recycled for use in some of the building services.
Nyetimber Bottles being packed
At the Nyetimber winery, energy used as part of the cold stabilisation process is harvested and recycled. After one batch of wine is chilled to -4°C to remove crystal instability, it passes through a heat-exchanger to pre-chill the next batch. The heat produced by the yeast during fermentation is also partly captured and recycled, reducing total energy demand.
The most significant reduction in environmental impact has been the weight of our bottles. Since 2008 our glass bottles weigh 835g, compared with the industry standard of 905g. This results in a significant 10% saving in the number of journeys, fuel consumption and emissions.
The foil cap on each bottle of Nyetimber is made using a plant-derived laminate between two thin layers of aluminium foil, rather than a synthetic polymer. No detail remains unexplored.
Suppliers you may be interested in...
Services
Specifics
About
Style
Sustainability
Articles
Contact