The Temple on The Lake
High Wycombe
Useful information
What do prices start from?
£550 + VAT per head
Services
Venue
Florist
Catering
About the company
The Temple is a collaboration between Tattie Rose Flowers, Spook London & House of Party Planning that brings together kindred spirits to dine, walk, learn and be immersed in the very best elements that that day of the year has to offer.
Delivering a truly one off experience which thoughtfully merges the luxurious: from flowers, food, impeccable service and execution with wild ingredients, nature and spirit in one of this country's most extraordinary settings.
The Temple is the perfect experience for entertaining VIP clients, brand launch, press day, influencer networking, small weddings, birthday & milestone celebrations, and smart hen parties.
Style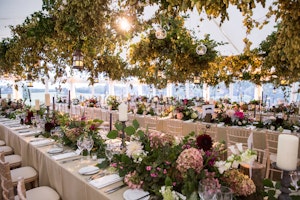 Natural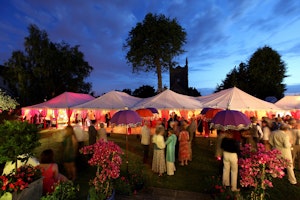 Bohemian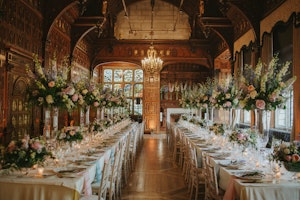 Formal
FAQ's
The Temple is only accessible by boat and sits splendidly on her island in the lake watched over by the magnificent West Wycombe Park. The Temple was built in the 1770s to celebrate music, and whilst you can easily imagine Apollo or Orpheus merrily entertaining their audience, you would be sure to find Bacchus amongst them offering his seasonal bounty to the guests.
Tattie Isles and her team work with some of Britain's leading event companies to provide flowers all over the country and abroad. Her wild yet sophisticated and refined style and approach to flowers has drawn in commissions from Princes and Princesses, pop stars, celebrities and artists across the country and beyond. She and her team transform spaces and create an atmosphere with their creations, hunting for the bounty of the day and season to make their botanical tapestries. Carrying out their work and designs with integrity and passion they aim to reconnect their audience with nature and the land. The Temple will be transformed for each event by Tattie and her team. They will embrace the day and the flowers will be an adventure. From dancing snakes head fritillary in April to the pink jewels of spindleberry in October- no two events will be the same. Everything from candlelight, linen, glassware and napkins will be curated to create a table scape and setting relevant for the guests that day at The Temple.
Spook London modern hospitality and luxury catering company curates authentic events and experiences alongside the world's most compelling locations, brands and individuals. Spook has led the way for modern catering since the company was founded in 2013 by Emily Few Brown. Born and raised in farming communities in Hampshire, Emily grew up surrounded by nature which instilled in her a passion for where food came from. Experiences underpin everything we do - our offering is based on the concept of modern hospitality - which encapsulates an authentic and luxurious experience which is led through our food and drinks. Our events and locations embrace nature and are wild, in every sense of the term - our food and drink is informed by the seasons and what we enjoy eating and cooking. We are dedicated to the cultivation of crops, nature, wildness, farming and sustainability - and always have elements of foraging in our food and drinks to show our connection to the land. The Temple brings a wild dining experience to a unique setting, close to the source of where our food comes from. Our aim is to reconnect diners to the land while celebrating the hard working hands that feed us. With nature and delicious seasonal food as its backdrop, The Temple curates an exclusive and mindful experience.
Yes, the flowers are foraged from the surrounding area to champion the best ingredients growing at the time. Example Ingredients: Cow Parsley Foxgloves Forget-me-nots Wild grasses Peonies
Prices start from £550 + VAT per person and this includes: Private hire of The Temple Seasonal canapés & 3 courses cooked over fire Welcome cocktail & Champagne Seasonal flowers & styling Event management & staffing These costs are based on 30 guests
SEASONAL CANAPÉS ON THE TABLE Garden crudite, confit garlic oil, breads and fire baked camembert STARTER Isle of Wight scallops with gremolata and chorizo MAIN Cotswolds lamb with wild garlic salsa verde Tomato salad with capers and anchovies Crispy potatoes with wild garlic salt Grilled baby gem with black garlic dressing and croutons DESSERT Basque cheesecake with poached rhubarb TEA, COFFEE & PETIT FOUR
Useful
Services
About
Style
FAQs
Contact