Cooking for Comfort: Recipes for a Perfect Winter Dinner Party
By Miss Mimi's Kitchen
I am incredibly excited to be writing the first of many Miss Mimi's Kitchen blog posts for Top of the HOPPs. Tor and I met in Raw Press off Sloane Street at the end of last year and as we sat there chatting away over a plate of something Peter Rabbit would have dreamed of, she asked me to be a part of this new exciting idea herself and Ted had come up with and I, in true Peter Rabbit style, jumped at the opportunity.
It was a particularly miserable day back in October and things were looking a little bleak on my side of the fence (I promise that wasn't another Peter Rabbit pun). My stepfather was very unwell, work felt a little overwhelming and the winter blues had certainly started creeping in.
Tor giving me this exciting project was a kind-of new lease of life – and exactly what I needed! It gave me a new purpose, something I could sink my teeth into but without the onus being on me alone (like Miss Mimi's Kitchen can sometimes feel like). I hope I've risen up to the challenge!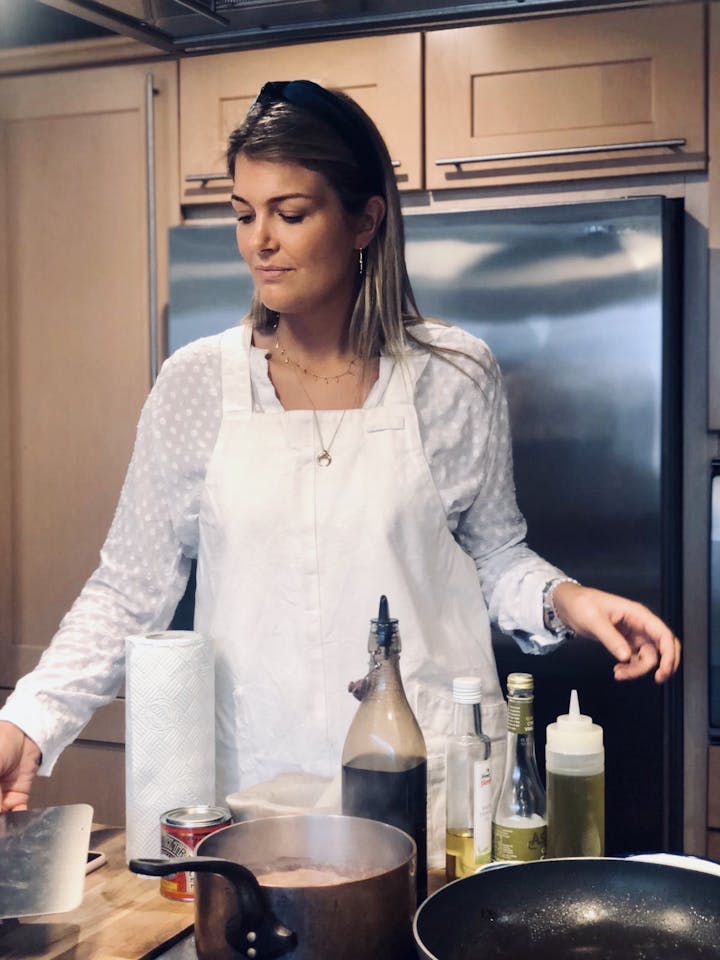 The Best Foods to Eat in the Winter
Some tips for eating for your mood and health this winter? Be sure to consume foods that improve your serotonin levels, B12, Vitamin D and Vitamin C; all crucial for the winter months. These include nuts, fish, red meat (such as stew as it is really high in B12), blueberries, seeds, mushrooms, beans, beetroot, cauliflower, spinach, shellfish, dark chocolate and whole grains such as brown rice and popcorn. Make sure you keep your gut happy by eating yoghurt (preferably full fat) with live cultures or taking probiotics such as Symprove or Source of Life Gold. Revital is a great health shop to get lost in! Prebiotics are also crucial in keeping your gut a healthy and happy gut.
A Night (In) To Remember
Not only is it important to eat the right foods during the winter but it's also really important to keep yourself social rather than hibernating with the rest of the UK. So . . . why not put the TV remote down and start planning the perfect winter dinner party. I am going to give you four simple recipes; a canape, starter, side dish for your main and a pudding. Light the candles, lay the table put on a great playlist and spread the joy this winter! No one remembers the nights they stayed in, but they would if they tried my dauphinoise!
I hope my story resonates with some of you, and you find comfort in knowing you are never as alone as you may feel.
Miss Mimi x
https://www.missmimiskitchen.com/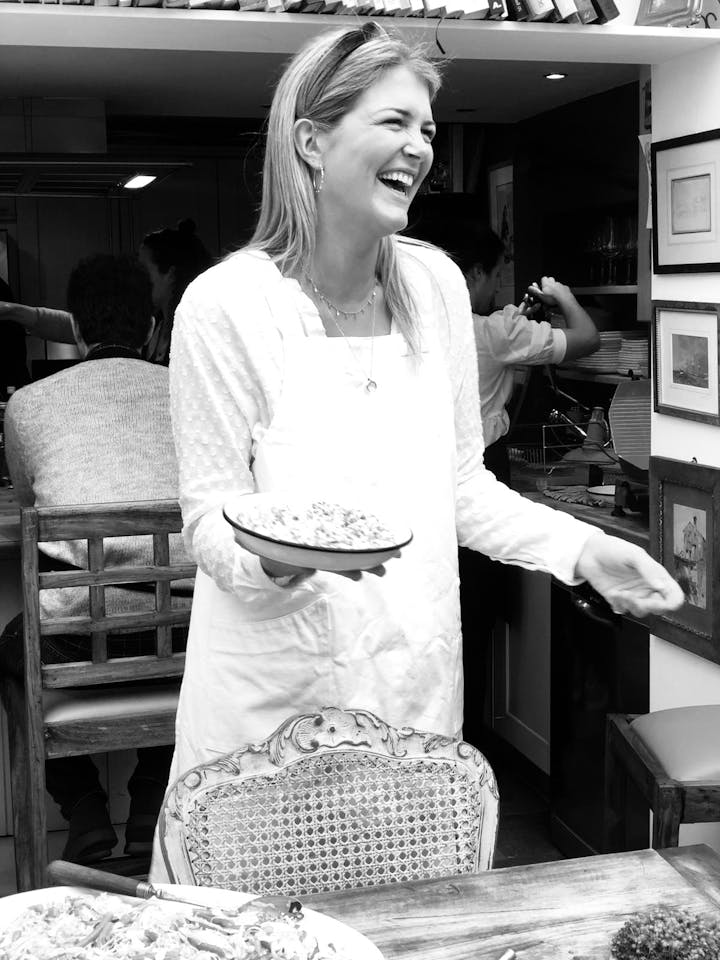 My Recipes for The Perfect Winter Dinner Party
Canape: Apricot and fennel sausage rolls (Makes 30 sausage rolls)
Ingredients:
For the pastry:
2 rolls of Jus Roll ready-made

puff pastry
8-10 dried apricots
1 free-range

egg

, lightly beaten for the egg wash

1 tbsp

sesame seeds

and 1tsp fennel seeds to sprinkle on top
Method:
Heat a small, non-stick frying pan over a medium heat. Add the fennel seeds and toast until aromatic (approximately 30 seconds), shaking the pan occasionally. Use a pestle and mortar to grind the seeds to a powder.
Heat the olive oil in a frying pan set over a medium heat. Add the pancetta to the pan and cook until just golden. Add the chopped fennel, shallot and garlic. Cook for 5-10 minutes, or until the fennel is golden-brown and soft.
In a large bowl, combine the minced pork, toasted fennel seeds, cooled fennel mixture, breadcrumbs, nutmeg, parsley and egg yolk. Season generously with salt and freshly ground black pepper and add a pinch of lemon zest.
Preheat the oven to 200C/400F/Gas 6 and line two large baking trays with baking paper.
Cut each pastry sheet in half. Divide the mince mixture into two long logs. Then place on the centre of two of the pieces of pastry. Brush the edges of the pastry well with the beaten egg. Place the other two lengths of pastry over to enclose the filling, overlapping the edges and press to seal. Transfer to the lined trays and refrigerate for 20 minutes.
Place the sausage rolls on a chopping board. Cut each roll into 2cm width rolls. Transfer back to the lined trays, leaving room between the pieces for them to spread during cooking.
Brush the sausage rolls with more beaten egg and sprinkle with the sesame seeds and fennel seeds. Bake for 15 minutes, then reduce the temperature to 180C/350F/Gas 4. If the trays are on separate shelves swap them around at this point. Bake for a further 15-20 minutes, or until golden brown.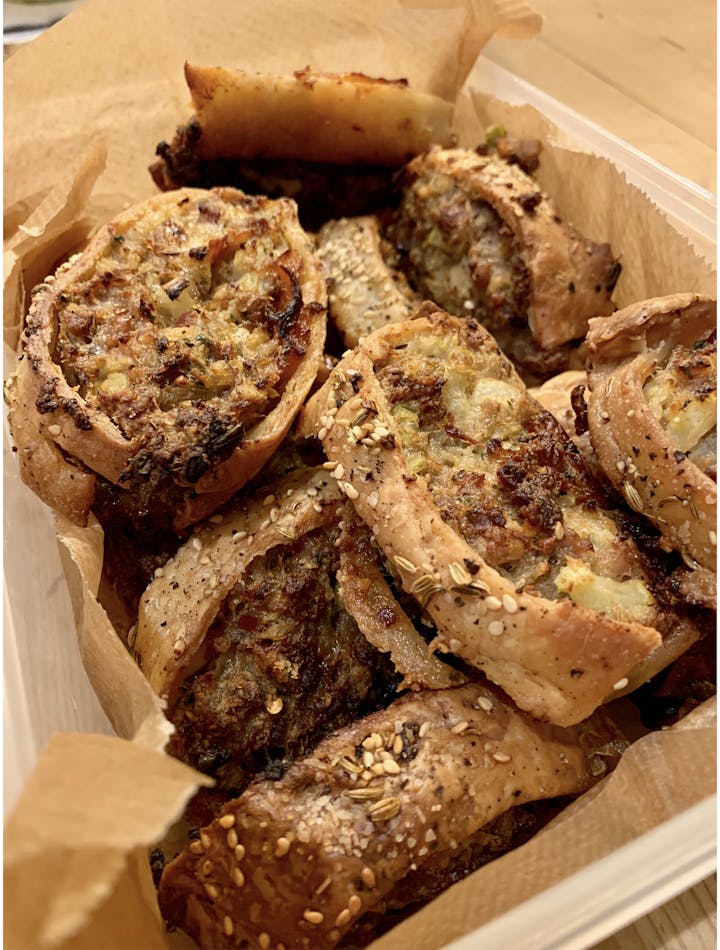 Starter: Seared brown buttered scallops on pea and mint puree and a bed on pea shoots (for 8 people)
Ingredients:
24 fresh scallops (with or without roe depending on preference)

A knob of butter
200g petit pois
2 chopped spring onions
A few springs of mint
1 knorr vegetable stockpot
Lemon juice
A bag of pea shoots
Good quality olive oil
Method:
Dry the scallops in kitchen towel well and then season with salt and pepper
In a saucepan put the butter, peas, mint, stockpot and spring onions in a saucepan and cook till sizzling for about 5 minutes. Then transfer to a blender, whizz till lovely and green and return to the saucepan on a low heat to keep warm.
Put two large frying pans on the hob and get nice and hot for the scallops, add butter and a bit of olive oil, wait until bubbling and add the scallops.
Cook on both sides for two and a half minutes till cooked through (white throughout).
Place a handful of pea shoots on the plate, a large spoonful of the warm pea puree and three of the scallops on the top.
Drizzle the whole dish with the brown butter from the pan, the olive oil and some fresh lemon juice.

Serve and enjoy!
Main course: The best ever dauphinoise (for 8-10 people)
3 bay leaves

A small bunch of thyme
500ml double cream
500ml creme fraiche
A large grating of nutmeg
2 garlic cloves, crushed
70g butter
2 ½ kg Maris piper potatoes, sliced thinly
Method:
Heat oven to 180C/160C fan/gas 6. Sprinkle the remaining garlic with salt and use it to rub the inside of a large rectangular gratin dish. Lightly butter the dish. Melt the remaining butter in a saucepan.
Thinly slice the potatoes using a mandoline/magimix and layer them across the dish. Tightly pack them in the dish, using only as many as will snugly fill the dish. Strain the warm cream over the potatoes, pressing down on the herbs as you do so. Bake for 1 hr or until the potatoes are cooked through and crisp on the top, brushing with the melted butter halfway through. Leave to cool for about 10 mins, then serve scooped straight from the dish.
Serve alongside a deliciously rare fillet of beef, pan fried duck or in fact any roast, and enjoy!
Pudding: Vanilla panna cotta and blackberry compote (Serves 8)
Ingredients:
6 gelatine leaves

500ml whole milk
500ml double cream
2-3 vanilla pods, split in half and seeds scraped out
60g sugar
For the sauce:
180g sugar

180ml water
750g fresh raspberries
Method:
For the panna cotta add your gelatine to a bowl of cold water and allow to soften while doing the first steps of the panna cotta.
Warm up the milk, cream, sugar and vanilla seeds (pods included) and allow to come to a very gentle simmer. Remove the pod and take off the heat.
Add gelatine leaves, and stir well to combine.
Divide the mixture between your eight pudding moulds/ramekins and put in the fridge to set. I like to make mine the day before so it is one less thing to think about.
For the sauce add all the ingredients to a non-stick saucepan and allow to cook down to a lovely thick sauce. Stirring occasionally to avoid it sticking.
Allow to cool a little before blending with a hand whisk.
Turn the panna cottas out onto a plate, serve with warm compote and a sprig of mint.

Serve and enjoy!
Author
Miss Mimi's Kitchen
Miss Mimi is one of HOPP's incredible guest bloggers. Miss Mimi is a private chef speciliaising in cooking for events such as countryside weekends, private dinners in London or even holiday cooking.