Home Hacks To Bring The Outdoors Indoors With Studio Sorores
By HOPP Team
Jessie & Georgia Westwood, founders of Studio Sorores, collaborated with us & HURR Collective to give their expert knowledge on bringing the outdoors indoors! Studio Sorores are leaders in Event Planning, Floristry, Design and Styling with a commitment to sustainability and respecting nature that we hugely admire.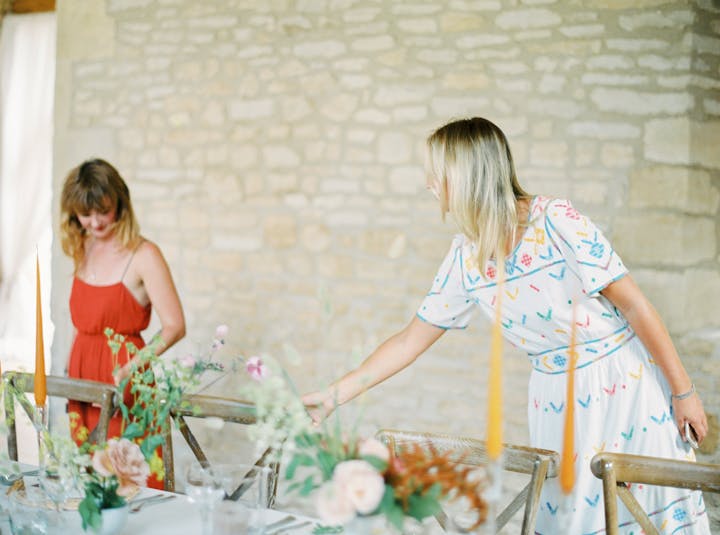 We often design our events around a client's personal home space, as well their style, life story and the surrounding landscape of a venue. Since we're all spending so much more time in our own homes at the moment, using the outdoors as inspiration within your home is a really great use of your time and creativity.
Taking the time to set a beautifully styled table for a meal, makes all the difference. It could be in honour of a special occasion, or simply because it makes you feel good. The first step is to get outside if you can! You may have a beautiful garden with all sorts of flowers and foliage readily available, or you may be relying on a daily walk in the countryside to get some fresh air and exercise.
Either way, there is so much potential out there and you don't need to be an experienced florist to create something garden inspired - often the simplest things are the most beautiful. There are many things that you can forage in the English countryside throughout the year, from Spring blossom to Winter grasses. Always ensure you respect the area you are cutting from, taking small amounts from multiple places rather than taking from one plant. It's best to use things from the roadside, never from public parks or private gardens, unless of course you have permission to. We have found that people love to share things they have grown in their own gardens and see the outcome of your creations.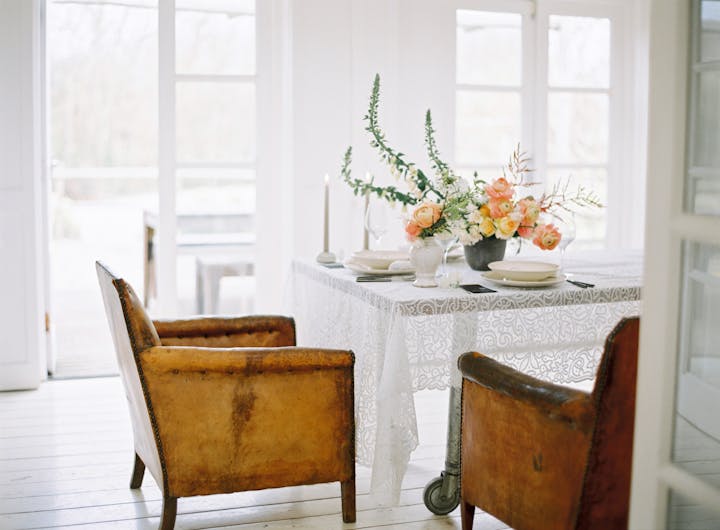 Scent always plays a huge part in our tablescape designs, and herbs are a clever yet simple way to combine scent and height to a table. You may already grow herbs in your garden or you may be able to forage some locally (rosemary, lavender and thyme are usually easy to find). Shop bought herbs will also work! These are particularly good for putting into little glass vases, jars or bottles that you might otherwise put in the recycling bin.
Combining them with a selection of mini terracotta plant pots along the table is also an excellent way to create movement and texture, and super easy to do if you already have plants around the house or in the garden. Potted plants like succulents always look wonderful, if you have a mix of different varieties and sizes even better! You can also cut individual stems of herbs, leaves, flowers and wildflowers for each place setting. Mix in lots of tealights in glass ramekins (we all have a cupboard of those!) or votives for a pretty and romantic atmosphere.
If you are choosing to forage, we recommend focussing on just one thing in particular, such as spiraea, lilac or blossom. By keeping it simple, you won't be tempted to over-design the table and it allows you to focus on movement and shape of branches, creating negative space as you build up the table. People often complain about not being able to see each other above flowers and that's normally because we tend to have tall vases at home. Invest in a few floral frogs and some floral putty and be creative with items you have in your kitchen - little dishes, bowls or tumblers are all really useful as they are low and wide. Don't worry too much about seeing the frogs in the vases - think Japanese minimalism, but with whimsical flair and English ingredients.
If you have done a flower arranging course in the past and learnt techniques using floral foam, please can we urge you not to re-order this particular floristry kit. It is so damaging for the environment and there are so many more sustainable solutions for bringing the outside in.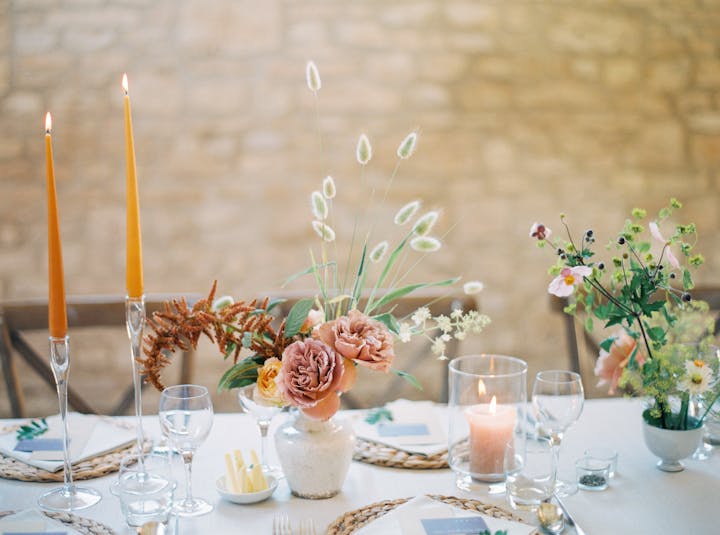 + a quick Q&A with Georgia Westwood, Director of Event Flowers, Design & Styling
What or who inspires you?
One of my favourite things about my job is taking inspiration from our clients themselves, getting to know their story and representing who they are through design. Everything visual has the ability to inspire you and I am always very in tune with my surroundings, but it's often the people you're working with that take you out of your comfort zone to design something for them rather than for yourself. I look for colour palettes everywhere I go, oil paintings are always a great source of inspiration.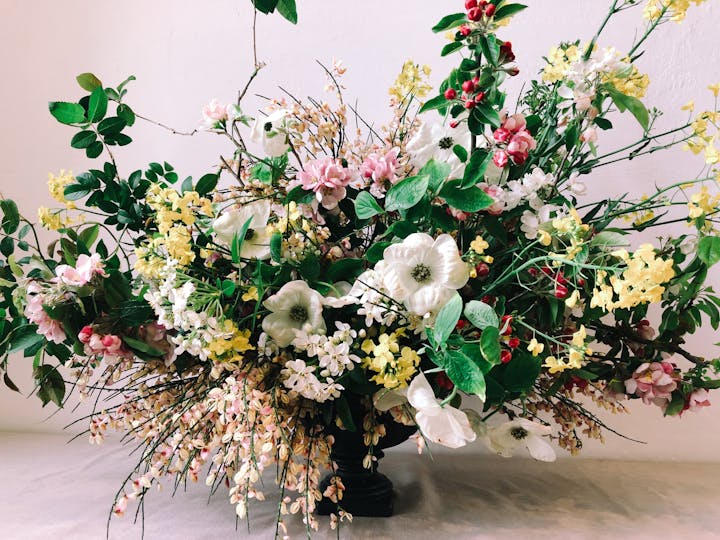 What do you love most about being a florist
Large scale floristry can sometimes be a bit like therapy. Not in the way that many people think ("oh it must be so nice to just play with flowers all day"…!), but because there is something incredibly grounding about working with a living breathing product. That also comes with a lot of pressure to get it right and a lot of work to become the very best at what you do. I have to be creative, whilst delegating work to other people, respecting the flowers I'm using and doing it all in a very short space of time. I have learnt so much about what I can achieve in life and every job I do, I learn something new, still 10 years on. I love that challenge, it's what inspires me to keep going.
What flowers did you have at your own wedding (or if you are not married you would have at a dream party) ?
Proudly un-married! I honestly really struggle to envision my own wedding. I think that comes from doing it for so many people, it doesn't feel right to design for myself. But I naturally go towards earthy rusty tones, with a good balance of white for freshness (although I'm crazy fussy about the right tone of white!). I've always wanted to do an event using solely peach phalaenopsis orchids, I think they're the most beautiful (and expensive!) flower on this planet. Maybe I'd do that!
Fun fact we don't know about you
I was actually trained in Interior Architecture. But my final project was designed around flowers. I quite like to see what I do as Floral Architecture. It's all about layers, colour palettes, texture and movement within stillness. But perhaps most importantly, stability. Making things look pretty is one thing, but making it work in context of a building and ensuring it all stays up for a prolonged amount of time in potentially bad weather conditions is another. My architecture degree definitely helped me with that knowledge!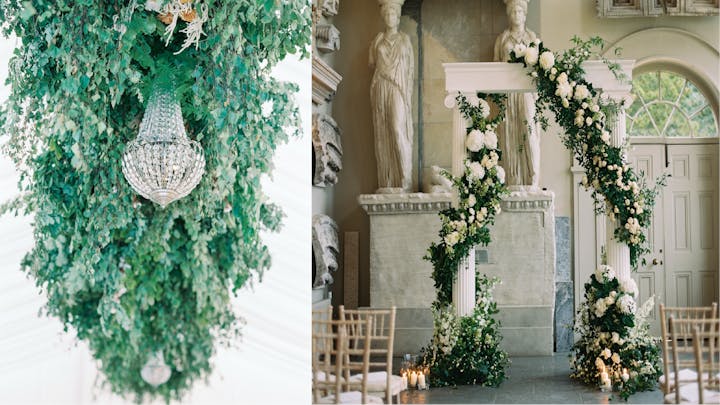 Written by our Team of HOPP Experts.