The Meaningful Tradition of Letter Writing To Help Kids Stay Connected
By Leo Turner, Downey & Co
'Letter writing is becoming a lost art and an endangered skill; with suddenly so much time in their hands, today's young generation could revive this meaningful tradition. There is nothing more personal and exciting than composing and receiving a well though-out handwritten letter' and Downey & Co are giving kids the tools to do this!
In the wake of the coronavirus pandemic, luxury print and design house, Downey recently announced that it would provide stationery and letter writing packs to help kids in the local community stay connected, encouraging self-expression and learning through writing.
Downey, a third-generation family business who produces bespoke, luxury invitation suites, business and personal stationery along with custom packaging for companies like Cartier, Burberry, Patek Philippe and Sotheby's, have been putting together and distributing writing packs, using spare paper and envelopes from both its London offices and Norfolk production house.
With schools across the country closed indefinitely, encouraging kids to write letters to their friends, family members, care home residents or exchange ideas about books they read can boost their creativity, keep them occupied, and help reduce their stress levels.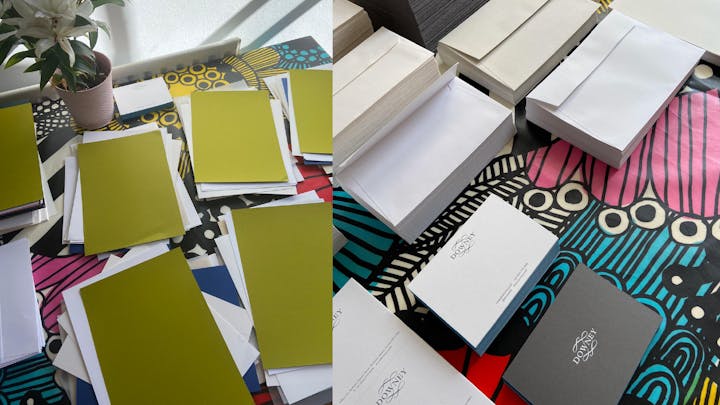 'Downey intends to help tackle the difficult situation parents face these days and enable kids to continue learning and stay mentally motivated while practicing writing and staying connected. Nurturing writing skills in this digital age can help kids to express their creativity and generate ideas." Leo Turner, Director of Downey said.
He adds 'What began as a fun idea to supply my daughters with writing paper to enable them to connect with their friends, has grown into supplying the whole class and followed on to offering the entire school these packs. It has highlighted the strong sense of community during this difficult time and how important it is to connect with those around you, even if remotely. It is not lost on me that by being a part of a 3rd Generation family business, this is emphasising the family aspect more than ever'.
To get in touch click: HERE
Author
Leo Turner, Downey & Co
Downey was established in 1903 as a hand engraving company by Alfred J Downey. By the end of the 20th century the company extended its scope considerably, offering print services with larger premises sought to accommodate the expansion. From its earliest days, Downey showed a remarkable capacity for innovation and has excelled in providing unrivalled quality and creativity. As an independent 3rd generation family-owned business, Downey believe that having full control over all aspects of production is vital to providing consistently outstanding level of quality and service.