How to Choose a Party Theme
By HOPP Team
Settling on a theme is one of the first decisions you will make about your party. From choosing the venue to finding the best party suppliers, understanding how you are going to bring out the best of your chosen theme will be vital to planning an impressive and cohesive event.
A theme needn't be bold to be beautiful. Whether you wish to keep it simple with a cohesive colour scheme, or descend upon your venue with enough props, backdrops, and furnishings to accommodate a Broadway musical, a carefully considered theme will give your guests an unforgettable experience.
Take a look at our suggestions for finding a theme that enhances your atmosphere, inspires your guests, and expresses a little of your personality.
Formal Party

Soirée, affair, ball, banquet, or thé dansant. Formal events give us the opportunity to take a step outside of our everyday patterns in favour of a more sophisticated black or white tie ensemble, a glass or two of champagne, and an evening of good conversation, food, and dance.
Achieving an air of formality begins early, from the moment you issue your party invitations, to the final starry flash from the photographer.
Consider the colour scheme. A cohesive and understated colour palate can be a theme in itself; you may request that your guests attend in black and white, and host an evening worthy of Grace Kelly and Humphrey Bogart. Similarly, gold and silver are paragons of grandeur, but dusky pastels or rich, deep hues of blue or burgundy can build an elegant monochromatic milieu.
If you don't wish to be too prescriptive about your guest's attire, you might build your event around a more substantial theme.
A Masquerade Ball will lend a mysterious quality to the evening, and with a live, string quartet as part of your party entertainment, your guests will feel they have been transported to Verona. Find a venue boasting ornate architecture or a bold, contemporary design.
A Garden Party in the sunshine, surrounded by cultivated gardens and a classical live band, is a scene that never goes out of style. When planning a garden party, consider a luxury marquis for noonday shelter, and lay the tables around intricately-shaped centrepieces of roses and peonies.
A Midsummer Night's Dream also makes for a wonderful excuse to host al fresco, and you needn't turn to theatrics to pull of this theme. Creative outdoor lighting slung through the trees, lace-draped tables, botanical cocktails and a live harpist — just remember to plan around the lunar cycles.
Bohemian Party

As you begin making your plans, look at party venues that boast plenty of outdoor space, from sprawling acres to a romantic, vine-cloaked veranda. Rustic food, sprawling vistas, and a vibrant, natural colour scheme are some of the many benefits there are to partying out of doors.
Consider the basic structures you will need to introduce to your space, and use their design as a tool for realising your theme. Sailcloth tents have a classical, celebratory look, while a small cluster of teepees will come across as more rustic and free-spirited. A single, long banqueting table will evoke a close, convivial atmosphere, while a cluster of smaller tables will encourage bubbling, diverse conversation.
A Carnival theme will achieve the laid back, happy atmosphere that takes you right back to those carefree, childhood summers. Guests can roam around, help themselves to an expertly barbecued buffet, chat, dance, sunbathe, and watch one or two shows. Hire a wide range of party eteratainers, from magicians to firework technicians, to keep the atmosphere bubbling through the day, and long into the evening.
A Rainbow Fiesta will make an explosion of colour. Celebrate life (and everything else) with a live acoustic band that draws your guests from the car park to the stage — along with the mouthwatering smells from a traditional Mexican street food van. Fill the marquee with plenty of vibrantly coloured furniture-pieces and party decorations.
An Eclectic Tea Party, featuring mismatched decor and crockery (to save money, you can rent these from your party suppliers), locally-sourced, plant-based catering, and stunning floral arrangements will infuse that boho-chic vibe with a vintage edge. Hire a live, acoustic band to keep the atmosphere relaxed and cordial, and have a dance floor laid over the grass to keep guests on their feet.
Modern Party

Whether you are hoping to fill an artspace with polished, greyscale furnishings and decor, or use technology to immerse your guests in a contemporary wonderland, an à la mode event exudes style and sophistication.
Before signing on the dotted line, talk with your venue in order to establish what decor, lighting, and sound equipment they allow. Each venue will have its own rules about decoration and live performances, so keep searching until you find the proper space for your theme.
A Minimalist Atmosphere which eschews any complexity in favour of clean, bold lines, elegantly plain furniture, a solo singer, and candid, black and white shots from your party photographer will achieve a contemporary, understated air of sophistication and glamour.
A Cocktail Bar, manned by expert mixologists, will draw your guests in from every corner of the room. Work with your party supplier to devise a comprehensive, simple, and flavourful menu for your guests to order from, in order to keep the queue minimal. Accompany with a round of complimentary canapes, and a live jazz band.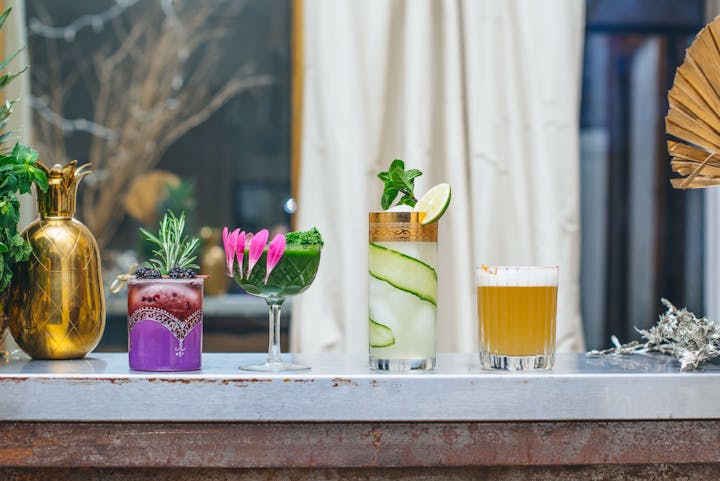 Bold Colours will transform any space. Hire plenty of creative lighting fixtures, and bathe the room in a rose gold glow, a velvet blue, or a dreamlike, hazy purple. Work with your party catering team to construct a menu with exciting, zesty flavours to reflect the visuals, and a professional DJ to keep the beat.
Settling on a theme will pave the way for the rest of your plans, from choosing the venue to settling on the flowers and decor. Having a clear notion about the design of your party will make it easier to discuss concepts with your party suppliers, and to keep everyone working towards the same goal.
Written by our Team of HOPP Experts.