By Word of Mouth
London
Useful information
Works Abroad
We have experience doing events outside the UK.
Services
Catering
Specific Details
Fine Dining
About the company
By Word of Mouth is a luxury event planner and caterer working at the top of the market in the UK and globally. With over 35 years' experience, we bring a vast wealth of knowledge along with creativity, style and exquisite food.
Past events have included VIP/royal events, magical weddings, blockbuster film premieres, fully themed bar mitzvahs and celebrations of all kind. We work with any number of guests and have partnerships with a huge range of venues, offering venue-finding alongside our full event planning service.
The catering side of the business has an exceptional brigade of chefs, in-house menu design team and food producers that combine to achieve food that is unrivalled for flavour, finesse and imagination. Seasonality and ethical working practices are key values to us and are shared by all those with whom we work.
Clients come to By Word of Mouth for expert event planning, exceptional catering and a track record that is respected by both our clients and competitors.
Style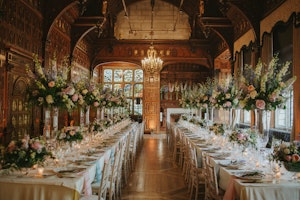 Formal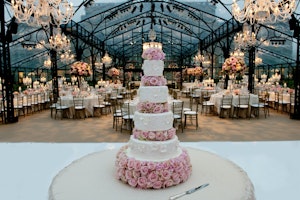 Traditional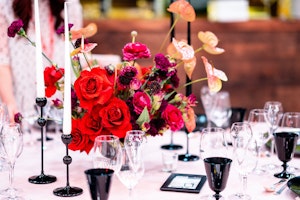 Modern
Additional Information
Do you have in-house furniture for hire?
Do you have in-house props for hire?
Can you cater in a marquee?
Can you provide a wedding cake?
Can you source alcohol?
Do you charge corkage?
Do you have in-house tableware for hire?
Do you offer a tasting?
Do you offer bespoke menu options?
Do you provide bartending?
Do you provide waiting staff?
Do you have public liability insurance?
When was the company started?
1976
Are you VAT registered?
Sustainability
By Word of Mouth has an in-house Green Team that has developed a number of positive initiatives to minimise waste, maximise recycling opportunities and encourage best-practice amongst colleagues. We do not use plastic straws and are working to minimise (and ultimately eradicate) the use of single-use plastic in our business. Our food suppliers share our commitment to sourcing ethically produced, sustainable ingredients and to reducing food miles wherever possible.
Testimonials
"We view By Word of Mouth very much as a partner rather than a supplier – they have taken the time to get to know our requirements and I would honestly struggle to work with anyone else now!"
JC, Corporate Client
"I'm sure you had some feeling of what a spectacular success you contributed to Saturday week ago. Your organisation of the whole evening was flawless. The lighting, flowers, the ambience of the Orangery (almost keeping me to timetable!) and a tour de force food and service couldn't be faulted. Indeed our many thank you letters are full of warm comments about every aspect of the evening. M. has been on a high for days, desperate to see the photos to bring back memories of what for her was "a magnificent occasion". Your TLC and attention to detail contributed so much to the wonderful outcome………"
DD, Private Client
"I know you do this on a daily basis and are probably already on to the next one like we are, but I just wanted you both to know our appreciation for helping make last night a very special occasion for us and all of our guests, who left very happy indeed."
AM, Corporate Client
Suppliers you may be interested in...
Useful
Services
Specifics
About
Style
Additional
Sustainability
Testimonials
Articles
Contact