Elizabeth's Cake Emporium
Barnet
Useful information
What do prices start from?
Price on Application
Works Abroad
We have experience doing events outside the UK.
Services
Cake
Specific Details
British
Caterer
Gluten Free
Biscuits & Cupcakes
Kids
Wedding Cake
Vegan
About the company
Multi award winning Elizabeth's Cake Emporium is recognised as one of the best wedding cake companies in the world. The company creates the most opulent, innovative and beautifully handcrafted cakes using the finest ingredients. A pioneer in the wedding industry, their creations have been featured in numerous national and international blogs and publications and in film and TV. Clients include royalty, celebrities and high net worth individuals.
The founder is an international speaker and a competition judge who travels the globe speaking to fellow cake makers, women in business, wedding industry professionals and other entrepreneurial groups.
Author of best selling artisan cake book OPULENCIA, she has hosted and judged cake shows, appeared in "My Best Friend's Wedding" by Sony Columbia Pictures was recently named as one of the world's "Masterful 100", a select list of the most excellent and masterful luxury experts and brands in their field.
Style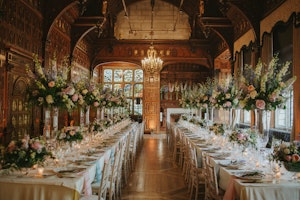 Formal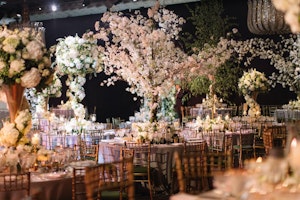 Whimsical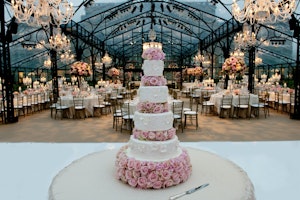 Traditional
Additional Information
Can you provide a wedding cake?
Do you offer a tasting?
Do you offer bespoke menu options?
Do you deliver?
Do you do bespoke cakes?
Do you have public liability insurance?
When was the company started?
2008
Are you VAT registered?
No
Sustainability
We have reduced our waste through recycling. We also actively support children's charities, regularly offering a number of cakes each year for auction.
FAQ's
Absolutely! This is what we recommend and all our luxury wedding cakes are personally delivered and set up by Elizabeth and a member of her team. We deliver our cakes throughout the UK and we also specialise in delivering cakes to destination weddings ensuring that our clients get the very best from us.
All our cakes are bespoke and costs therefore vary. We usually ask a number of questions to determine what your requirements are and we then quote accordingly. Costs will depend on factors such as number of servings, size of the cake, complexity of the design, the type and amount of detail on the cake and where the cake needs to be delivered to. Our quotes are inclusive of everything discussed as we do not believe in springing hidden charges on our clients.
Once you notify us of any special dietary requirements we will try our best to accommodate them. We do offer vegan and gluten free cakes which can either form part of the wedding cake or can be made separately and given to the caterers.
To avoid disappointment, we recommend you order your wedding cake at least 3 to 9 months in advance, particularly if you are getting married during the peak season months of between April and September. However, this is only a guide, as we do occasionally accommodate last minute requests if there is availability.
We offer up to 45 different flavours as we often create bespoke cake flavours too. Our most popular flavours are our Triple Chocolate cake, Chocolate Bailey's, Chocolate Orange, Luscious Lemon, Vanilla and Caramel and Banana. And yes, each tier can have a different flavour.
Testimonials
" Your cake was exceptional. We have seen a number of wedding cakes at the Palais and not only was yours was the grandest by a mile, the flavours were delicious. The client was extremely happy and we look forward to working with you in the future."
Gabriella Ogoralek, Palais Liechtenstein
"We tasted a lot of cakes in the lead up to the party and yours won hands down! They were the best cakes I've ever tasted. "
Lady Elizabeth Anson, Party Planner to Her Majesty The Queen
"Elizabeth's Cakes are GENIUS"
Jade Beer, Editor Brides Magazine
Suppliers you may be interested in...
Useful
Services
Specifics
About
Style
Additional
Sustainability
FAQs
Testimonials
Articles
Contact