Lamport Hall
Northampton
Useful information
What do prices start from?
£500
Services
Venue
About the company
A Tudor founder, blind book collector, wayward 17th century grand tourist, eccentric Victorian, Hollywood actor, commanding wives and dedicated daughters – Lamport is full of characters. As home to the Isham family for over four centuries, the fortunes, interests and trials of each generation have left their mark.
Nestled in the Northamptonshire countryside, and yet only a short drive from the motorway network, Lamport has a story worth telling. Developed from a Tudor manor house, Lamport is best known for its classical frontage.
The Hall's fine rooms, including the High Room of 1655 and 18th century library, are filled with a wealth of outstanding furniture, books, china and paintings collected by the Isham family. Most were bought during the third Baronet's Grand Tour of Europe, in the 1670s.
We offer exclusive hire with all events built bespoke to your requirements.
Style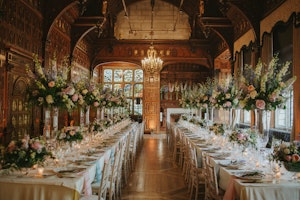 Formal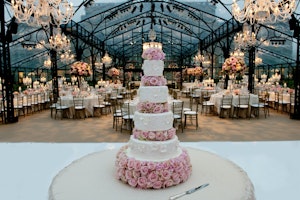 Traditional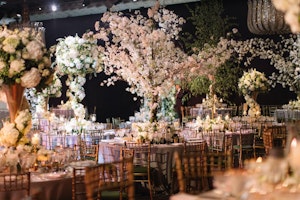 Whimsical
Additional Information
Are there bridal changing facilities?
Do you charge corkage?
Do you have an alcohol license?
Do you have an in-house event manager?
Do you have a wedding license?
Do you have disabled access?
Do you have in-house catering?
Do you have parking?
Do you offer exclusive use?
Is a marquee build permitted?
Is an external caterer permitted?
Is there a nearby church?
Do you have public liability insurance?
When was the company started?
1974
Are you VAT registered?
Sustainability
The Lamport Estate invests a great deal in conservation. As part of our farming enterprise we manage 33 miles of hedgerows and 40 acres of flower-rich grassland. Each year the Estate plants 30 acres of wild bird food plots and manage 32 acres of nectar-rich plots for bees and pollinators, 12 bee hives, 76 nest boxes, owl posts, 2 field-scale beetle banks and un-cropped margins around every field to provide a wide range of habitats.
The new Higher-Tier Countryside Stewardship Scheme will see a wide range of new conservation projects undertaken including the creation of new woodlands and water bodies, two natural flood management programmes, the restoration of three medieval fish ponds, the creation of a new Parkland Management Plan and the restoration of an oak avenue. Additional conservation strips will also be added to benefit insects, bees and birds and improved water surface management will be developed to reduce soil erosion.
FAQ's
I love seeing all events come to fruition whether it be a tiny intimate wedding or large corporate event. However, we did really enjoy one particular wedding which was very simple but had so much thought put into every element. It was small and intimate but had elements of their interests and personalities throughout - something I love to see in events!
Enjoy your event! It can be hard to get so wrapped up in wanting everything to be perfect that the day goes by without taking a moment to appreciate it. Take a step back to look at the event, speak to your guests and soak up the atmosphere - you deserve it! And rest assured that the team here are working hard to ensure the whole day goes smoothly.
Country, classic, sophisticated.
A cheeseboard in front of a roaring fire is hard to beat!
We are a hidden gem and still relatively unknown which makes us feel even more unique and bespoke. The Hall is run by a very small team ensuring that you will always have an individual to deal with who will get to know you throughout your experience. We are also home to the very first garden gnome... a quirky fact to thrill your guests!
The last Baronet to live at Lamport was Sir Gyles Isham, a Hollywood actor who starred alongside Greta Garbo. It's wonderful to imagine the parties and guests he must have hosted here...
Testimonials
"I just wanted to say a big thank you for hosting us yesterday for our festival day. Having the event at Lamport Hall was perfect – the beautiful grounds gave the day a real sense of occasion and provided a lovely backdrop for all our music-making! Thank you for accommodating us so well and helping to make the day such a success."
Jessica
"Thank you for our private visit to Lamport last week. The house looked immaculate and remains very very interesting. It was also great to see the garden looking so beautiful so thanks to your gardeners as well. The National Trust has a lot to learn from places like yours."
Peter
"We had a wonderful day yesterday, thank you very much for looking after us so well. I have had several emails from my guests saying how much they enjoyed it. The lunch was super & the tour of the house most interesting. Having the house & gardens to ourselves felt very magical."
Alison
"We'd like to thank you and the staff of Lamport Hall for a really lovely afternoon. Even better the weather was with us too. The feedback was all positive from my guests about their time at the hall. We didn't realise how big the grounds were, we will definitely be coming back again in some shape or form to the hall, as we've noted some of your forthcoming events. Once again thank you for your time and making our afternoon so enjoyable. We look forward to seeing you all soon."
Steve
"Lamport Hall have been so supportive and cooperated with every request. I would so recommend this beautiful spot for a marquee wedding."
Susan
Suppliers you may be interested in...
Useful
Services
About
Style
Additional
Sustainability
FAQs
Testimonials
Contact