Lettice Events
London
Services
Catering
Specific Details
British
Vegan
Fine Dining
Caterer
Catering
About the company
Lettice Events was created over thirty years ago working on events such as Claudia Schiffer's wedding and Mick Jagger's birthday. More recently we have worked with likes of Vivienne Westwood and Swarovski alongside a host of luxury weddings and private parties.
Lettice provides catering and event planning for private, corporate and wedding clients. Our proposals are personalised and not packaged with bespoke menus tailored to the individual.
We work with seasonal and local produce to ensure that our menus not only look incredible but taste amazing.
Lettice are a one stop shop for your event, providing not only the food but table styling, staffing, beverages and full event planning.
Style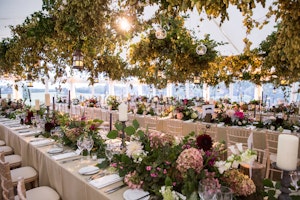 Natural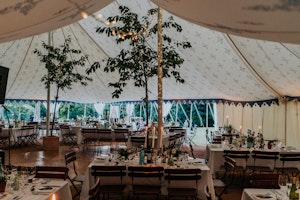 Rustic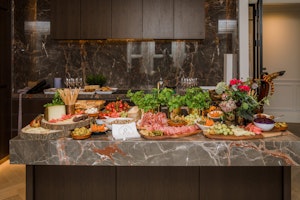 Informal
Additional Information
Can you cater in a marquee?
Can you provide a wedding cake?
Can you source alcohol?
Do you offer a tasting?
Do you offer bespoke menu options?
Do you provide bartending?
Do you provide waiting staff?
Do you have in-house tableware for hire?
Do you have in-house furniture for hire?
Do you have public liability insurance?
When was the company started?
1989
Are you VAT registered?
Sustainability
Sustainability is very important at Lettice. We use locally sourced produce whenever possible. We are dedicated to reducing single use plastic at our events, and have a strict recycling policy.
FAQ's
Enjoy the planning process! Make it as fun as possible and don't get stressed by the little things. It's not everyday you go to menu and wine tastings!
Hard to choose but "Confit Duck, Smoked Paprika Emulsion On Grilled Sourdough With Duck Crackling" is a good one!
Bespoke, Innovative & Fun
Testimonials
"I just wanted to say a huge thank you on behalf of the couple, but also from me, for everything on Friday. Your whole team were such a pleasure to work with and your food looked and tasted amazing! It isn't the easiest of venues, what with the space constraints and all those stairs, but you would never have known it and I think that speaks volumes about Lettice! Well done. Speaking personally, I was SO grateful to you for all your support on Friday. There was a lot to do, especially with set up, your help was completely invaluable. I have really enjoyed working with you over the last 6 or so months. "
Emma Joy The Wedding Planner
"We wanted to send you a note to extend our huge thanks for all your work and assistance on the lead up to and across the weekend. You absolutely went above and beyond to accommodate all the requests. Personal thanks to your team for their energy and attention on site. Plus of course the chefs for delivering some delicious dishes. We look forward to another opportunity to work together in the near future. "
Littleton Rose Events
Suppliers you may be interested in...
Services
Specifics
About
Style
Additional
Sustainability
FAQs
Testimonials
Contact