Pandora's Jukebox
London
Useful information
Works Abroad
We have experience doing events outside the UK.
Services
Music
Specific Details
Musician
Motown
Disco / House
Band
Rock / Pop
About the company
Pandora's Jukebox have spent the last decade building their reputation as one of the top party and show bands in the UK.
World class musicians and song arrangements
Range of size bands available with premium light and sound equipment
12 + years of weddings, parties and events in all types of venues, gardens, pop-ups throughout the UK and abroad
Huge 300+ song repertoire encompassing Soul, Funk, Motown, Disco, R&B, Pop, EDM, Dubstep, Drum & Bass, Jazz and Swing
Flawless reputation through musical performance and reliability / organisation
Style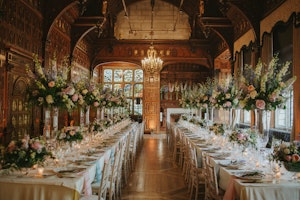 Formal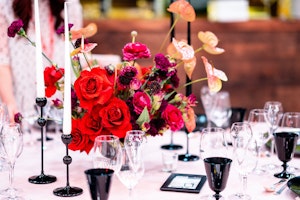 Modern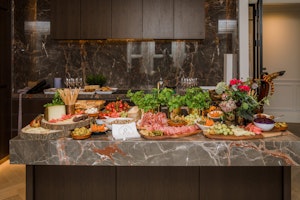 Informal
Additional Information
Do you do bespoke song requests?
Do you have an in-house PA system?
Do you have in-house lighting?
Do you provide an onsite sound technician?
Do you provide artist management?
Do you have public liability insurance?
When was the company started?
2007
Are you VAT registered?
Sustainability
We use rechargeable batteries for all of our performances.
The events industry has a terrible reputation for waste when it comes to single-use batteries as they replace every single one before each performance regardless of how much charge is left.
For a typical party / show band, 20-40 AA batteries are required for each performance (for all of the wireless microphones, in-ear monitors etc) and so with 100 + performances a year that can amount to quite a lot.
Along with efficient class D amplifier technology in our sound-system, we use all LED lighting for our performances which uses significantly less electricity than traditional lighting.
We do not use any paper for any of our business practises (aside from our business cards). All contracts are electronic, we use iPads for musical arrangements and all communication is via email / text / phone. We don't print CDs, all of our promotional material is digital.
FAQ's
You might think we'd pick a super luxurious wedding at a stunning chateau in the south of France, but our favourite weddings are almost always at peoples family homes. Our top pick is down to a stellar crowd who were just up for a party - loving the music, company and an amazing unique atmosphere.
Prioritise your entertainment in your overall budget. You might be thinking 'well you would say that!' but if you have a great live band, your guests will be talking about it for months, even years to come. There's nothing better than partying with your nearest and dearest - it's probably the only time that grandkids and grandparents will be boogieing out together to Taylor Swift! And it's always good to keep your guests away from the free bar as much as possible so giving them great entertainment is a no-brainer!
Fun-loving, Dynamic, Skilful
Our arrangements and variety of genre. Every song we play has been expertly arranged so that we capture perfectly the authenticity of the original. Some have our own unique stamp on them but never taking anything away from the original. Having proper arrangements means that our show is as tight as any pop concert you might go and see. Genre-wise, there aren't many other bands about who have tackled Dubstep, Drum & Bass and EDM tracks - but we have! For those who want something a bit different in the last set for the clubbing fans, we've got it covered!
Yes and yes! You can request songs from our repertoire (using our unique 'song requester' on our online portal) and we'll tailor our setlist to your selections. We will also learn one song not already in our repertoire as part of your booking - perfect for first dances.
Yes indeed - all over the UK, Europe and further afield.
Testimonials
"What a Saturday night. I cannot tell you how happy i am with how it all went. You all absolutely smashed it. Incredible feedback from all the guests too. Tom"
Wedding 25th Sept 2021 - Century Club
"Hi Dougie, I hope you are well!! I just wanted to send a quick email to say thank you very much to you and the guys for such a fantastic performance on Wednesday. Honestly it made our wedding!! You guys did not disappoint, absolutely everyone was saying how incredible you were. We absolutely loved it!! Thanks again. Emily and Gianluca "
Wedding 22nd Sept 2021 - Hales Hall & Great Barn
"Hi Dougie, Just a quick email to say a huge thank you to you and the band. Everybody had an awesome time and Emily and I were delighted that the dance floor was always full! Thanks, David"
Wedding 4th Sept 2021 - Sheraton Grand Park Lane
"Hi I just wanted to say Thankyou for making my sons wedding such a memorable occasion. If I'm honest I was a bit doubtful about the cost of hiring u initially but as soon as I heard that first song I was absolutely staggered by the quality of the music. The enthusiasm and professionalism by all members of the band was brilliant. I've never seen a dance floor so packed. It was a night to remember and so many people have already asked for your details after hearing video clips of their first dance. Look forward to seeing u all again and Thankyou so much. Helen"
Wedding 28th Aug 2021 - The Long Barn Alton
"Hello Dougie, We just wanted to say a BIG thank you to yourself and the whole of the Pandora Band. They were superb, what a Blast, such enjoyment had by all. Hollie & Robs wedding was a Fabulous day, the evening dancing a added bonus for us all to enjoy a total Wow moment. Many people commenting on the Band how good you were and why not. Our Best Wishes. Christine, Andy and the newly weds"
Wedding 24th July 2021 - Highclere
"Hi Dougie, I just wanted to say a massive THANK YOU to you and the band for absolutely smashing it on 10 July. You guys really were incredible (as people keep telling me). I also very much appreciate your flexibility in the run up, and playing through the break as we were running over. Thank you again! Mark and Clare)"
Wedding 10th July 2021 - Bentley
"Dear Dougie and Pandora's Jukebox A quick email to say a HUGE thank you for the most fabulous wedding performance on Saturday. From the gorgeous piano during our ceremony to banger after banger on the dance floor, you really were the wedding band of our dreams. We've had tonnes of messages from our friends and family saying how fabulous you were. Thank you for playing and performing all of our favourite songs so perfectly and for making our wedding one to remember. The garage medley was a particular highlight! All the best Kate and Ali x "
Wedding 29th Feb 2020 - The Underglobe
"The best wedding band we could ever ask for. They kept the dance floor full for the entire night and played a perfect selection of songs. From the start, they were clear on their requirements, and were extremely professional and easy to deal with. They played songs we requested, and performed our first dance song just as we envisioned. Well and truly worth every penny. Thank you for making our big day even more incredible than we could have imagined. Rosie & Luke"
Wedding 11th Jan 2020 - Fenstanton
Suppliers you may be interested in...
Useful
Services
Specifics
About
Style
Additional
Sustainability
FAQs
Testimonials
Articles
Contact