Redcrest Events
Newbury
Services
Marquee
Specific Details
Freespan
Bedouin Tents
Traditional Pole Marquee
Chairs & Tables
Chill-out Furniture
About the company
At Redcrest, we pride ourselves on providing the highest quality structure for every occasion and go about each event with the attitude that "nothing is too much trouble".
We have a wide variety of tent styles to suit all tastes; from clearspan frame tents and PVC Pole tents to Indian Raj tents and traditional sailcloth pole tents. We speciailise in stunning hand printed linings, designed by us and block printed in India - these linings add the wow factor to our clearspan marquees and create an atmosphere like no other.
We are able to provide as much or as little of the infrastructure in and around your marquee as necessary, including internal and external lighting, flooring, furniture, bars, luxury loos and more.
With our experienced eye for detail, we are able to work with you to design a structure to not only fit the space available but also your personality.
Style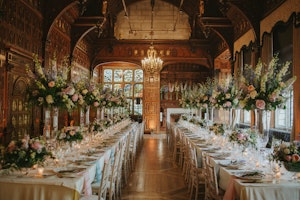 Formal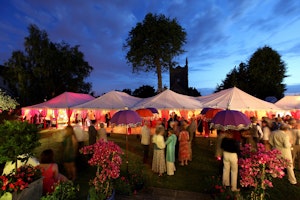 Bohemian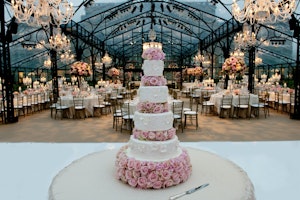 Traditional
Additional Information
Do you do bespoke draping?
Do you do bespoke flooring & carpets?
Do you have a star ceiling?
Do you have in-house furniture?
Do you have in-house generator?
Do you have in-house heating and cooling systems?
Do you have in-house lighting?
Do you have in-house loo hire?
Do you have in-house skips?
Do you have in-house trackway?
Do you have patterned linings?
Do you offer transparent ceiling?
Do you provide an onsite manager?
Do you provide a reveal curtain?
Do you provide a site visit?
Do you provide delivery, set up & breakdown?
Do you provide levelling for uneven terrain?
Do you provide delivery and collection?
Do you provide set-up and breakdown?
Do you have public liability insurance?
When was the company started?
2000
Are you VAT registered?
FAQ's
Our vision and eye for detail - After a conversation with a prospective client discussing what they want from their event/wedding/party, our MD, James, is able to walk onto a site and envisage the right marquee for the job, knowing what will fit the space and also create the perfect setting for the occasion. Second to that, it would be our personal service. From your first telephone call to our office you will speak to a small team, meet with James and then have your hand held by James right the way through to the putting up of the marquee, where James will work closely with our Operations Manager, Rob.
Yes, but we never name names. Discretion is key in this job and we respect that to the highest level.
A 50th wedding anniversary, for the most amazing couple. In our eyes, 50 years of marriage definitely calls for a mega party and these clients did not disappoint! We provided an enormous structure including a starlit reception marquee, with full round bar complimented by stunning red and gold flowers and decorations. A slideshow of photographs throughout their years of marriage was projected onto a wall. The most exquisite champagne and canapes were served and an award winning violinist played, before the dining marquee was revealed with round tables adorned with flowers, gleaming cutlery and glassware and luxurious red walls lined the marquee. As dinner came to an end, a curtain was lifted to reveal a third marquee housing a dancefloor and stage with the band playing tune after tune throughout the night for guests young and old. The following morning our team had a quick turn around, to tidy the marquee, rearrange furniture and remove linings in the dining tent to reveal clear roof panels letting the autumnal daylight in, ready for 100 people to sit down for the most delicious Sunday lunch party. It was quite a celebration and one which we were honoured and proud to be a part of.
Testimonials
"I wanted to thank you for the marquees. They were spectacular and were universally admired by our guests. Beyond that though, the level of service was outstanding, from designing and planning to the set up and snagging. I will unreservedly recommend you and of course call you again when we need you."
Mr Wilson, Froxfield, Wilts
"All the guests were blown away with the marquees, it was perfect and a lovely change to have so much space to walk round the tables without squeezing past folk…we rarely have so much free space. So all in all was excellent for staff and clients!!! I will always recommend Redcrest for any marquee hire ... you are the best!! And I have seen many!!!"
Jane Staunton, Caterer
"The marquee looks absolutely stunning, both by day and by night. The Redcrest team worked tirelessly for so long, to get every detail absolutely right – and we are all thrilled with the result. Many thanks to everyone. Your whole team were amazing – so hard working and always nice, polite, cheerful and wanting to help both in the putting up and the taking down.The universal response to the marquee was one of awe and wonder!!! Those who know Redcrest of old just looked knowingly and said "oh yes, Redcrest" but those who hadn't had the Redcrest experience before (!) were amazed and impressed and many were completely bowled over at how absolutely beautiful it all looked. Your attention to detail and enormous hard work, together with your unfailing helpful and cheerful attitudes were so appreciated by us all and I particularly wanted to say a very big thankyou from all of us – we really were so grateful for everything you did."
Mrs Foote, St Mary Bourne, Hants
Suppliers you may be interested in...
Services
Specifics
About
Style
Additional
FAQs
Testimonials
Articles
Contact