What Size Marquee Do I Need For My Wedding?
By HOPP Team
For all you brides and grooms out there, the best bit about creating your own wedding from scratch is that you can make it uniquely yours. We love the flexibility that comes with a marquee wedding, as it offers you an alternative venue to the more traditional wedding venues that are available across the UK. Opting for a marquee wedding celebration gives you a blank canvas meaning you don't have to follow tradition, you can decide when the party finishes, and create a space that suits YOU!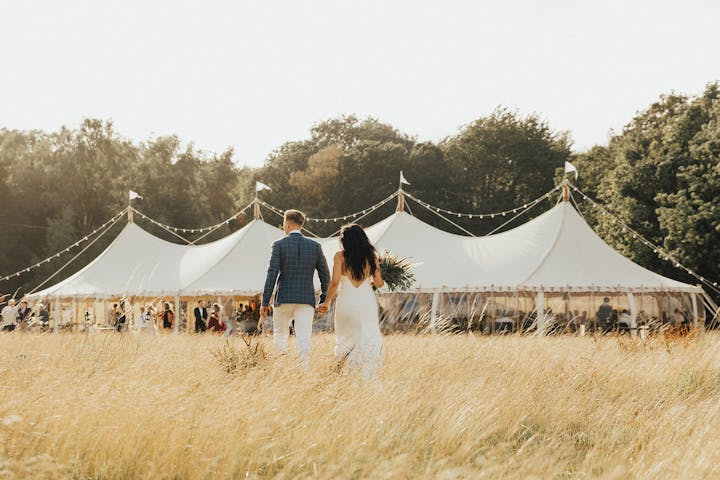 Image above: Original Marquees
Without doubt, the most frequently asked question that marquee hire companies get asked by clients is 'What Size Marquee Do I Need for My Wedding Day?' Sometimes going for a marquee can seem daunting, which is why House of Party Planning have created this simplified guide to choosing the right size marquee for your wedding day.
Guest Count
There are many things to consider when working out the most appropriate size marquee. For starters, you need to think about how many guests you're expecting to host at your wedding before you choose your marquee. A key thing to remember at this stage is that your budget will also come into play. The more people you invite inevitably means the more space you will need, the more mouths you will have to feed and the more tables and chairs you will need to seat everyone! Don't panic though, as the wonderful thing about a marquee wedding is that you can adapt all these things to meet your budget whilst accommodating your requirements. Having extra space is far better than not having enough space, so always aim for the prior.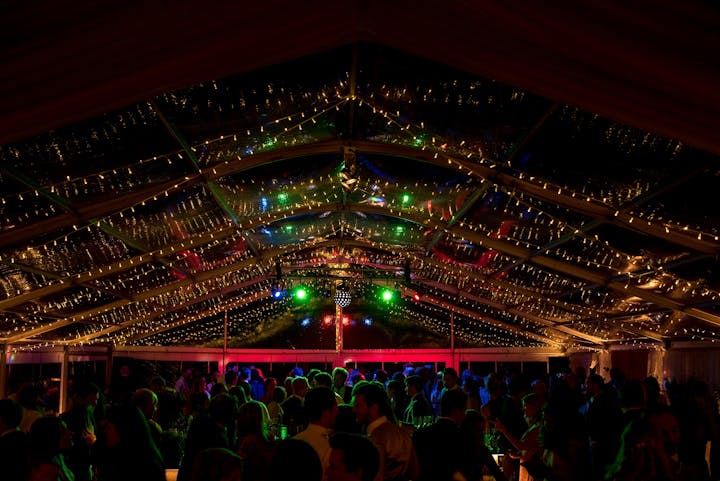 Image above: South Downs Marquees
Budget
Once you know how many people you would like to invite you can start to think of a budget. Like most things marquee hire prices vary and be aware of added costs that are needed to actually set up the marquee (think labour, delivery, trackway, levelling if the ground isn't flat). Enquirie through HOPP for comprehensive proposals and you will get preferential discounts so you will get everything you need for your marquee wedding.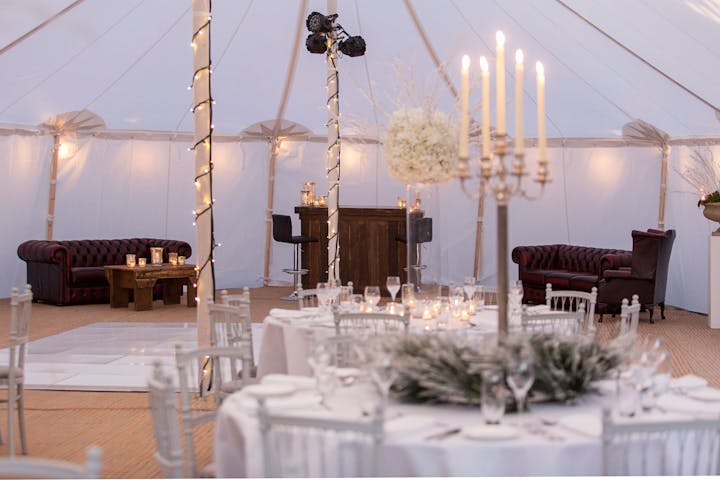 Image above: Sail Tent Company
Style
The style of the wedding you're hosting will also be a crucial factor to consider. Wedding marquees come in all kinds of shapes and sizes, so it's important to choose the best option to suit your requirements. A question to ask yourself is whether you would you like a traditional, modern, or more bohemian style marquee? You might even prefer having a romantic circus style marquee with high ceilings. These styles of marquees have inner poles which offers an elegant backdrop to your wedding day and can easily be adjusted. Depending on your venue size and guest count, poles can be added to extend the size and add extra height.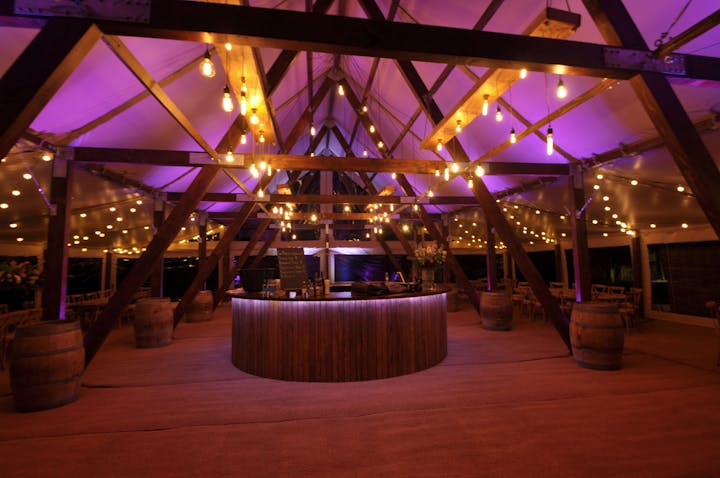 Image above: Husk Marquees
Size Matters
The right marquee size for your wedding will depend on a few factors: the space available at the venue, guest count, and the style of your event. You can roughly calculate your appropriate marquee hire size based on a square metre per guest rule of thumb. In principle, a basic marquee should measure roughly 12m x 18m, which allows room for up to 100 dining and dancing guests. This will include space for a bar as well as a dance floor.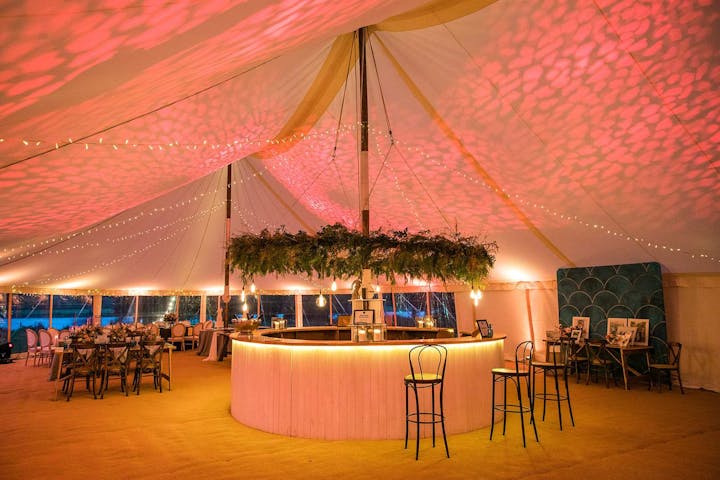 Image above: Original Marquees
Room for Furniture
Remember, chairs and tables take up more room than you think, and you must consider allocating space for when guests pull their chairs back to sit down. Round tables are only advised in marquees wider than 6m otherwise it is difficult for guests to walk past the tables.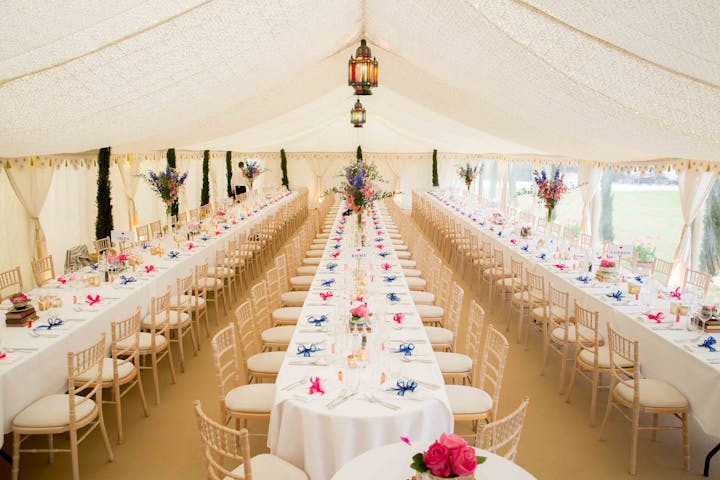 Image above: Redcrest Events
Planning is Fun
Being organised and having a plan for your special day is the best way to help you choose the right marquee size. Make sure you have all this information handy when you approach your marquee hire specialist, as they'll be able to suggest the most appropriate marquee size for your needs.
Check out the following event specialists who will provide the perfect marquee set up with the 'WOW' factor on your wedding day: Redcrest Events, South Downs Marquees, Original Marquees, Sail Tent Company, and Husk Marquees.
Once you've got your marquee set, why not head to our wedding suppliers page, where you can browse through our exclusive community of HOPP-approved suppliers, here to make your wedding planning experience pain-free!
Written by our Team of HOPP Experts.