Event Structures, Marquees and Tents
By HOPP Team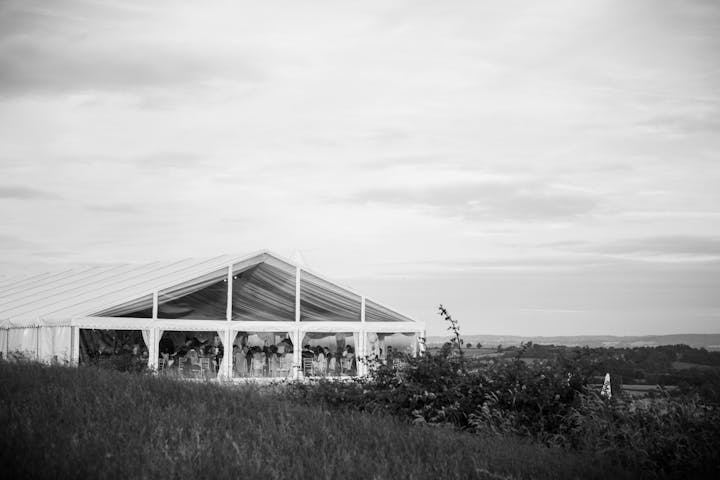 Temporary event structures offer a versatile, fully-customisable option for anyone looking to host an al fresco event.
Despite their transience, the elegant designs and the stunning white shapes they form on the landscape mean that event structures are able to live up to the luxury of a wedding, party, or corporate event, making them an ever-popular choice for any host or hostess.
Since temporary event structures offer a great deal of flexibility with size and layout, they provide an excellent, adaptable alternative when hosting a large group of guests, and can be designed to perfectly accommodate your party's needs. Whether you are hosting a corporate retreat and require a space for presentations, or need plenty of space for table service and dancing at your outdoor wedding, companies can create bespoke designs that offer the best in design, layout, and space.
A Marquee
A ubiquitous option for weddings, garden parties, and large scale events, a marquee features a classic, peaked silhouette, which allows it to retain a retro feel while remaining open to your own interpretation, decor, and creativity. The supports are placed at the corners and walls, which means that it offers plenty of floorspace, and no restrictions on where the dancefloor and tables are arranged. For corporate events and award ceremonies, this offers your attendees clear views of the stage, without any obstacles to peer around.

A Pole Tent
Although it bears a resemblance to the marquee design, a pole tent rests on supports placed throughout the interior. Rather than inconvenient, this arrangement creates a more rustic atmosphere within the tent. The wooden poles become a part of the decor, especially when they are decorated with flowers, vines and pealights, which can make the interior space feel as though they have grown straight out of the earth.
For a party with more of a 'homespun' feel, opt for a sail tent. Though it bears the same design as the pole tent, its coverings are made from woven sailcloth fabric rather than vinyl. These can feature beautiful hand-printed linings, from chinoiserie to Garden of Eden, which will embellish the space with an organic, unique feel before you even bring in the flowers.

A Tipi
An increasingly popular choice, though always unique. Very little captures the essence of a bohemian, summertime festival wedding — or a nordic, midwinter Christmas party — like a teepee. Although it provides plenty of flexibility with decor, furnishings, table plans and warming fire pits, it invariably brings with it a sense of otherworldliness, enchantment, and rustic grandeur.

An Orangery
With its impressive facade — and a design evocative of both Art Deco and 17th century opulence — an orangery is a truly stunning option for anyone looking for an impressive twist on typical event structures. Steel supports and clear glass from floor to ceiling offer panoramic views of your venue, and a bright, sheltered space from the sun and rain.

A Stretch Tent
A modern, free flowing design that offers plenty of space and shelter while remaining open to the elements on all sides. They can be installed in open spaces, or used to create an extension from an existing building. Perfect for weddings held in the height of summer, or to cover a long banqueting table at a formal dinner party, their tensile design puts a modern twist on the more traditional marquee design.

A Yurt
An ancient design, tailored to fit your event's requirements. Nestled within a floral meadow or country house garden, it forms the perfect epicentre to any bohemian wedding. Decorate the curved roof with celebratory bunting or hanging plants, and draw your guests' attention to the open skylight above.
Inflatable Buildings
An excellent option for corporate events, as the exterior can be personalised to promote your brand, and draw a crowd from across the venue. An inflatable marquee offers plenty of space for demonstrations, food and drink, while the inflatable dome can be connected to create a network of separate rooms and passages.
Amenities for Event Structures
Of course, bringing the party into the great outdoors does require you to bring a number of other necessities along with you. The company from which you hire your event structures will be able to offer additional amenities, but it is important to factor these extras into the overall cost.
Every venue poses difference challenges and obstacles for your hire company to overcome; here are a few solutions you may wish to consider for your next event:
Trackway
These temporary 'roads' are used during the installation and dismantling process, and protect lawns and meadows from damage done by vehicles. If your venue offers limited parking, you may also ask your hire company to lay down additional trackway for your guests' cars.

A Temporary Kitchen
Professional chefs are famed for working magic with the menu, but not without a well-equipped space from which to prepare and serve the food. Your catering team may prefer to rent their equipment themselves, but remember to factor in the cost when you are researching temporary event structures.

Toilets
The great outdoors is not famed for its WC facilities, but your structure hire company can provide these in a discrete, ideally adjoining (but, if not, then nearby) space for an additional fee.

Generator
A generator (and a back-up) is necessary to avoid unsightly and hazardous cables from trailing across the lawn, into the nearest building.
Power Distribution
Your lighting and sound systems, heating, air conditioning and projectors all need to be connected to the generator discretely and safely.

Heating and Cooling
Whether it is high summer or deep winter, the weather always poses its own challenges on outdoor events. These days, event structures can be fitted with the right system to ensure that you and your guests are kept comfortable and happy, come rain or shine.

A Skip
One of the greatest benefits to hiring a temporary structure is the ease with which it is erected and disassembled before and after the event. Avoid leaving any trace on the landscape by ensuring that you have enough bins and skips for your guests to drop their rubbish into. Skips and bins can also be provided by your structure hire company.
Written by our Team of HOPP Experts.