Steven Duggan Events
London
Useful information
What do prices start from?
£25,000 +
Services
Party Planner
Specific Details
Event Planning
Event Design & Production
Weddings
Full Service Planning
Corporate
About the company
From elaborate birthday parties to lavish soirees, Steven Duggan Events can bring to life the effortlessly elegant to the impressively dramatic. Catering for all budgets, we can provide a full party planning service, or choose from our unparalleled service menu below:
Event Planning Service & Management International Event Planning Professional Draping & Dressing Bespoke Floral Design Staging & Lighting Props & Decoration Bar & Catering World Class Acts, Performers & Entertainers
Steven Duggan Events is an exclusive service, specialising in exceptional, one of a kind Events & Weddings. We provide a very personal bespoke service for our clients, ensuring every aspect of the event is created down to the finest detail. We model our parties on film, culture and most of all your vision.
Our professional and devoted team are true experts at organising and executing all types of events, whether it is a night out to remember, a memorable occasion in your life or a unique celebration. Anything is a possibility as all our events are bespoke and individually customised to your needs.
Style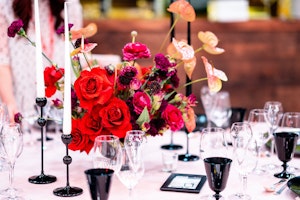 Modern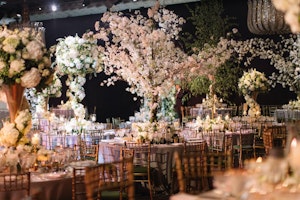 Whimsical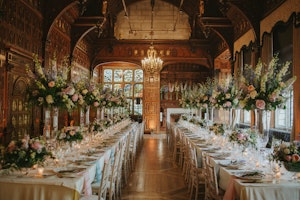 Formal
Additional Information
Do you have in-house furniture for hire?
Do you have in-house props for hire?
Do you have in-house sound & lighting equipment?
Do you provide CAD plans?
Do you have public liability insurance?
When was the company started?
2010
Are you VAT registered?
Sustainability
We utilise local suppliers where possible to reduce our carbon footprint. We also ensure any unused products or items are donated to local charities or organisations so that we reduce waste as much as possible.
FAQ's
Steven's insatiable talent has rewarded him with one of the most desired 'black books' of high profile clients in London. Sir Elton John, Adele, Simon Cowell and Leona Lewis are among the long list of enviable names, earning him the title - 'the artist of the event world'.
After a succession of incredible clients, from The Official Monaco Grand Prix after party and conferencing to World renowned Charity Ball's, Steven has transformed what was a small, yet original company, into the premier bespoke creative events company STEVEN DUGGAN EVENTS is now, working with Brands such as UNITED AIRWAYS, HSBC, STENA, HYATT, BMW, GUCCI and BT to name but a few, both in London and Internationally.
Original, innovative & creative
Testimonials
"If you ever require a fresh & modern outlook to your event, Steven Duggan Events comes highly recommended."
Sir Elton John & David Furnish
"Thank you for all your hard work & attention to detail"
Adele, singer
""So, who needs a party planner?" we thought when we booked the Savoy for my 60th Birthday Party. The Savoy's event team showed us some images of recent events and we realised things had moved on since we last threw a party. The correct answer to the question is, "if you want to create a once-in-a-lifetime event, you need a party planner". And we're lucky we found Steven Duggan Events (SDE) to make my 60th an evening we will never forget. We immediately felt comfortable with Steven and his brother Alan. They didn't follow a prescriptive approach and tried to understand our vision and objectives before coming up with their own ideas. And what ideas those were. They transformed the reception area into a sleazy speakeasy and the dining room into the party scene in Baz Luhrman's Great Gatsby, complete with jazz band, vaudeville entertainers and burlesque dancers (all in the best possible taste). We had an idea of what was coming but were taken aback during the "Big Reveal" on the night. Steven, Alan and their logistics kingpin, Daniel, worked seamlessly with the Savoy staff in the runup to the party and were on hand throughout the evening to make sure everything ran like clockwork. We were able to relax and properly enjoy the evening, secure in the knowledge they were in charge. We will always be grateful to SDE for their pivotal role in planning and executing one of the greatest nights of our lives." Nigel"
Nigel, private client
Suppliers you may be interested in...
Useful
Services
Specifics
About
Style
Additional
Sustainability
FAQs
Testimonials
Contact