The Colonel
Nutley
Useful information
What do prices start from?
£500
Works Abroad
We have experience doing events outside the UK.
Services
Music
Specific Details
DJ
About the company
Tim's love of music has been a part of his life since listening to endless Barry White and The Average White Band at an early age with his Dad and catching the tail end of punk, but something clicked one night when he visited The Shoom Club in 1987 right at the beginning of the Acid House movement.
He was soon out clubbing all round the UK and abroad, absorbing the music and culture, djing, running his own club nights as well as working for 10 Records as a junior A@R manager, famous for Soul 2 Soul and Inner City and went on to join the Virgin Record label to set up the dance division before deciding to set up one of the early UK house labels called Tomato Records.
Although Tim took a career move from 1994 to become a chef and run a catering events company, music has never left him. Spending more time at parties in the kitchen rather on the dance floor, he has always had an ear out for what the dj plays and has always been surprised how average so many dj's are killing the vibe of the party so a few years ago he invested in some equipment and has been playing at parties and weddings ever since.
Often over looked, a good dj can make or break a party and that's where Tim has the knowledge and ability to know what tunes to play to keep the dance floor full all night, blending disco classics, new tunes and of course a bit of cheese, but always with a groove, soul and plenty of funk.
Style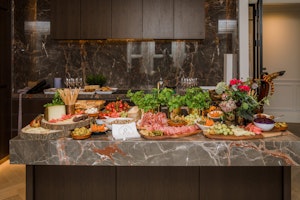 Informal
Urban
Additional Information
Do you have an in-house PA system?
Do you have in-house lighting?
Do you do bespoke song requests?
Are you VAT registered?
No
FAQ's
I dj'd at my nieces wedding last summer and kept the dancefloor full including my 84 year old mum all night. At one stage my brother in law came up and said we had a problem. When I asked him what the problem was ,he said he couldn't get on the dance floor as it we as full of people dancing. It was a proper family affair and a perfect night.
book a dj, not an i pod paly list which never works
yes, as my main business as an event caterer, we have organised loads over 20 years
I play to the crowd, not me.
Testimonials
"Last night a DJ saved my life, and the DJ was Tim Reeves, you simply can't take a risk when it comes to dance floor magic and thank goodness there's no reason to, funky baselined, soulful, vocal, disco-tactic deliciousness from Mr Charming, at a bpm to suit all the family, none of us could stop dancing.. ""
Annabel fielding - 50th Birthday Party
"DJ Colonel, wow. Thank you so much, you know how to bring the party! The dance floor was full all night long (I think people were even queuing to get on?!) and we were enjoying dancing so much we left almost an hour late. You nailed the vibe and there was something for everyone, even my Granny couldn't help but dance the night away. Thank you."
Lucy and Josh Wedding
"The Mrs 40th! I have heard the Colonel play on 3 occasions now, one New Years Eve, a good friend's Wedding, and because of these I approached him to do the other halves Fortieth, thus making the triple. My Mrs is pretty picky about her music and having had a meet up with Tim (aka The Colonel) she gave him a few do's and do not's. She and Tim had a couple of follow up texts and all was set. AND WHAT A SET!!!!!!! The Colonel hit the brief spectacularly. A very discerning ex London club scene guestlist turned up and were straight on the dancefloor after a couple of speeches. Tim pulled out new versions of absolute classics, as well as packing in the ubiquitous floor fillers. He played right through to close. The following days de brief with our guests were full of praise for the DJ, where did we find him and how amazing it was to be dancing the night away on what's supposed to be the quietest Saturday of the year! Thanks a million to Tim (the Colonel) a cracking bloke and great DJ. Looking forward to the next party I turn up to and see his beaming face behind the decks, as I believe he gets more enjoyment from playing than being on the other side with us."
Nat's 40th birthday Party
"Over the past god knows how many years years , I have hosted countless parties both at the Griffin Inn and at home. Needless to say I have attended many more. Most of them have been great events…. but the most memorable, energised, beautiful! and BANGING of all of these, that knock the rest into a cocked hat , have one thing in common… DJ Colonel aka the Maestro of the turntables Tim Reeves. His ability to perfectly interpret the mood of the room and then take it by the neck and get the whole place jumping ad infinitum is unrivalled. And he's a bloody good geezer to boot! Come on " Colonel ", please, please, please We want you back this NYE, no one else will do !!"
James Pullen The Griffin Pub
Suppliers you may be interested in...
Useful
Services
Specifics
About
Style
Additional
FAQs
Testimonials
Contact