The Roving Artist
Reading
Useful information
What do prices start from?
850
What is your day rate?
850
Works Abroad
We have experience doing events outside the UK.
Services
Entertainment
Specific Details
Live Illustrator
Roaming Performers
Artists
Caricaturist
Silhouettist
About the company
Charles Burns is the UK's busiest silhouettist, working at a huge variety of events at home and overseas.
Working as The Roving Artist Charles has appeared at all kinds of venues and cut nearly 200,000 profiles. These include three portraits of the Queen, President Clinton (while visiting the National Portrait Gallery) and an ever-growing number of TV personalities, writers, artists and sporting celebrities.
Today you can book him to appear either virtually or in real life, depending on the circumstances. Charles describes the experience of cutting silhouettes over Zoom as: "a real eye opener. I can't think why I didn't do this years ago! Working from my Zoom studio I can cut portraits of people anywhere from America to Japan!"
At a "real world" event he will amaze your guests by cutting portraits, seemingly in seconds, with just with a pair of scissors and a pocketful of paper.
Style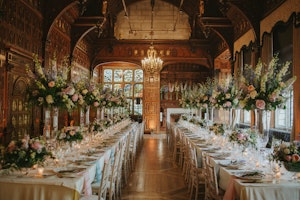 Formal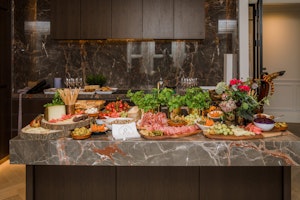 Informal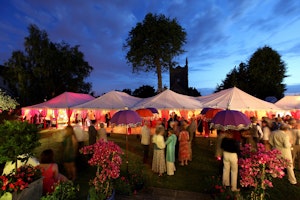 Bohemian
Sustainability
All travel to events by train or low-emission vehicle. All event printing carried out by environmentally-aware printers. Currently moving the business online to reduce travel-related impacts further. All silhouettes easily recyclable (if desired... )
FAQ's
This would have to be a certain 70th-wedding anniversary party which took place in Windsor. You can probably guess who for!
This honour might have to go to a corporate family fun day which took place in a lorry park in Basildon. The light, constant drizzle and lack of any cover just added to the event...
I challenged, but didn't quite achieve (for reasons I won't go into) a world silhouette speed-cutting record in Houston, TX. At this event I cut 149 portraits in one hour! However, I don't usually work anything like that fast. I tell clients to allow anywhere between one or two minutes per silhouette. 90 seconds is a good average.
I enjoy it most when people challenge me by adopting unusual poses. Interestingly, one of the unexpected benefits of working over Zoom is that this seems to happen far more often. In the privacy of their own homes people come up with all kinds of interesting ideas for me to make silhouettes out of. These include family pets, baby bumps, favourite toys and, recently, a blue-tongued skink (google it,..) So, whatever your event, feel free to challenge me!
Testimonials
"Charles was the highlight of our online staff gathering this year and made the day. People loved watching him cut their silhouettes on screen and could chat to him. He emailed us an image and posted paper originals straight away. He added a much needed element of fun to a virtual awayday"
After a virtual away day (original on Google)
"We secured Charles's services late on in planning our wedding and we are so pleased we did. Charles worked the room well for almost 100 guests, creating his incredible silhouettes and dazzling everyone with his skill. The proof of the final print with all of our guests on was provided quickly afterwards and Charles was even able to add our baby nephew who was too wriggly on the day."
After a wedding (original on Google)
"The talent and skill of Charles cannot be put into words. Nearly all of our guests has posted pictures on social networks of their silhouettes saying the Charles and his skill are the most unique, clever and amazing thing they have seen. To do them so quick with just paper and scissors is so impressive. The giclée print we ordered of ourselves and our guest looks amazing and because Charles talent is so unique, made our wedding even more special. The feedback on what a nice guy he is and the fact he did not stop until he got everyone, a just a few reasons that I strongly recommend you have him at your event. Thank you, Charles, and the Roving Artist company for making our day even more fantastic."
After a wedding (original on Google)
"I was at a silhouette talk and demonstration by Charles Burns in the US. It was an absolute charm. It's very rare to have moments of pure joy when one reaches adulthood (I could not brush off a smile on my way out). I thought perhaps one only experiences those moments as a child. Thank you for sharing and continuing this form of art."
After delivering a talk in Boston (original on Google)
Suppliers you may be interested in...
Useful
Services
Specifics
About
Style
Sustainability
FAQs
Testimonials
Contact