The Wedding Filmmakers
Useful information
What do prices start from?
£5000
Works Abroad
We have experience doing events outside the UK.
Services
Videographer
About the company
We are Adam and Rachel, and together we are "The Wedding Filmmakers". As a husband and wife team we are lucky enough to travel the world producing memorable films for once in a lifetime moments. We approach each event with fresh eyes, crafting a unique film and a personal keepsake that will stand the test of time. Our approach is incredibly discreet and we are careful to limit the number of commissions each year so that we can provide an exceptional service for each and every one of our clients.
Style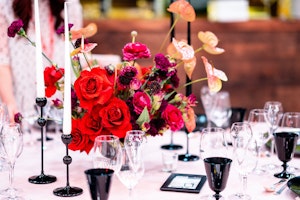 Modern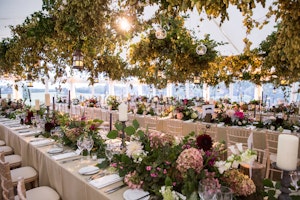 Natural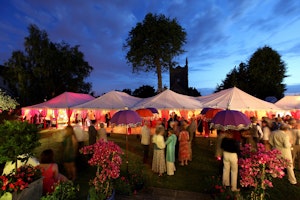 Bohemian
Additional Information
Are you happy to stay late?
Do you do bridal preperation shots?
Do you provide pre-party/wedding consultation?
Do you provide a highlights video?
Do you have public liability insurance?
When was the company started?
2012
Are you VAT registered?
Sustainability
Protecting the planet is an issue that is close to our hearts and we aim to be as green as possible in both our business and personal lives. All of the energy that we use for our business comes from 100% UK based renewable sources.
FAQ's
The short answer is pretty much anywhere! To date we have been lucky enough to film events throughout the UK and Europe as well as far flung destinations including: India, Africa, USA, UAE and the Middle East.
Over the years we have worked hard to develop our own unique style of filming which captures the feeling and emotion of our clients' celebrations, as well as their personalities too. We operate in a discreet manner, capturing real moments as they unfold and without interrupting the flow of your special day. We approach each wedding with fresh eyes and with the aim of creating a unique film and personal keepsake that you and your family will treasure forever.
We are a husband and wife team that have been filming events together as a couple for over 8 years. We film most if not all of our events together and we very rarely send out a team of freelance filmmakers to your event. This way you know the results will be consistent and in-line with all of the example films you see of ours. We also have experience working with couples from many different cultural backgrounds and are familiar with almost every type of religious/non religious ceremony. One of the things that we are most grateful for is that our work has given us the opportunity to experience many different cultural celebrations. As a result diversity is a quality that we really embrace as a business.
It's a difficult question to answer because all of the weddings we have captured are special, and memorable for different reasons. However one experience that comes to mind was a recent wedding that we covered in India. The couple had chosen one of India's top wedding planners to produce a 4 day celebration for 600+ guests in less than 3 weeks. We were booked just days before the first event so our clients had to pull some strings to get our visas approved in time! Despite the initial stress it was an amazing experience and the couple were a delight to work with. Although the wedding was a grand affair some of the functions were much more intimate and had a very personal feel to them. Capturing these intimate moments with the Bride and Groom's close family and friends allowed us to tell a great story when it came to editing their film.
Wedding planning can be very time consuming and our clients are usually busy people so we aim to make the booking process as straightforward as possible. We use digital contracts that can be signed in a matter of minutes and take a 25% deposit payment to secure your date(s). In the first instance it's best to contact us via e-mail with a few details about your wedding/event including the date(s) and location(s). If we are available then we will send through a full quotation and example films to give you a better idea of what you would receive as the finished product. If you like what you see then we would be happy to arrange a phone or video call to get to know each other and discuss your plans and our approach in more detail.
Testimonials
"WOW! Adam & Rachel have made our wedding dreams come true! Being a Video Producer myself, I agonised for MONTHS over who to trust with the precious task of capturing our special day on film and watched more videos from various wedding video suppliers than I can even count. We finally settled on The Wedding Filmmakers but it was something I knew I would be devastated about if it wasn't right and it was very much in my mind in the months leading up to the big day. I know now that choosing these guys was the best wedding decision we made. If you are researching wedding videographers now and wondering whether these guys are the right choice - call off the search, I've done all the research for you!!! BOOK THEM NOW! You will not regret it! "
Chantelle & John - Coworth Park Wedding
"Gurickk and I have just watched the highlights film. It is really, really good! My eyes almost welled up re-visiting those beautiful memories! Thank you so much!"
Simran Kaur Mundi - Actress & Former Miss India
"After enthusiastically re-watching our videos for the 3rd time, it occurred to me that I should sit down and write to you guys to tell you what an incredible, incredible job you did. Sometimes I cannot believe how much we lucked out in terms of talent that rocked up to our wedding. I also wanted to mention that other than your beautiful visual style, your sound editing is ACE. So, so great. I had noticed it in every video that I had watched previously, and found myself thinking exactly the same thing for our own wedding video. You have some gift of throwing in the perfect song reference, whether old school pop or EDM into the video. I hope that everything has been going well on your end, and we would like to thank you both from the bottom of our hearts for letting us hold this memory in such a special way. "
Nikki & Adrian Chong - Goodwood House Wedding
"I honestly do not know to express our complete satisfaction with the work that you produced. Everyone in the family absolutely loved the film! Thank you once again and I look forward to working with you again in future."
Private Client - The Ritz, London
"It's AMAZING! I absolutely love it! It's so nice to relive those special moments!"
Estelle Ayer
Suppliers you may be interested in...
Useful
Services
About
Style
Additional
Sustainability
FAQs
Testimonials
Contact