A Love Letter to 'Corona' Brides
By Emilie Hall
Dear Corona Brides...
Firstly, let's agree not to call each other 'Corona brides' - it makes us sound like zombies. Secondly, I am one of you. One of the hundreds of thousands of people around the world whose wedding has been cancelled or postponed because of the virus. As I write this, I am meant to be in my hometown of Atlanta, Georgia with my family, greeting guests as they arrive for our wedding this Saturday. Instead, I'm in England, quarantined with my fiancé's family, wearing sweatpants and eating banana bread like everyone else. So, I feel your pain – this is not where we we are supposed to be, this was not supposed to happen.
The question is: what do we do while our plans, like our wedding dresses, are stashed in mothballs? Here's my advice:
1). Have a tiny 'pity' party
When anyone asks how you're doing, it's wise to adopt an air of being generally 'good in a crisis" (people appreciate this) and to say things like, "we'll do it another time" or, "enough about me, how are you?" You don't want to let the bride side down by being a raging narcissist – obviously, a cancelled party is a tiny casualty in these times. On the other hand, the wedding meant a lot to you and it's natural that the undoing of all your careful planning will make you feel a bit bereft. So, as soon as you're alone, you have my permission to shed some self-righteous tears. It won't be pretty or politically correct, but I guarantee you'll feel way better afterwards.
2) Take a new perspective
It's fun to cast my memory back and picture myself four months ago. Decisions like whether to wear my hair up or down genuinely felt cataclysmic. (Narrator: 'She was about to learn the real meaning of that word.') Just imagine if we could go back, sit on the shoulder of our frantically planning selves and have the following conversation:
'I wouldn't worry so much about the table settings, hun'
'Why not?'
'Ok, don't freak out, but there was this bat…'
During the lead up to the wedding, I really hope I would have been my best self: serene, soaking it all in and savouring every moment. But what if I had focussed on the things that hadn't gone right? It makes me shudder that I might have let idiotic details mar the bigger picture of what a wedding is: the mind-blowing miracle of everyone you love being together in the same room. After this, we'll never take that for granted again. I predict a happier, humbler and more grateful bunch – in short, a better breed of bride.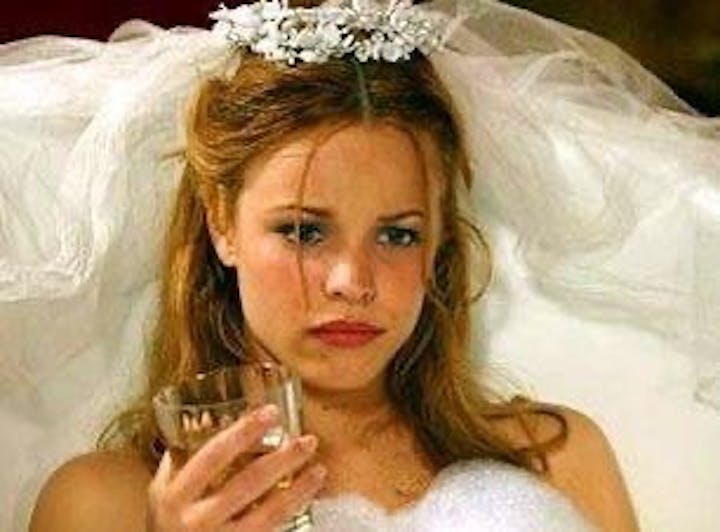 3) Stay close to the positive people
In mid-March, as the structures of normal life were falling like dominoes, we made the decision to postpone. It was an instant relief, for us as well as our guests and vendors. We received a huge outpouring of love from everyone and it was the positive messages that made our day. You learn that optimists are worth their weight in gold and they're absolutely the ones to call when you feel down. If you're wondering how to cheer up a fellow bride-to-be, here's a quick guide:
Don't say:
"Darling, I'm sorry to hear about the postponement, but definitely the sensible thing to do. As this virus engulfs us, who knows when any of us will feel frivolous again anyway? It might be years before things return to normal. Anyway, stay safe."
Do say:
"MATE. THE VIBES WILL BE STRONG IN ** (whenever your friend has postponed her wedding to!)."
So here's a toast to you. When *all this* has subsided, I hope you put on something that makes you feel fabulous, gather your friends (whether it's around your own kitchen table or in the romantic castle venue of your dreams) and celebrate love. Oh, and here's a second toast: may it sleet sideways on your original wedding date! Cheers. xx
Hey, my name is Emilie... and I'm a covid bride! Hoping to help you plan your dream wedding day, with some useful insights (and hopefully the odd bit of humour) to help you get through this difficult time!