Caiger & Co's entry into the world of the Asado
By Alix Caiger - Caiger & Co
Late last year, like the rest of the UK we were spending lots of time indoors. In between packing up virtual party boxes, and prepping for intimate Christmas gatherings, our minds kept wandering back to our past events, especially our big, bold alfresco parties. We were craving the great outdoors!
So, as lockdown lifted, and requests began to be sent in, the team and I decided that we wanted to invest in the realm of outdoor cooking. Cooking outside would keep our guests safer, reducing the risk of covid transmission, and after a year of Zooming and home office, we wanted to go beyond our four walls.
I had heard of Tom Bray a couple of years previously, he is the founder of Country Fire Kitchen. His company produces handmade iron asado grilling devices in Dorset, inspired by his time spent living in South America. At a friend's wedding I saw one of his beautiful pieces of equipment being used to cook whole lambs on the spit, below bright vegetables were being cooked in the smoldering ashes. It was such a sight to see, the colours, the smells and the tastes, I've never forgotten it.
So it was decided, Caiger & Co were going to dive into the world of Asado. We drove up to Dorset and bought Country Fire Kitchen's catering grill from Tom & his fabulous team. Bringing the grill to Brentford, we had a cooking afternoon in the car park (which we share with Classic Car Specialist, Duke of London). The asado received quite a reaction- our neighbours comparing it to a medieval torture device, and other more risqué types of furniture that has no business on the House of Party Planning Blog!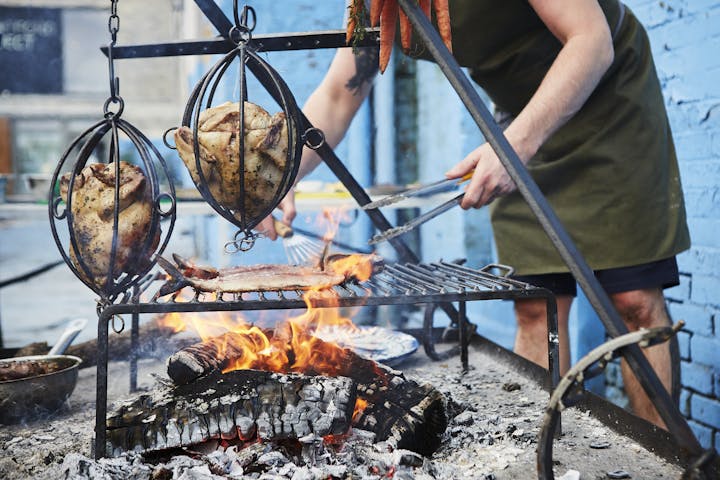 After our first cookery session, we realised we had a lot to learn. We began looking into this South American culture that transcends just cooking. The word asado derives from the Spanish verb asar, meaning 'to grill' or 'to roast'. However, an Asado in Latin America is an event, a time where friends and family will gather around a grill to cook meat, talk, drink and eat- often for hours on end (this all sounded pretty good to us). We began researching what we would need to get the most out of our hand crafted equipment. There was the question of wood, quantities would have to be calculated before events, based on the size of the beast we were grilling, the cooking time, and the weather. There were so many factors that we hadn't considered. For example, we had to decide what type of wood for each event. We worked out that kiln dried logs, followed by charcoal and bramley apple wood was the best combination for us.
As a catering company where we strive to keep all waste to a minimum, we loved the fact that a key component to South American asado is that whole cuts of meat rather than individual steaks are grilled and later carved and served to guests. Meaning that nearly the whole beast is used. Also, it is the more humble cuts of beef that Asadores cherish above the refined luxury cuts you might find at restaurants and in supermarkets.
Our Asado has joined us at many weddings this summer, bringing something new to the table. What we didn't anticipate was the theatre of the asado. We have found that our guests are intrigued and delighted by this South American tradition being brought to fields across the UK. Guests gather round our chefs, asking lots of questions, entranced by the flames and the smells. You can consider the Caiger team converts to the world of outdoor cooking, and we urge everyone to start experimenting more with cooking in the great outdoors. We will leave you here, with the words of chef Francis Mallmann:
"Well, there's certainly more dreams in cooking outside, you know? There's beauty in a fire; there's beauty in people sitting around a fire. I don't mind cooking inside, but true happiness for me comes from the wilderness, from being outside and enjoying a desert or a mountain or a frozen lake or a beach."
- Francis Mallmann
Alix Caiger, Caiger & Co Catering.
Author
Alix Caiger - Caiger & Co
Carefully selected artisan producers with sustainable and seasonal produce are at the heart of every bespoke offering they create. The luxury they produce also comes in the form of the most personalised service you could dream of receiving.