Caiger & Co's Innovative Contactless Delivery Service - new NHS Special and Easter Box!
By Alix Caiger - Caiger & Co
Alix with her team of trained chefs, have now launched a contactless delivery service of freshly prepared, nutritious meals across London and beyond. As well as providing boxes of fresh fruit, vegetables, milk and meat, and with recipe cards included.
We've been delighted to see you all share our food and our menus with friends, families and colleagues, even while living and working in isolation. Since the crisis began we've delivered 698 meals and 40 fresh food boxes. We can't thank you enough for being there for us, and we hope that we've also made things at least a little better for you during these difficult times.'

This week we three new launches:
Essentials Box: full of things that you might be running out of including milk, butter, coffee, fruit and vegetables – plus a few treats.\
NHS Special: main course dish with all the profit going to make snacks and treats to be delivered to NHS workers.
Easter Box: lunch for the family, with 'make at home' bruschetta with smoked trout pâté, and sourdough, followed by a leg of lamb, vegetables and artisan chocolate eggs!
Our fruit and vegetables are all from the same farm in Sussex, the same farm in fact that also uses our waste for compost! Their mission is "to help protect our vulnerable planet: supplying people that are as passionate about food and the environment as we are." We couldn't think of better partners at this time.

Let us help you stay safe and indoors by letting us deliver your shopping and meals. Our deliveries are all contactless.

The new menu is listed below. Do take your time to read it and please order by emailing: info@caigerandcocatering.co.uk
Or order: HERE

We also have gift vouchers for sale on our website in case you want to buy on behalf of a friend or family member. We can also write a note to go with order too.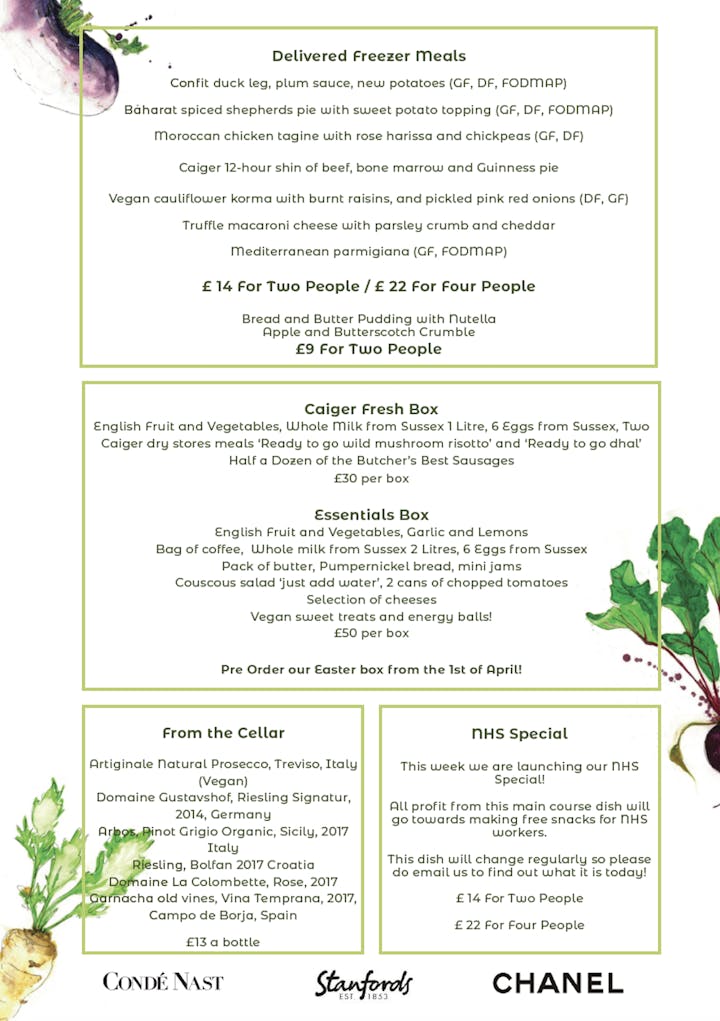 Author
Alix Caiger - Caiger & Co
Carefully selected artisan producers with sustainable and seasonal produce are at the heart of every bespoke offering they create. The luxury they produce also comes in the form of the most personalised service you could dream of receiving.