Celebrating British Flowers Week with Lucy Vail Floristry's Creations in Isolation
By HOPP Team
Lucy created a flower archway amongst a field; the Oxeye Daisy brings a glorious focal point. To watch the full video click the link above!
"Creating floral installations brings us unbridled joy. To have the seedling of an idea in your head and then nurture it with you - our brides, event partners and clients - is magical," Lucy Vail Floristry

In celebration of British Flowers Week, we wanted to share with you Lucy Vail & her team's Creations in Isolation series.

Over the next few months they will be bringing a little magic to various locations, in and around London. "Each installation will be unique to its setting and will use local flowers and foliage to create a display that ties in harmoniously with its surroundings."

You will be able to see these installations over on Instagram. Should one pop-up near you, please do visit and share your pictures by tagging @lucyvailfloristry.
First, Lucy created the structure, then on to foraging seasonal blooms, before building up the archway with all the beautiful flowers and an abundance of seasonal foliage. Ta da!
"As we are in the midst of wedding season we want to help keep our brides excited about their wedding. A floral archway is always one of the main showstoppers of a wedding; it is the best backdrop for photographs of the bride and groom and is always one of our favourite things to create, knowing that our clients will be walking through a tunnel of love and joy on their big day.
This archway is full of an abundance of Cow Parsley, Alliums, Irises, Salvia and a mixture of beautiful seasonal foliage. All of which was foraged beforehand with my dad and brother - my trusty helpers! This is the only time I can see them at the moment and at a safe distance, we managed to build something magical together."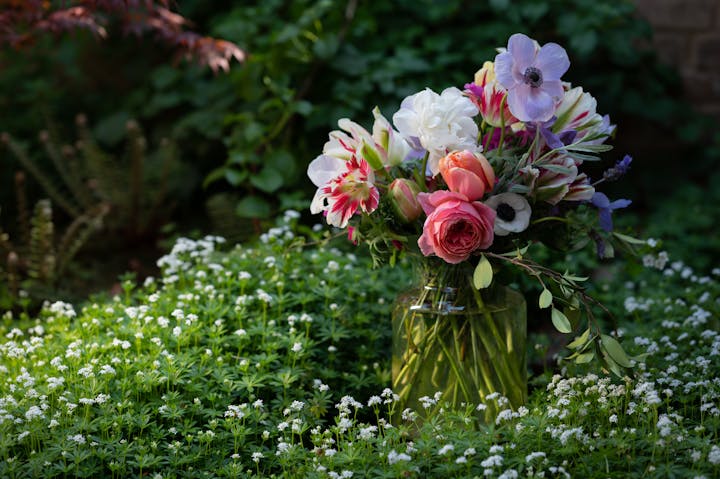 If you have any friends or family who have had to postpone their wedding or celebrations this year, why not also cheer them up with Bloom Buckets or seasonal hand-tied bouquets... to find out more click HERE!
Written by our Team of HOPP Experts.