Lucy Vail Floristry
London
Useful information
What do prices start from?
£5,000
Services
Florist
About the company
Lucy Vail Floristry is a British-born luxury brand specialising in weddings, events and installations. Renowned for 'bringing the outside in' through their bold use of colour and theatrical flair, they can transform even the blankest of canvases into immersive botanical wonderlands.
In addition to decorating events and installations, they also supply some of London's top venues, businesses and private homes with flowers on a weekly basis. More recently, their business has expanded into delivering luxury bouquets nationwide.
Every design, from the smallest of bouquets to large-scale installations, is inspired by the delicate forms and textures of the flowers themselves which means that, just like nature itself, no two projects are ever the same.
All arrangements are made using as little plastic as possible, no oasis and British flowers straight from our very own flower farm in Suffolk.
Entering each space designed by LVF feels like discovering a secret garden for the first time: a magical world, bursting with colourful British blooms.
Style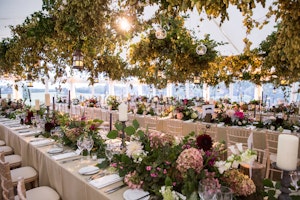 Natural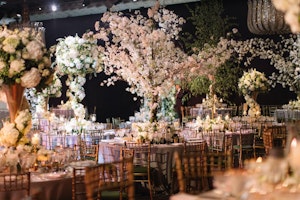 Whimsical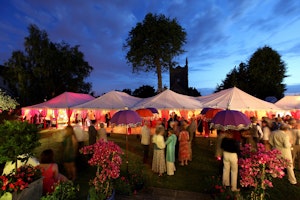 Bohemian
Additional Information
Do you do a party/wedding consultation?
Do you do a site visit?
Do you have in-house candles & vases?
Do you have in-house props for hire?
Do you provide confetti?
Do you provide delivery, set up & breakdown?
Do you provide floral aisles?
Do you provide pre party/wedding design sketches?
Do you provide table centrepieces?
Do you provide wedding arches?
Do you provide stage decor?
Do you have a shop?
Do you have public liability insurance?
When was the company started?
2015
Are you VAT registered?
Sustainability
We are passionate about mitigating our environmental impact and are constantly seeking to improve our processes throughout the business. All arrangements are made using as little plastic as possible and no oasis.
90% of cut flowers in the UK come from overseas, creating a huge impact on the environment. At Lucy Vail Floristry we are passionate about championing the incredible variety of home-grown blooms available. We use purely British flowers from March-October each year and in 2020 Lucy Vail collaborated with her family to create Floriston Flower Farm. Not only does growing our own flowers mean that our clients are guaranteed the best quality blooms that are never 'off the shelf' for their event but it also helps minimise our carbon footprint.
We aim to keep our waste to a bare minimum and absolutely hate flowers going to waste. We create hand-tied bouquets for guests to take away at the end and donate any remaining flowers to Floral Angels, a fantastic volunteer run organisation who recycle all donated flowers into bouquets/arrangements. These are then delivered to local hospices or others in need within our local community.
FAQ's
My first ever floral ceiling which was over 30 square meters! We used over 500 delphiniums and completely transformed the marquee in to another world - there was nothing better than seeing our clients reaction.
Don't be afraid to be bold with colour!
Natural, whimsical & colourful
Suppliers you may be interested in...
Useful
Services
About
Style
Additional
Sustainability
FAQs
Articles
Contact