What Flowers Do I Need For My Wedding?
By HOPP Team
Feature Image: Millie Richardson Flowers
Picking the right floral elements for your wedding day can take an enormous amount of planning. House of Party Planning brings you the ultimate wedding flower checklist with some of the top wedding florist suppliers to consider using on your special day. If you're keeping it simple, you may only need bouquets, boutonnieres, and centrepieces. However, if you're going all out, you might want arrangements on every cocktail table and even in the guest restrooms!
Bridal Flowers
Bride's Bouquet
The bridal bouquet is the most important wedding floral arrangement and is easily the most photographed floral piece of the whole day. Make sure you have the most beautiful accessory, with London-based florist Blooming Haus, who is mindful of both people and the planet, utilising sustainable and ethical resources in all aspects of their business.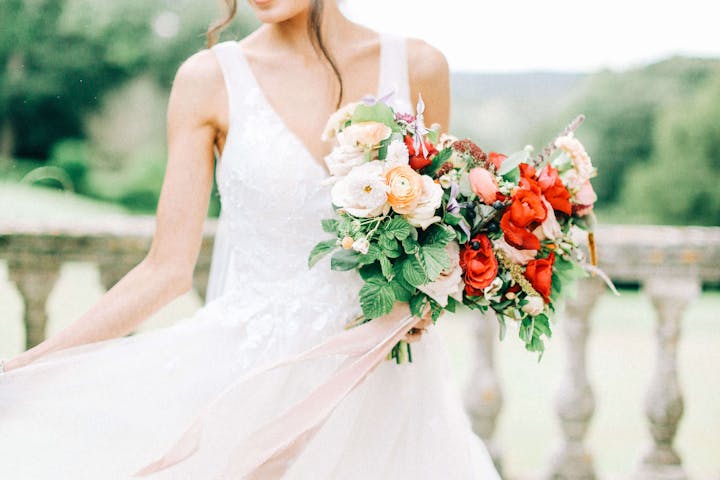 Image above: Blooming Haus
Bride's Flower Crown or Hair Flowers
Another floral arrangement is often used in bridal hair. If you choose to use flowers as hair accessories, you'll want to take extra care to get them just right. Gemma Sutton and the GS Pro Team will create the perfect look and style for you with their industry-leading experience, who will guide you to look and feel the best version of yourself!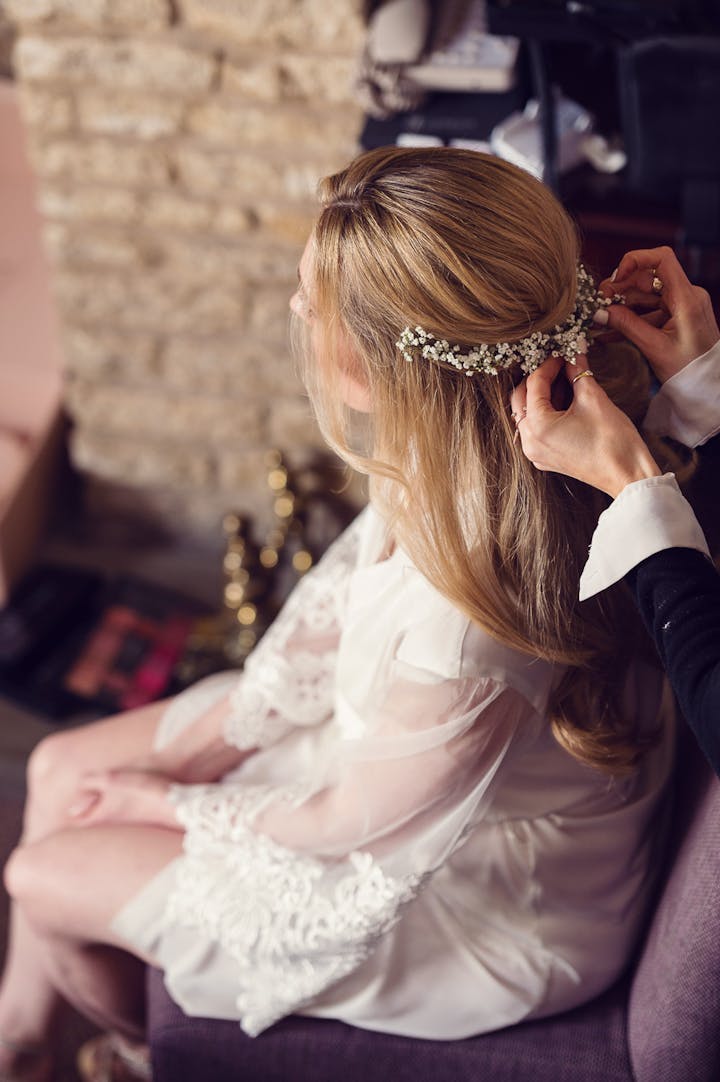 Image above: Gemma Sutton Hair & Makeup
Bouquets for Bridesmaids
As well as the bridal bouquet, bridesmaid bouquets are easily the next most important floral arrangement on your wedding day, wihere bridesmaids will carry a smaller version of the bride's bouquet. With many engaged couples choosing to use them, they make for fun photo opportunities with the bridal party!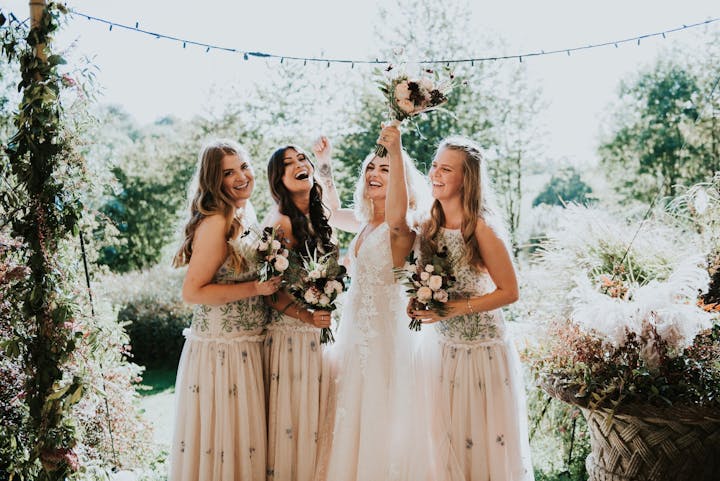 Image above: P.S. Online Styling Bridal
Flower Girl's Bouquet, Flower Crowns and
Basket of Petals
Flower girls have a special place in every wedding as they pave the way for the bride! These are always a lovely added touch to your wedding day. Traditionally, flower girls toss petals from their baskets as they walk down the aisle, however there are other alternatives to petals like feathers, confetti, and glitter.
Groom's Boutonniere
Boutonnieres are a sweet way for the groom to match the bride on their wedding day. This doesn't have to be anything too elaborate, a few small flowers will be just as effective! You may also want to consider having matching boutonnieres, corsages, or nosegays for other members of the wedding party and important guests. This will include the ring bearer, the bride or groom's parents and grandparents, ushers and the best man.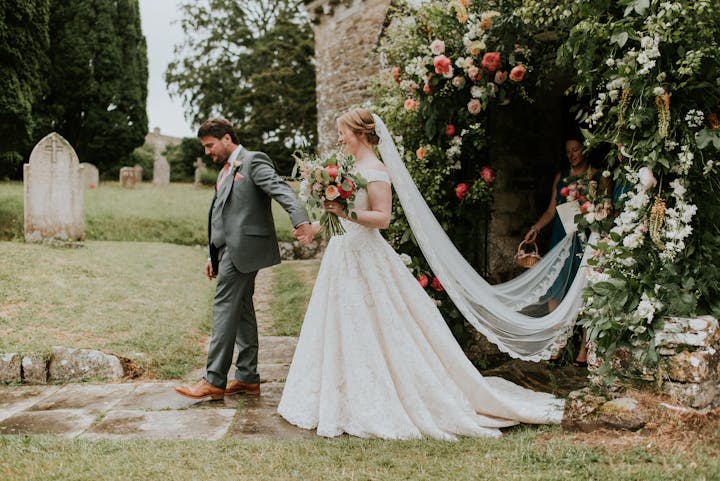 Image above: Rabbit & Rose
Church or Ceremony Flowers
Entrance or Welcome Table Arrangements
These arrangements are a nice touch to welcome all your wedding guests into the day. We're obsessed with Tattie Rose Flowers's church entrance design for the luckiest bride and groom!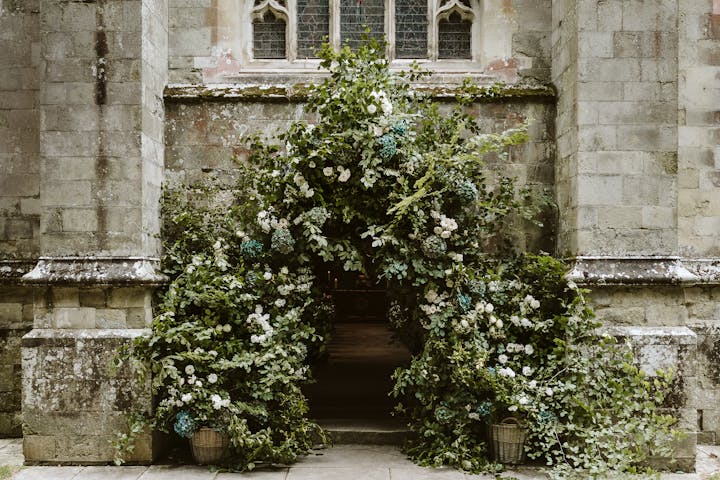 Image above: Tattie Rose Flowers
Altar or Chuppah Arrangements
These floral displays will be the backdrop of your wedding ceremony photos. While it's not required to include florals for your altar, these arrangements can be used to enhance and highlight the beauty of your chosen church.
Pew or Chair Arrangements
These will elevate the look of your wedding guests' seating and make the wedding aisle oh-so-beautiful!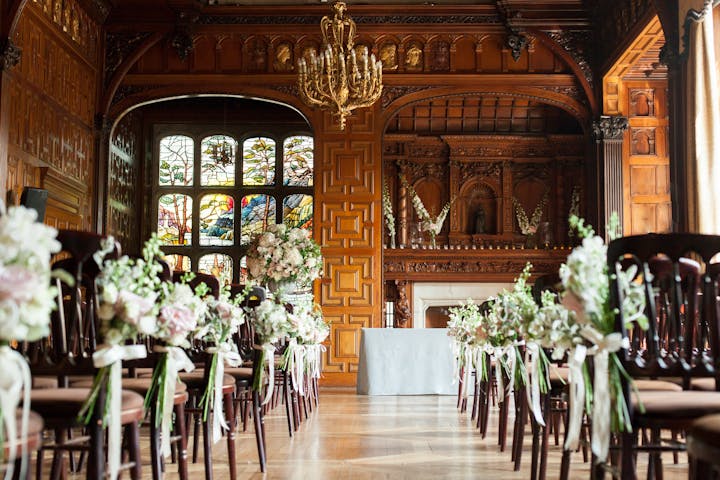 Image above: Emma Soulsby Flowers
Aisle Decorations
Floral displays down the aisle can make a big impact. However, with the average wedding ceremony lasting only 10-30 minutes, using flowers for your wedding aisle decor might not be the most important factor on your wedding floral wishlist.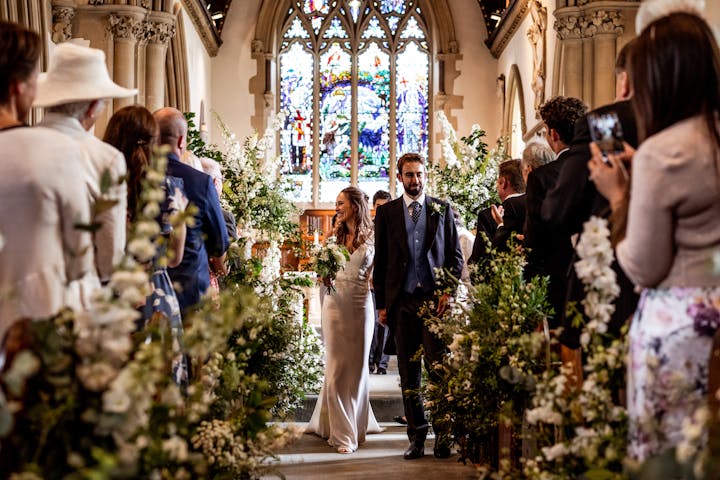 Image above: Millie Richardson Flowers
Tossing Petals for Guests
You may want your wedding guests to toss petals, which makes for a grand wedding exit along with memorable photo opportunities! If you're wanting to be slightly more eco-conscious on your wedding day, have your guests toss leaves, herbs, or eco-friendly confetti as petal alternatives.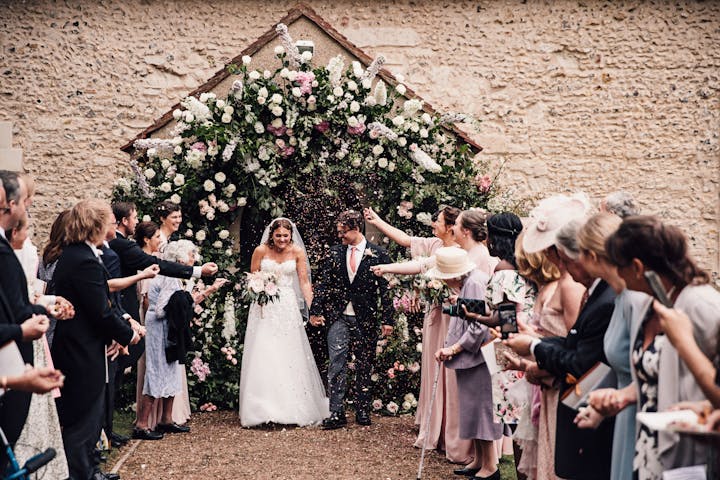 Image above: Lucy Vail Floristy
For Drinks
Floral Bar Arrangements
We know your guests will be anxiously anticipating the open bar so make sure you adorn the bar with lovely fresh flowers. Have fun with these floral arrangements as it's a great opportunity to repurpose your flowers from the ceremony. Take a look at Kitten Grayson Flowers and Tattie Rose Flowers 's bar centrepieces for some serious inspo!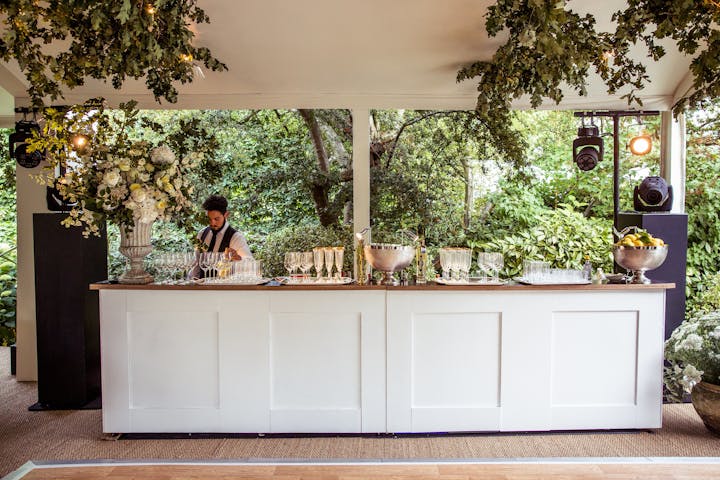 Image above: Kitten Grayson Flowers
Image above: Tattie Rose Flowers
Escort Card Table Arrangements
Typically, names of your wedding guests and table numbers are written on escort cards and placed on a table covered with elegant linens and beautiful flower arrangements. Escort card tables aren't necessarily a requirement, escort cards can be displayed in a number of creative ways. However, it is definitely something to consider if you're looking to spruce up these displays in a unique and memorable fashion.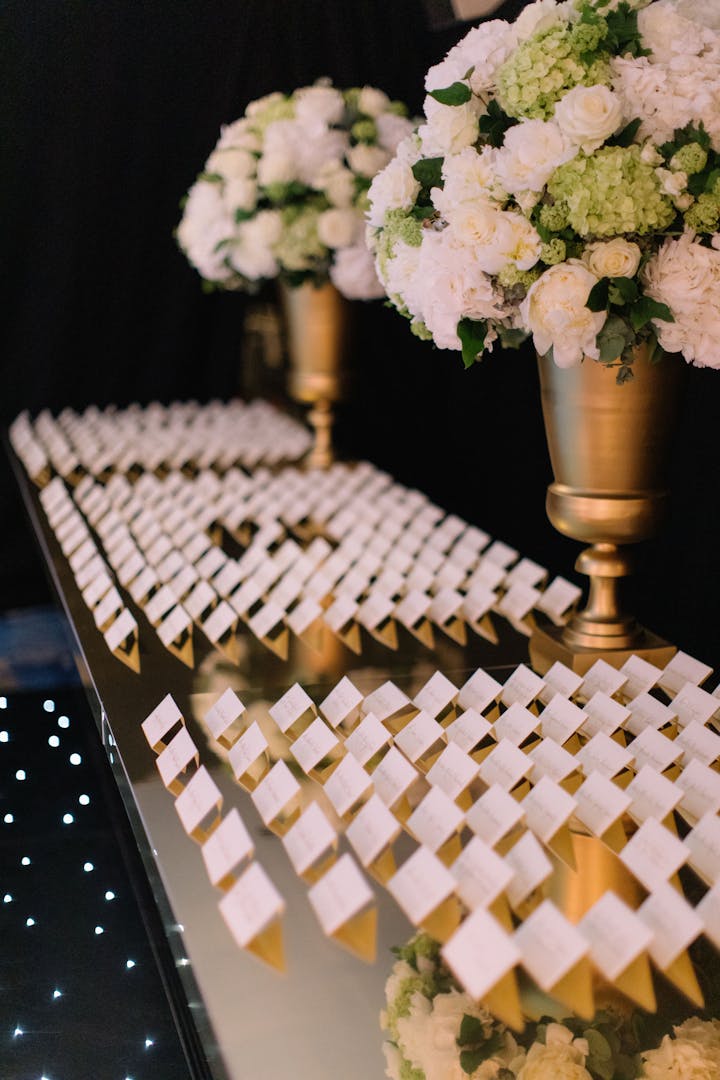 Image above: Rob Van Helden Floral Design
Centrepieces and Ceiling Installations
These are the main attraction when it comes to wedding reception flowers. Your guests will be sitting in front of these ALL night so make sure you consider the size and scent as well as the aesthetic as they will be admired throughout your wedding reception. Whether you're planning long family-style tables or spread-out table rounds, your floral centrepiece will create such a beautiful setting.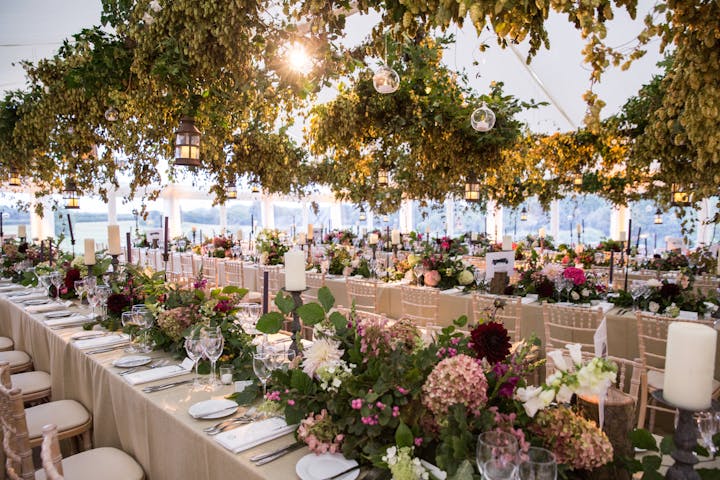 Image above: Tattie Rose Flowers
Wedding Chair Decorations
If you want to make a real impact with your choice of wedding chairs, use flowers for your decor. And remember, you don't have to go over-the-top to create something stunning. Smaller floral details look just as beautiful as something much larger.
Wedding Cake Flowers
Spruce up your wedding cake with some decorative and seasonal flowers! Peboryon Cakes can design and create a cake that reflects your wedding aesthetic perfectly.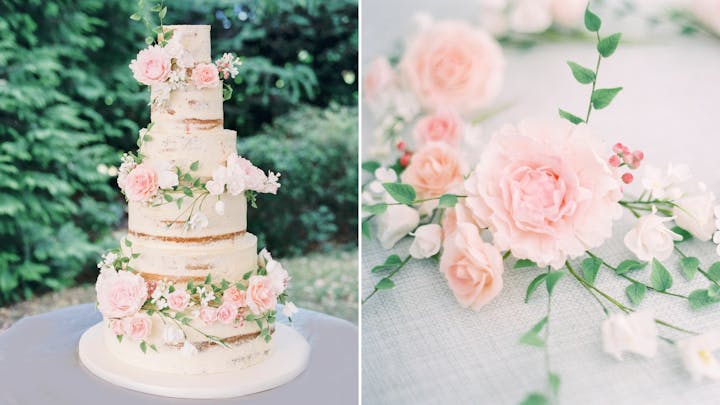 Image above: Peboryon Cakes
To conclude, wedding flowers have always been an important part of any event, celebration and historical moment. As there are many wedding floral options to choose from for a wedding day celebration, we hope this article will make your choice on the type of floral arrangement you wish to have much simpler.
Browse our curated list of top wedding florists today, who are ready to provide you the best wedding flowers to fill the bridal and bridesmaid bouquets, table toppers and aisle decorations.
Written by our Team of HOPP Experts.