GS Hair & Make Up
Farnborough
Useful information
Works Abroad
We have experience doing events outside the UK.
Services
Beauty
Specific Details
Hair
Make Up
Accessories
About the company
"Make-up & hair should always be about enhancing your natural beauty, rather than masking it. No rules or boundaries – just endless possibilities" Gemma Sutton, Founder & Head Makeup and Hair Designer
I am a fun creative energetic person. I love fashion, beauty and of course everything to do with a beautiful wedding, it's the perfect excuse to get excited!
My career in Makeup and Hair began 14 years ago in the Film and TV Industry. Friends of friends started asking me to do their hair and makeup for their Wedding day. I absolutely love spending one of the most important days of a woman's life with them and making them look and feel the best version of themselves.
Make up and Hair for any bride to be is such a personal thing, and I am honoured that a bride puts their trust in me on one of the most important days of their lives.
My aim is to transform and empower brides with perfection and confidences as if they have just stepped out of a glossy wedding magazine.
I am very lucky to say that I love – love my job, it has taken me all over the world and I have had the chance to work with some of the best Photographers, Celebrities, Incredible venues and to be recognized as an industry leading professional.
Demand for my services has soared in the last three years, in 2014 we won The Wedding Industry Awards Best Makeup Artist in the London and South East region and I am very proud to say that The National Award has been awarded to us in 2015.
I love working with all my beautiful brides but unfortunately I can't make every bride's big day, but I am committed to our brand's promise of making every bride beautiful, so I started recommending brides to industry colleagues which led me to establishing my very own professional team.
Over the last five years I have been recruiting and cultivating some of the best talent in the makeup and hair industry to join my exceptional Pro Team. All of them share my passion for makeup and hair and go through my personal rigorous training regime so that I can personally guarantee their level of skill, in fact I am very proud to say that some of their resumes surpass my own.
I can confidently say with my hand on my heart that when you book one of my professional team members that you can feel confident that I will be at your side.
Myself and our elite fully trained pro team look after 100's and 100's of beautiful brides during the year. Whether it is a Boho – Vintage – Glamorous – Natural or a Shabby Chic Bridal style, myself or the GS Pro Team will create the perfect look and style for you.
Style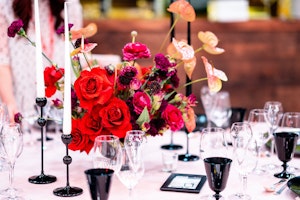 Modern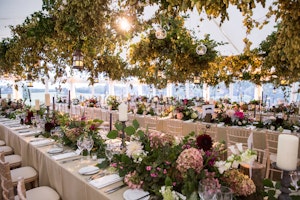 Natural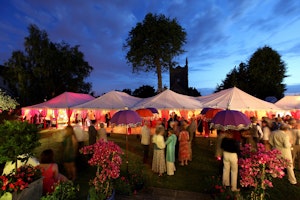 Bohemian
Additional Information
Are you happy to stay late?
Do you do groups?
Do you provide a pre party/wedding trial?
Do you stay for touch-ups?
Do you do bespoke?
Do you have a shop?
Do you provide a fitting service?
Do you provide delivery?
Do you have public liability insurance?
When was the company started?
2002
Are you VAT registered?
Testimonials
"Hi Ollie, Fran, Gemma and Miss Rouge I just wanted to say a HUGE thank you for making me feel the most beautiful bride on my wedding day. Miss Rouge did the most fantastic job- I have never felt so pretty as that day, she did an amazing job of getting the make up done whilst I stuffed my face with lunch and moreover of helping keeping me calm 60 seconds before the big reveal & ceremony when I had a mini meltdown from the pressure to hurry up from everyone else! My mum and bridesmaid loved their hair too and the few photos we have so far just demonstrate what a professional job Miss Rouge did on all of us. Please find attached a photo of Phil and I (at the end of the day)- will send you some more when we get the proper ones from the photographer- think she got a great one of Miss Rouge at work! You have all been incredibly helpful on the journey to the big day and very accommodating and I will certainly be recommending your team to any friends+family that get married in future! Best wishes to you all Mel x"
Mel
"Hey Michelle, I honestly cannot thank you enough. I've been looking back at my photo's and my makeup and hair looks amazing! I didn't even need to top it up all day, it was just perfect. I wish I could have you do my make up every single day. You have such a fantastic talent and you were one of my best investments for my Wedding . You made me look and feel amazing! Thanking you so much you made my Wedding and i mean that. xxx Lots of love Sarah xxx"
Sarah
"I cannot explain how thankful I am for all of your help in planning my beautiful hair and makeup for my wedding day. Throughout the entire process, yourself and Fran were so helpful and I honestly was made to feel so special and looked after by you all. You have been amazing with helping me find the right artist, and helping me achieve the look I eventually decided on! It was so lovely having you, Gemma and Amy help when I came in with mum too, we had such a fun time with you all, what amazing ladies you all are! Amy is unbelievably talented, and I absolutely loved her being a part of our day. She made me feel completely calm and absolutely beautiful. I've never felt so confident as I did after being in her glam chair. Amy not only made me feel so special, but the way she interacted with my bridesmaids, mum, flower girl, and other suppliers was just sensational. She made everyone she spoke to feel like a VIP! Her warm, caring nature shines through and it is so clear that she loves what she does. Amy is a hair and make-up genius!!! Please pass on our massive thanks to her for being an absolute delight to have as part of our day, I felt so lucky to have her working on me. I cannot recommend these ladies enough!!! Lot's of love, Lauren xx"
Lauren
" Gemma you star! I cannot thank you enough for the stunning job you did with my wedding hair and makeup, it was spectacular, exactly what I wanted and I felt incredible on the day. Despite the heat in Santorini my hair and makeup did not budge which shows how well it was done. From the trial to the wedding day you were an absolute pleasure to work with and a true professional. You brought my vision to life perfectly, were such a calming energy on the day and were a fabulous wedding guest! Thank you also for the amazing job you did on my mothers hair and make up, I have never seen her look so good. You are amazingly talented lovely and I cant recommend you highly enough. Thank you so much for making my day! Lots of love, Kim xxx"
Kim
"Where to start – at the beginning I guess. My husband and I decided to marry in the North of Italy (2 hours north of Venice) in the mountains. We live in London, so we knew that our choice was not going to be the easiest to source suppliers for the wedding, but in our minds, we had found the perfect venue, so we were set on it. When it came to choosing a hair/make-up supplier I had a little bit of a hiccup / disaster with my trial in Italy. This was three months before the wedding. Doing more trials in Italy was just not an option. I started to ask for recommendations from my friends in London and one of my good friends recommended Gemma. I looked her up on the internet and was blown away by her work – all of the hair and make-up looked like it was out of a high end wedding magazine. I thought for sure there was no way that she was going to be able to come to my wedding that late in the game, but I thought I would try my luck…. I sent off an email on a bank holiday Monday in May. I waited with baited breath for the response, certain that it was not going to work. I got a message back first thing on the Tuesday confirming to me that in fact, this was one of the last appointments she had available. Luck was on my side that day! I jumped up and down with joy and immediately booked a trial with Gemma. I went out to Gemma's studio, which is absolutely beautiful and incredibly professional. I was nervous and excited. I met Gemma and immediately felt at ease – she has a natural way with people, she is down to earth, really interesting and incredibly fun. I loved the trial – the hair was just stunning and the make-up was beautiful – Gemma had made me look beautiful but kept me looking like myself. It was at that point that I wish that Gemma could come over to my house every day before I headed off for work. Now, here is where it gets complicated, as I already mentioned to you, I was marrying in a pretty inconvenient place for most people from London, in addition to that, I wanted the hair and/or make-up done on the morning of my wedding for 10 different people and to top it all off, the wedding reception started at noon, which meant that me, and 10 other people would need to be finished by 11am. Now, above I mentioned a few positive characteristics about Gemma, but the one thing that I left out is that her and her team are a group of miracle workers. Fran and Michelle (Gemma's incredible and super friendly assistants) worked with me to put together a team of 3 ladies + Gemma to fly out to Northern Italy and drive all the way into the mountains on the Friday night before my wedding. Gemma and her girls (I am sure after an epic evening of travel) came to my hotel for 6.30 am on the morning of my wedding and worked their magic to have everyone looking incredibly smashing by 10.30am. I still do not know how they did it. Everyone was so happy with their hair and make-up and I thought they all looked so beautiful. Personally speaking, as the bride, I really feel that Gemma made me into the best version of me that day. She has an incredible attention to detail, she understands colours like no one I have ever met before, she gets people skin types and knows how perfectly to match a brand of make-up with that skin type. Gemma truly is an artist and I do not know if there are enough nice words in the English language to thank her enough for the incredible job that her and her team did. So I will say it simply – Thank You. "
Danielle
"Thank you, thank you, thank you – perfect magical and utterly superb! Miss Platinum, you were absolutely brilliant, I looked dreamy and delicious in my dress (probably the only time on one's life when you can say that about yourself haha), I felt absolutely fabulous. The make up was stunning, and the hair was perfect and exactly what I wanted. I can't thank you enough, you are a genius. Izzy looked spectacular too and was stunned with her make-over – it didn't move all day, even when the tears came! And on that note – you'd be so proud of me…. I didn't cry, I held it together and just enjoyed every moment. The whole day was absolutely perfect, there were no hiccups at all, it was magical. It really was the most magical day – thank you for everything you did for me, for the endless trials and emails with you Fran and for a truly magnificent make-over on the day – I absolutely adored what you did! Thank you!! Lots of love, Alex xxx"
Alex
"Gemma recently did makeup and hair for me, my seven bridesmaids and mother's of the bride and groom. Her and her team did an excellent job and transformed us all! They arrived ahead of time and were so flexible given the range of requests we all had. Having been very nervous on the day as were my bridal party Gemma and her team were patient and good humoured and helped to get us ready both in appearance and spirit. I had so many compliments on the day. Both from our guests and even from the staff at our wedding venue who said I was the most beautiful bride to have married there. Gemma I can't honestly thank you enough. You transformed me into the best version of myself for such an important day!!!! Thank you a million xxx"
Mo
"I could not recommend Gemma Sutton for your wedding hair & make-up more. When organising a wedding & handling so many different suppliers & plans, it makes such a difference when the planning is so smooth and clear and responses are so quick. It felt like they were always on top of everything. From the moment of booking, making payments, plans for the day, allocating hair & make-up stylists, the trial and the day itself. It was all perfect! And the quality of the hair & make-up stylists we had - Amy, Georgia and Anna - was amazing. We were all very, very happy and had an amazing morning getting ready together. Not only is it great to feel your best on your wedding day, it is a huge part of the day getting ready with your closest friends and treating them and I think definitely worth investing in. Not everything goes to plan on your wedding day but I genuinely could not have loved my hair or make-up more - it was perfect and still very much felt like me! I would not hesitate in recommending to anyone. Thank you to you all for everything. Katherine. Xxx"
Katherine
"Gemma Sutton came to my Hampshire wedding rescue with a final hour makeup wizard by the name of Miss Sunshine (Michelle). She arrived before I did, nailed the look I wanted (with no trial and no time to spare) was patient, was calming, was exactly what I needed in the minutes before I walked down the aisle. Miss Sunshine turned this makeup minimalist into a stunner for my Elvetham wedding. I can't count the number of times I heard, "You look like you, but your absolute best self", which is exactly what I hoped for. You and your team are fantastic. If our UK friends ever take the marital plunge themselves, I will tell them your name before they even ask. Run, don't walk, to Gemma Sutton. Ask for Miss Sunshine. Thank you so much."
Avril
"Miracle worker! If you're looking for a Make Up artist that has it all then look no further. Gemma Sutton is one of the very best in the industry and has the full package when it comes to Hair, Make Up and Customer Service. I have come back to Gemma time and time again because of the experience I received from the very first time I met Gemma and her PA, Fran. I was very low on self-esteem when I met Gemma and she made me look and feel like a Celebrity. Gemma worked wonders on me and I wouldn't venture anywhere else. Gemma is absolutely fantastic and worth every penny. She is not only amazing at what she does but she is an incredible lady and has become someone that I would call a friend. Thanks for everything!"
Hollie
"We have used Gemma Sutton twice recently for our two daughters' weddings this year. They did the make up and hair for the bride and bridesmaids, and the results were absolutely amazing. They are also a really friendly business, whilst being very professional - nothing was too much trouble!"
Pauline
"The most perfect hair and makeup I could have wished for. Both Miss Resplendent and Miss Serenity gave great advice whilst listening to what we all wanted. They were absolutely amazing. Communication with Fran before the event was always thorough and a quick very friendly response. An amazing experience from start to finish. Thank you all x"
Alison
Suppliers you may be interested in...
Useful
Services
Specifics
About
Style
Additional
Testimonials
Articles
Contact