Millie Richardson Flowers
Gloucestershire
Services
Florist
Specific Details
Bridal
Ceiling Installation
Chuppah
Trees
Christmas
About the company
Millie Richardson creates loose, wild and untamed floral designs which celebrate the very best that our country and seasons have to offer. She has developed a unique, signature style which incorporates colour, movement and texture through garden-inspired design - setting the scene for any special occasion.
From small, intimate dinners to large-scale celebrations and memorable events, Millie loves nothing more than working closely with her clients to create bespoke floral arrangements which she believes have the ability to both transform a space and wow guests.
Her team's contribution can be as straightforward as providing bridal party or table flowers and decoration for the home – or Millie loves to offer a full design and installation service, for any special occasion. Millie and her team relish the challenge of working on a large scale, where innovation and resourcefulness is key in order to bring to life breath-taking floral displays and atmospheres. ​
Style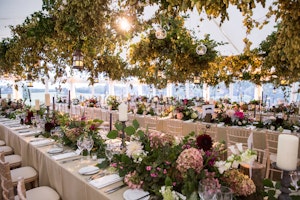 Natural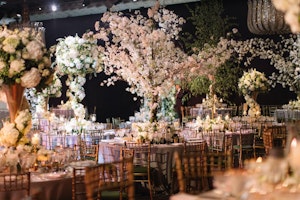 Whimsical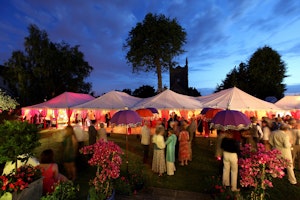 Bohemian
Additional Information
Do you do a party/wedding consultation?
Do you do a site visit?
Do you have in-house candles & vases?
Do you have in-house props for hire?
Do you provide confetti?
Do you provide delivery, set up & breakdown?
Do you provide floral aisles?
Do you provide pre party/wedding design sketches?
Do you provide table centrepieces?
Do you provide wedding arches?
Do you have public liability insurance?
When was the company started?
2016
Are you VAT registered?
No
Sustainability
Ethical floristry is very much a hot and important topic of conversation at present. Ultimately we are working in an industry making a living from nature and it is vital that we respect that. Being fully sustainable presents its challenges, but for large installations we mostly use metal and wire frames with buckets as a source of water for the flowers and foliage, and the least amount of floral foam possible. When it comes to sourcing flowers, buying directly and only from British growers is where I feel we can make most impact.
Testimonials
""I never thought flowers could be such a glorious addition to a wedding but these were the true star - no one could stop talking about them, never has it taken a congregation so long to leave a church... queuing to take pics of the beautiful blooms! Even the gents commented!""
Hetty Lintell, Luxury Editor - Country Life Magazine
"I've been meaning to message you just to say just how incredibly the flowers were. We had SO many compliments on them. The church smelled amazing and just absolutely everything looked amazing – just how I dreamed it would but somehow even more beautiful. Thank you so, so much. And thank you for being so lovely to work with through the whole process."
Olivia Rawes
"A HUGE thank you for making the party look so wonderful. Your flowers looked incredible and the client was absolutely thrilled. It was a joy working with you and we will definitely be sending more work your way!"
Tash Sandeman, Event Director - Sandeman Events
""Dear Millie, we cannot thank you enough for everything that you did to make our wedding dreams come true. You created the most magical setting for what would become the best day of our lives and we will be forever grateful for everything that you did to make it so.""
Kate & Joe Petrusic
"Dearest Millie, we have to thank you and your girls for creating our dream, fairytale wedding. We had the most wonderful, happy day - but it would have been nothing without your incredible creative genius. The setting you magicked up set the mood for the whole day. Every single guest and members of College wondered at your flowers - It was as though you had bought the college gardens inside to the Dining Hall and Eden into the Chapel. You were such a pleasure to work with and nothing was ever too much trouble for you. With our heartfelt thanks."
Mrs Nicola Woollaston
"Dear Millie, Your flowers were absolutely stunning. I can't thank you enough! The chapel looked so beautiful and it was a pleasure to work with you, I will certainly rave about you to any future brides or MOB's!"
Mrs Alex Holt
Suppliers you may be interested in...
Services
Specifics
About
Style
Additional
Sustainability
FAQs
Testimonials
Articles
Contact