How to Brighten up your Easter Table
By Jessica Lucas, The Lucas Studio
As a child, it was the truth universally acknowledged that the Easter Bunny would visit during the night. He would hide chocolate eggs in the garden and adorn the house with fluffy orange chicks, pastel colored eggs and mossy green rabbits. The reality was, my mother would have spent weeks painting those eggs, gathering the decorations and trying to resist the urge to dip into the Easter egg stash. Interestingly, many of our eggs always appeared tampered with, and sadly often had no internal packet of chocolate.
In my line of work as a floral designer, it's now my responsibility create such magic for the adults in my family. Christmas and Easter are some what of a busman's holiday. I spend most of the build up designing delightful tablescapes in order to incite the same childish glee synonymous with finding a crème egg amongst the daffodils.
I am going to share some tips on how you can reinvigorate your Easter table, and impress your guests (and Instagram followers) with your effortless style and attention to detail. In my experience the quickest way to dazzle, is with your choice of colours. Swap the traditional pale pastels for stronger tones; powder pink and yolky yellow is always a standout Spring combination.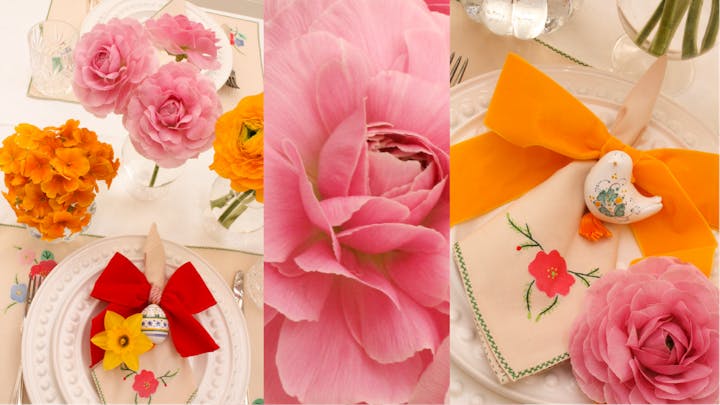 Spring flowers always offer the purest of colours. I have selected pink and orange ranunculus, along with joyful daffodils picked from the garden as they are always a crowd pleaser. Here I have used some simple mixed glass bud vases to arrange each type into. Putting one type of flower in each vase is fool proof, just remember to vary the heights of the stems slightly, so each one gets a chance to shine. Don't worry if you don't have lots of small vases, I am a big fan of filling anything you can get your hands on with flowers. So gather up jugs, jars and empty gin bottles and get arranging! Don't place the flowers in a straight line down the centre of the table. Stagger them slightly to give a fuller effect.
For an extra special touch, I used a delightful set of 1950's appliqued table mats and napkins. These for me, totally encapsulate the joy of Spring flowers. You can find lots of lovely table styling elements in homeware and charity shops, or you could even go to a local haberdashers and find a fabulous fabric to use as table linen. While you are there, pick up some ribbons that compliment your colour scheme. I like to use different velvet ribbons, as they have a sumptuous rich pigment. I've opted for colours that match the flowers, and have added in a dash of red!
For the final flourish, tie your ribbons in big bouncy bows around your napkins and accent with a delicate flower head. I also added my treasured ceramic Easter ornaments which I picked up in Prague a few years ago as a chic nod to the traditional Easter decoration.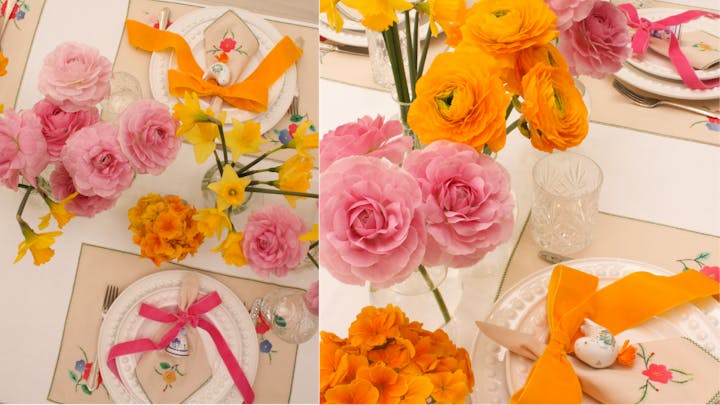 So there you have it, a few tips on how to inject some vibrant fun into your Easter table.
Wishing you all an over indulgent, colourful Easter.
Lots of Love,
Jessica x
Author
Jessica Lucas, The Lucas Studio
For The Lucus Studio it is all about the detail. From exquisite bridal bouquets and towering table centres, to rambling archways and classic urn arrangements; all of their designs are bespoke and complement your personality or brand, pushing the boundaries of expectation.