An interview with Wanderlust Wine: the leading supplier of organic, quality produced wines!
By HOPP Team
For those of you who are looking to find great wines to serve at your event or wedding celebration this summer, we are proud to introduce House of Party Planning drinks supplier and wine connaisseurs, Wanderlust Wine.
Wanderlust Wine was set up to offer sustainable, quality wine made by small producers with 'honesty and love.' We had the pleasure of chatting to founding and managing director of Wanderlust Wine, Richard Ellison, to find out more about the company, wine sustainability, their take on perfect wine pairings for events and the future of the business.
What was the thought behind naming your company 'Wanderlust'?
There was no 'light-bulb' moment for me starting the business, it actually all came about very organically (pardon the pun!). I have always been an avid traveller and on my sojourns to different pockets of the earth I always made efforts to visit the smaller wineries which were nearly always practising organic or biodynamic winemaking. I went to wine school as a hobby and graduated with a distinction which is when I put those two things together; importing wine from these smaller producers that make organic & bio wine around the world. Wanderlust means 'a strong desire to travel' and we contextualise that with people being able to travel through the bottles and stories we have, to find new, high quality wines they probably have not had before.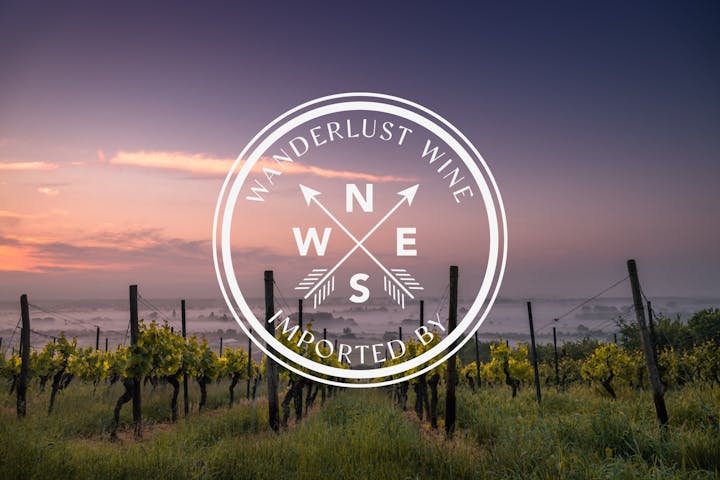 Tell us more about your company's sustainability focus/ethos...
Sustainability with a wine lens has many layers to it. Some include looking after the land for future generations, eco-diversity in nature, socio-sustainability by supporting smaller producers and of course, drinking wine with is made in a more natural way with no chemical additions. The basic concept really did connect with people when I started the business 5 years ago; people want to support small businesses and also drink great wine, the two go hand in hand!
Where does one begin with choosing wine for a wedding/birthday/event?
(1) Budget.
(2) Thinking what wines will work for the guests and the type of wine you want to offer.
(3) Quantity! Is it a glass or two and people are gone with the kids? Or is it an afternoon garden party which will descend to a midnight disco in the living room? You need enough so you don't run out but not too much!
Would you say drinking wine is 'healthy'? What are some of the health benefits?
Certain red wines are scientifically proven to help with heart-disease due to the antioxidants (procyanidins to be specific) that are extracted from the skins. That said, ALL red wine is not healthy, more generally only the thicker skinned grapes that make full bodied wines in the South of France or hot island climates like Sardinia (read more about this on our website).
White wine has zero of these properties, however, more widely there is of course the important element of organics. Mass-made wine has acid, sugar, water, tannin, powdered sulphur and many other things added to it to homogenise what is a mass scale process. The thing that really convinced me of the truth of the matter was the cancer rates in grape farmers - one of the highest industrial growth rates in cancer due to the spraying pesticides and chemicals on and around the vines. Most of us shop for organic fruit & veg if possible - so why don't be have the same awareness in wine?
Do you offer wine tastings?
Yes, absolutely. Online, in-person for private events and also when society allows, 3-4 tastings a year in person. If someone is planning a big event and especially with food, sometimes a tasting is the only way to ensure the food & wine is perfectly paired.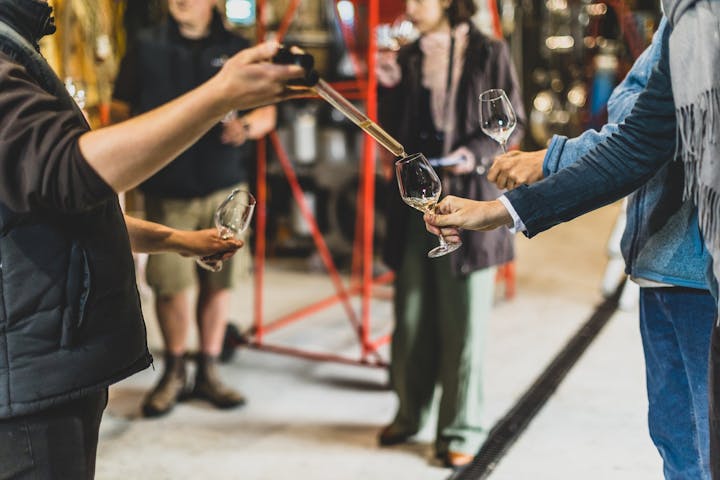 From which regions/countries do you supply your wine from?
All over the world! We have around 450 wines on offer starting at £10 from a huge selection of grapes, regions, countries and styles. Champagne to Cremant to Sparkling English. New wave California to re-emerging Central Europe. Provence pink to biodynamic Italian rose. Volcanic soil wines and salty Greek whites! We can cater for nearly any request and also have a fine wine service is people want something really special.
Tell us what makes Wanderlust stand out compared to other sustainable wine merchants?
Firstly, we import everything directly. Its very easy to buy the same old wines from agents that wholesale wines out but it genuinely takes a lot of time to go searching for the gems we have and to bring them in ourselves. Secondly, we're looking to be the voice that helps people make wine accessible but highlights why we think organics are so important to the future of wine. And lastly, we win awards for our approach! 2020's Decanter awards gave us 'Best (small) Online Retailer' and also 'Organic and Biodynamic Specialist (RU)' - huge testament to the effort we have put in to build up the wines and flexible ordering options with next day delivery UK wide.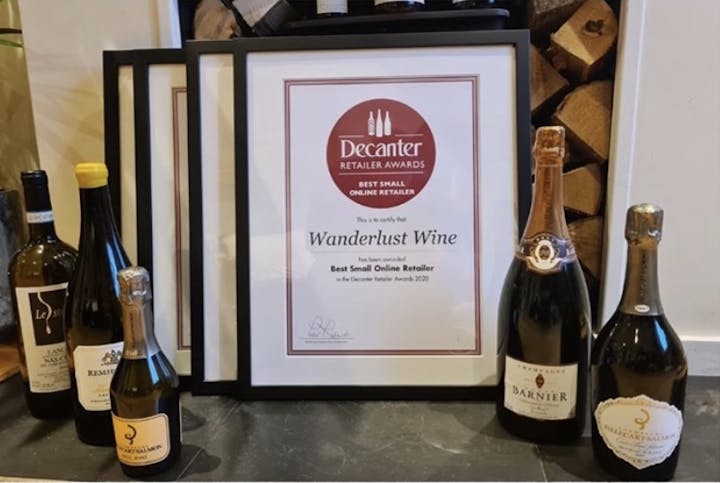 Image above: One of Wanderlust Wine's notable accolades is winning Decanter's 2020 'Small Online Retailer of the Year' Award
What is your advice for pairing your wines with food?
(1) Pair light bodied foods with light bodied wines and richer foods with bigger, bolder and richer wines.
(2) The food needs to be sweeter and richer than the wine otherwise the wine will overpower and the food.
(3) Don't drink big reds with spicy food! That big Cabernet is wasted on a spicy Thai curry!
(4) If you are unsure - call your wine merchant! We love giving advice and feel it's part of our jobs.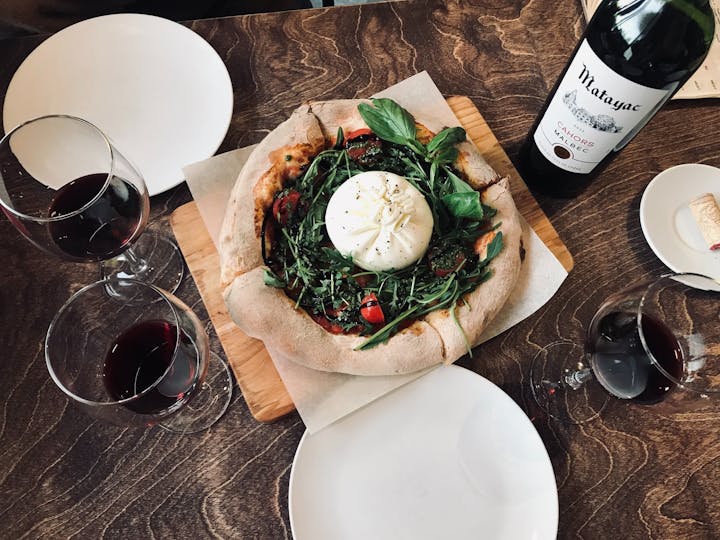 What about your own personal preference - do you have a favourite wine?
And finally... where do you see Wanderlust in 5 years time?
If only I knew! Somewhere I hopefully get more time to relax?? Haha. The people that do know us are extremely engaged - the wines constantly show that they deliver better value than the mass-made wines you find in supermarkets and large retailers. Our goal needs to be to spread awareness and to have more people knowing who we are and our mission to importe brilliant organic wines.
Written by our Team of HOPP Experts.