Top Tips from Eliza Manners on how she creates her Sustainable Tables!
By HOPP Team
Eliza Manners' 'Sustainable Tables' are ready-to-buy table settings using only 'pre-loved', otherwise know as antique or vintage, items. The ethos is creating stunning one-off table settings that have a minimal impact on the environment.
All of the pieces are high quality and are mostly made in the UK. By using old items and giving them a new lease of life through pairing of wonderful colours and themes, there is no recent manufacturing and minimal transport - therefore having a small carbon footprint.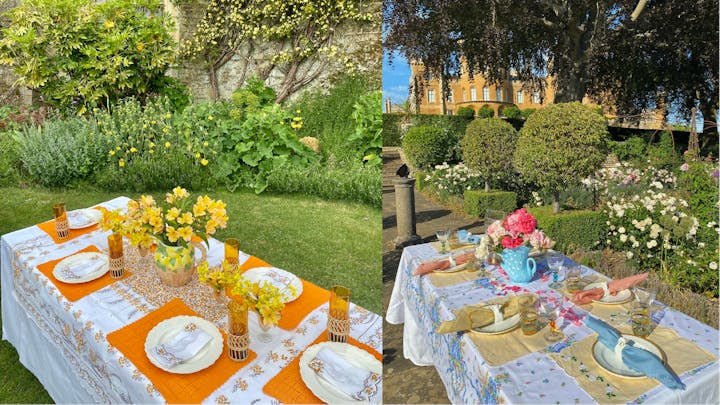 Where are you writing this from?
I am at my family home, Belvoir Castle, in Leicestershire.
What or who inspires you at the moment?
In terms of design inspiration I get a lot of inspiration from nature. Looking at all of the wonderful colours that are paired together in nature can be a great way of seeing what will work when designing a table.
How do you start your day?
I start by making a juice and looking at my stock. If I look at them first thing in the morning then I will have all of the colours and themes in my head which helps me to think of what other items I need to complete the table settings.
What are your favourite accessories to use when laying a table?
I think that flowers and greenery are a definite must for every table, so having beautiful vases to put them in is very important
Imagine you were hosting a party: please pick who you would use!
Tatiana Alida is a friend and I ADORE all of her designs, so this would be great to create wonderful invitations.
Private Drama Events sounds amazing. I love immersive experiences, and having stories being acted out at a party would be a real centrepiece for the event.
Doggart and Squash would be the caterers - they're the best!
What are your 5 top tips for styling a tablescape?
Choose a 'theme' and stick to it

When you decide on an item you love, pick out the colours from it to help make a cohesive tablescape.

Odd numbers usually works best with decorative items such as candles, vases etc.

Always use flowers and greenery to add some extra character to the table setting

And remember... REUSE, REDUCE, RECYCLE - you can be creative with this!
Written by our Team of HOPP Experts.