Jacaranda
Midhurst
Services
Catering
Specific Details
British
Caterer
Food Truck
Fine Dining
Corporate
Planner - caterer combo
Wedding
About the company
Jacaranda are a leading catering and events company based in the heart of the South Downs National Park and have built up a reputation throughout Sussex, Surrey and Hampshire for stylish, elegant events accompanied by mouth-watering menus and outstanding service. Whether you are after a fine dining 7 course tasting menu, or lavish sharing platters to the tables or trendy street food, we can do it all! We offer a huge variety of different foods and can help you create the perfect menu for your day. Alongside this, our expert event managers can help you with every aspect of your wedding or event. Here at Jacaranda, our attention to detail ensures that everything is perfect from start to finish so you can focus on enjoying yourself on the day, knowing everything's under control!
Style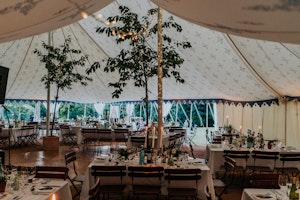 Rustic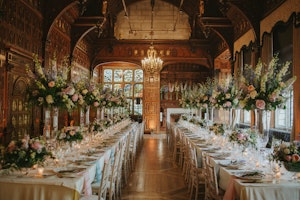 Formal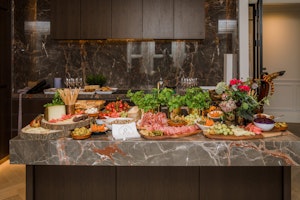 Informal
Additional Information
Can you cater in a marquee?
Can you source alcohol?
Do you offer bespoke menu options?
Do you provide bartending?
Do you offer a tasting?
Do you provide waiting staff?
Do you have public liability insurance?
When was the company started?
1998
Are you VAT registered?
Sustainability
Sustainability is a core message that we want to portray at Jacaranda Catering and have put measures in place to accomplish this and will be implementing more this year.
Local Suppliers We use local suppliers and have created menus around the seasons so we can use fruit and vegetables that are available locally, minimising the food miles. For instance, all our asparagus comes from Rogate and we do not use it out of season, all our berries come from Chichester. We are always looking for the best possible product as close as possible.
Ethical produce and Vegetables We only use free range British chickens and all our beef and lamb is from free range or organic grazing animals, none of it is intensively farmed. This year we are concentrating on vegetables and all our dishes have both a vegan and vegetarian alternative, the meat is no longer the star of the show, it's all about the veg!
Portion Control All food for events is managed with a strict portion control policy so there is very little left over especially with plated meals. We also encourage our clients to take home any leftovers that are not high risk such as salads etc.
Wastage In our production kitchens we have a food waste bin which is emptied once a week and used to produce biogas. We are also insisting that our suppliers reduce their packaging and single use plastic and this year we will be supplying some heavy-duty reusable boxes for meat and fish that they can send our produce in.
These are just a few ways the company has put procedures in place to help the sustainability in our industry, the environment and our local community but we are always looking to improve all parts of the catering process.
FAQ's
We cater for all dietary requirements where needed. If you are looking for a bespoke menu be it fully vegan, vegetarian or gluten free, we are more than happy to work with you to create this.
Without a doubt! We will always provide you with an on the day event manager. They are there to not only make sure that all the timings are stuck too, the food is delivered on time and how it is supposed to be, they will also look after all of your suppliers and make sure everyone knows what it supposed to be happening when. All in all, leave it to your event manager and relax!
Mac'n'cheese!! Creamy, cheesy, morsels of deliciousness sent from heaven!!
Testimonials
"The BIGGEST thank you to you and your team for making our wedding so perfect. It was such a wonderful day made even better by the incredible food, service and of course your insane management skills. From the first meeting we had with you, your endless positivity and enthusiasm and attitude that nothing seemed too much trouble has been amazing and helped us immensely… not sure I would have coped with my mother in the lead up without you!! The food was SO delicious, Tom and I both said that it felt like we were in a 5* restaurant. Anyway, I just can't thank you enough, we feel extremely lucky."
Lily and Tom
"Wow, words cannot describe how thankful we are for all your hard work, as well as your team, up to and on the day of our wedding. It truly was the best day of our lives. It ran seamlessly! Somebody said to us that it felt like a small wedding just because nobody was waiting around, you hardly noticed the staff; it couldn't have gone any better. Also helping us with all the detail, it really was better than I could have dreamed it! People have told us it's the best wedding they have been to- we'll take that! Thank you so much! Can we do it all again?!"
Georgie and Ross
"Hi Minty and Phern, I wanted to say a huge and very heart felt thank you to you both. Minty – you put up with our numerous queries in the run up to the wedding and were so patient and helpful, especially with last minute seating plan changes, amendments to food tastings, cutlery decisions etc. We really felt like nothing was too much trouble and it was all done in such a friendly manor too. Phern – you were an absolute superstar on the day. Everything I'd thought "is it a bit cheeky to ask Phern to…" (like setting up our gin bar) you were so relaxed and happy to do as if it were no problem at all. In fact, everything felt under control all day and it was a huge weight off our shoulders knowing that we had full confidence in you to ensure it all went to plan. The food was absolutely delicious, we had numerous compliments on the food, the service was spot on all all done with big smiles. Thank you again both SO much. You made it a day we will never forget!"
Emily and Harvey
"THANK YOU SO MUCH for everything you did for our wedding, Lanto and I haven't stopped thinking or talking about it for the last week. You and your team did such an incredible job, and made everything run so smoothly. It was very un-stressful! I also received so many compliments about the food, which was really outstanding. Thank you again for everything, we just wish we could do it all over again! "
Lottie and Lanto
"From start to finish, it was effortless! Their attention to detail was outstanding and nothing was too much trouble! The food was absolutely delicious and the staff were a joy!"
Catherine and Ryan
Suppliers you may be interested in...
Services
Specifics
About
Style
Additional
Sustainability
FAQs
Testimonials
Articles
Contact